Troubled Dems Aim to Stay Positive About Congressional Elections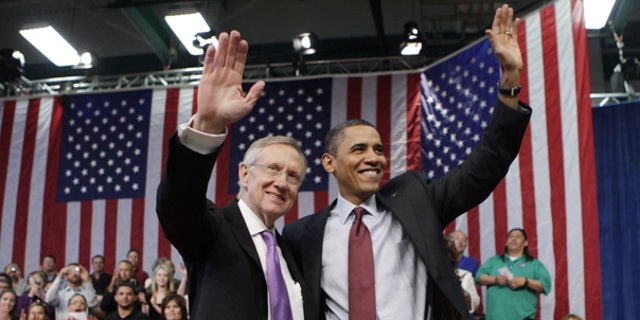 Fighting for their political lives, Sens. Harry Reid and Barbara Boxer have raised a fortune in cash, but the record shows that Republicans in key races are outraising Democrats by a lot.
Adding to the gloomy outlook are polls showing would-be 2012 candidates matching President Obama in head-to-head polls.
But Democrats aren't worried yet, releasing a memo on Thursday night that puts a positive spin on their 2010 outlook. It was mocked moments later in a RNC release of the amusing scene from "Animal House" in which Kevin Bacon urges mad-dashing parade-goers to remain calm.
Obama is also putting on a brave face, telling NBC News that the congressional elections may come down to "a choice between the policies that got us into this mess and my policies that are getting us out of this mess."
Obama's job may not be in jeopardy this year but his re-election prospects in 2012 don't look very good at this point.
Obama's approval numbers are hitting news lows and polling data shows him trailing potential candidates Mitt Romney (46-43), Mike Huckabee (47-45), Newt Gingrich (46-45) and tied with Sarah Palin at 46 percentage points.
But Democrats are more focused on this year's election and they have shown extreme sensitivity to predictions that they will lose the House. White House spokesman Robert Gibbs' assertion this week that Republicans could take control sparked a flare-up between House Speaker Nancy Pelosi, who called Gibbs "politically incompetent," and the White House, which argued it was stating the obvious.
The DNC has sought to reassure its members by issuing a memo entitled "Putting Voter Sentiment and Recent Polls in their Proper Perspective." The memo argues that Democratic prospects in this year's midterm elections aren't as bleak as they were for Democrats in 1994 or Republicans in 2006 when they lost control of Congress, because voters are expressing greater support for Democratic leaders this year by comparison.
It also contends that Obama is more popular than President Bush was in 2006 or President Clinton was in 1994.
"While many Democratic candidates this year may face tough races, polling suggests that this election is shaping up to be different in many respects than either 1994 or 2006, with Democrats in position to win close races across the country and to maintain strong majorities in both the House and Senate," the memo reads.
Republicans are outraising Democrats in nearly a dozen open Senate races, increasing their hopes of significantly narrowing the Democrats' majority in November.
The differences are dramatic in some cases, such as Ohio. Republican nominee Rob Portman raised $2.6 million in the quarter that ended June 30, compared to about $1 million raised by Democrat Lee Fisher. Portman held a big cash-on-hand advantage: $8.8 million to $1 million, according to campaign finance reports filed Thursday. The two are seeking the seat being vacated by Republican George Voinovich.
Fundraising is more competitive in Kentucky, where GOP Sen. Jim Bunning is retiring. Rand Paul, who won a tough GOP primary, raised $1.1 million for the quarter. Democrat Jack Conway raised slightly less than that from donors, and he lent his campaign another $400,000. Neither campaign had more than $750,000 in the bank at the quarter's end.
Money separates the viable candidates from the also-rans, allowing hopefuls to run day-to-day campaign operations and buy expensive television ads. Cash also attracts more money from donors. Republicans need a net win of 10 seats to seize control of the Senate, and they're counting on well-funded candidates to deliver.
Most worrisome to Democrats is their lackluster fundraising in states where their members are retiring.
In Illinois, Republican Mark Kirk raised $2.3 million, while Democrat Alexi Giannoulias raised about $900,000. Kirk had nearly four times more money in the bank.
In Indiana, where Democratic Sen. Evan Bayh is leaving, Republican Dan Coats raised $1.5 million in the quarter, while Democrat Brad Ellsworth took in about $600,000. Ellsworth's campaign had somewhat more cash at the quarter's end, however.
Republicans are counting on rich self-funders in several states, such as Connecticut. Former pro wrestling magnate Linda McMahon has poured $21.5 million into her campaign to succeed retiring Democratic Sen. Chris Dodd. She has spent heavily, and reported having $3.2 million on June 30.
Her likely Democratic opponent, state Attorney General Richard Blumenthal, had $2.1 million in cash after raising more than $1 million in the quarter.
Less wealthy Republicans are doing well elsewhere. In Pennsylvania, Republican Pat Toomey raised more than $3 million in the quarter, and had $4.6 million on hand. Democratic nominee Joe Sestak, who defeated incumbent Arlen Specter in a tough primary, raised $1.9 million for the quarter. He had about $2 million on hand.
In Florida, Gov. Charlie Crist, an independent Senate candidate, raised $1.8 million during the quarter and had $8.2 million on hand. Republican Marco Rubio raised $4.5 million and had $4.4 million on hand.
Democrat Kendrick Meek raised more than $1 million in the quarter and held more than $4 million at the end. Billionaire Democrat Jeff Greene, a self-funder, has spent $5.9 million on the race.
"The momentum we're seeing on the ground and in the polls is translating to strong financial support," said Amber Marchand, a spokeswoman for the GOP campaign committee.
Democrats say the picture isn't as grim as the spending reports might suggest. In Illinois, for instance, Kirk has had to explain several exaggerated claims about his professional past. In Pennsylvania, Sestak can now turn his attention to Toomey, who had an easy path in the primary.
And Democrats are doing better in competitive races where they seek re-election.
In California, Sen. Barbara Boxer has an early fundraising lead over her GOP challenger, former Hewlett-Packard Co. CEO Carly Fiorina. Boxer's campaign raised $4.6 million in the quarter and had $11.3 million in the bank.
Fiorina had $953,000 left after a tough primary. But the multimillionaire may pour huge amounts of her own money into the election.
In Nevada, Reid had $9 million at the quarter's end, compared to $1.8 million for Republican challenger Sharron Angle. But Angle, a Tea Party favorite, raised an impressive $2.3 million from late May to June 30. That nearly equaled the $2.4 million Reid collected in the full three-month reporting period.
In Arkansas, Democratic Sen. Blanche Lincoln raised $2.6 million during the quarter, and had $1.9 million at the end. Republican John Boozman raised $623,000 and had $484,000 in the bank.
Elsewhere:
--In Missouri, Republican Roy Blunt raised $2.2 million in the quarter and had $4.5 million in the bank. Democrat Robin Carnahan raised $1.5 million and had $3.6 million on hand. Republican Sen. Kit Bond is retiring.
--In Wisconsin, Democratic Sen. Russ Feingold raised $1.4 million in the quarter, with $4.3 million banked. Republican millionaire Ron Johnson gave his campaign $1.5 million, and says he may give far more. His campaign had less than $1 million on June 30.
--In Washington state, Democratic Sen. Patty Murray raised about $1.6 million for the quarter and had $6.8 million on hand. Republican Dino Rossi raised about $1.4 million starting in late May, and had $1.3 million at the end of June.
--In Delaware, Republican Mike Castle raised $837,000 in the quarter and ended up with about $2.6 million. Democrat Chris Coons raised about $697,000 and had nearly $1 million banked. Democrat Ted Kaufman is leaving the seat.
--In New Hampshire, where GOP Sen. Judd Gregg is retiring, Democrat Paul Hodes raised $605,000 in the quarter and had $1.7 million on hand. Republican Kelly Ayotte raised $720,000 and had $1.2 million on hand. GOP businessman Bill Binnie, who has lent his campaign $3.5 million, had $1.1 million on June 30. The state's primary is Sept. 14.
The Associated Press contributed to this report.