Top U.S. diplomat in Venezuela as talks with between gov't and opposition begin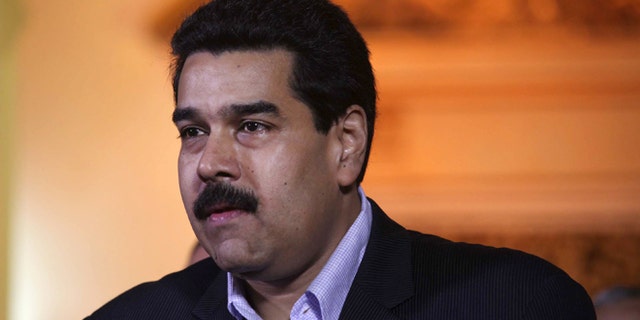 NEWYou can now listen to Fox News articles!
A top level U.S. diplomat traveled to Venezuela on Monday to meet with senior government officials and members of the political opposition as the two sides were scheduled to sit down for talks following weeks of widespread protests.
Under Secretary of State for Political Affairs Thomas Shannon will be in the troubled, socialist nation until Wednesday where he is expected to drive home the United States hope for a peaceful resolution to Venezuela's current political problems.
"His visit will underscore our support for the ongoing dialogue process, and our interest in the well-being of the Venezuelan people," the U.S. State Department said in a statement.
The talks between the government and opposition, which are being mediated by a Vatican envoy and the former presidents of Spain, Panama and the Dominican Republic, are aimed at defusing the nation's political crisis as embattled President Nicolás Maduro seeks to fend off an intensifying campaign for his removal.
The talks, however, are mired in distrust as many of the president's foes fear they could be a stalling tactic designed to ease pressure on the unpopular socialist leader, whom many Venezuelans blame for triple-digit inflation and widespread food and medicine shortages.
Fifteen parties belonging to the Democratic Unity opposition alliance boycotted the talks, saying they are not prepared to sit across from the government until it releases several jailed opposition activists and reverses its decision to cancel a constitutionally allowed recall referendum against Maduro.
"For an eventual dialogue to take place it has to be very clear from the outset that the aim is agreeing on the terms of a democratic transition in the remainder of 2016," the parties said in a statement.
The talks come as the opposition is stepping up its campaign seeking to force Maduro from office.
Last week it rallied tens of thousands of supporters across the country, and another protest has been called for Thursday at which the opposition is vowing to march to the presidential palace. Government foes haven't been allowed to get close to the palace since the 2002 coup that briefly toppled President Hugo Chavez, the late leader who installed the socialist administration.
The opposition-controlled congress, meanwhile, has begun a "political trial" against Maduro accusing him of neglecting his duties, though it is a largely symbolic gesture since the body doesn't have the power to remove a president under Venezuela's constitution.
Although he has threatened to arrest legislators if they go ahead with the trial, Maduro said Sunday night that he has an "absolute commitment" to holding a dialogue with the opposition.
"We're giving a chance to disarm the hatred, the intolerance, and open the door to love among the Venezuelans," he said in televised remarks from the museum.
Based on reporting by The Associated Press.