Texas Gov. Greg Abbott makes appeal to Latinos in inauguration speech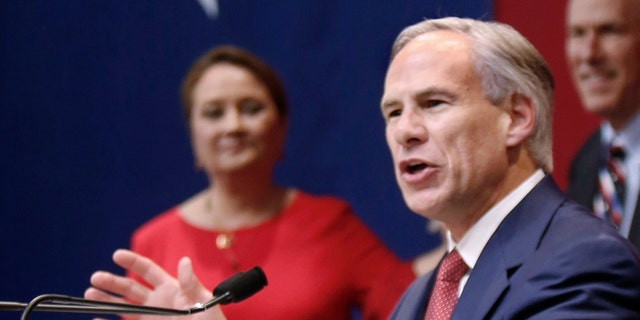 NEWYou can now listen to Fox News articles!
Newly inaugurated Texas Gov. Greg Abbott didn't waste any time trying appeal to the state's large Latino population.
During his inauguration speech on Tuesday, Abbott, a Republican, referenced the state's long, multicultural history – and his wife's Hispanic background – as he begins his term in office, one that will test the trust of many of the state's Latinos as conservative lawmakers push long-stalled measures to deter illegal immigration.
Texas "has been the blending of cultures from across the globe even before we became our own nation," Abbott said in his speech.
Many experts say that Abbott has a difficult road ahead as he tries to conciliate a return to the more inclusive, Latino-friendly politics of former Gov. George W. Bush with that of Tea Party and other staunchly conservative Republicans who want to curb unauthorized entries and financial incentives for illegal immigration.
"It's important that our elected officials over at the Legislature make sure that they're using welcoming language and avoid anything that can be interpreted as being offensive to any community," Texas' GOP chairman Steve Munisteri told the Dallas Morning News.
Abbott spoke proudly of his wife Cecilia's family who came from Mexico to San Antonio and called her "the first Hispanic first lady" in state history. He also praised Texas Supreme Court Justice Eva Guzman – another child of Mexican immigrants.
In regards to immigration, the new Texas governor vowed to "secure our border" but stopped short of mentioning undocumented immigrants or the wave of child migrants from Central America that flooded over the U.S.-Mexico border last summer.
"Greg Abbott is now part of this battle for the soul of the Texas Republican Party," Jerry Polinard, a political scientist at the University of Texas-Pan American in Edinburg, said. "His 2014 campaign was the most successful in appealing to Latino voters since George W. Bush. But now he must deal with the most conservative lieutenant governor in the history of the state. Dan Patrick has made his name on the immigration issue."
Unlike Abbott, in his speech Patrick took a hard line on immigration and lashed out about the porous borders between Texas and Mexico.
"Make no mistake, the terrorists, the drug cartels and gang members' risk of crossing our border and coming here to do us harm is high," he said.
As Latinos continue to have even more influence in Texas – they are the fastest-growing component of the state's population and are expected to outnumber other ethnic groups as soon as 2020 – and as issues like the border and immigration continue to take center stage on a national level, experts say that Hispanics in Texas will want more than just words from Abbott in his term as governor.
"You can't do outreach with one hand when you're slapping Latinos in the face with the other hand," said Andy Hernandez, a Democratic voter-turnout expert. "People look at what these guys do, not just listen to what they say."
Like us on Facebook
Follow us on Twitter & Instagram