Teachers Union Chief Apologizes for Lifting Reporter's Script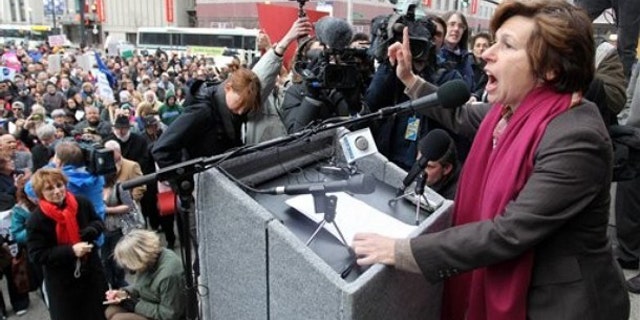 The head of a top teachers union has apologized for lifting parts of a New York reporter's script during a speech in California last month.
Randi Weingarten, head of the American Federation of Teachers, used several phrases directly from an NY1 television report on New York City schools' boondoggle computer system. NY1 afterward accused Weingarten of plagiarizing, leading the union official to apologize -- though she told NY1 she did not personally write the speech.
"NY1 is right. These facts came from their excellent reporting. It was our intention to amplify the troubling misallocation of resources NY1 exposed, not to claim either NY1's reporting or the reporter's words as our own. It was our mistake not to clearly credit NY1 and its reporter Lindsey Christ," she said in a statement. "And, while we sourced many other materials, we neither sourced nor quoted this and I deeply apologize for that lapse. Educators know better and in the future due diligence we expect from others will be exercised here."
NY1 on Wednesday published side-by-side comparisons of its report and Weingarten's speech, which was given to the Commonwealth Club in California on March 28. The topic for Weingarten's speech was on the importance of collective bargaining for public workers.
In her remarks, Weingarten said: "The New York City Department of Education wanted to compile student information and give parents and teachers access to it, using one computer system. They said it would revolutionize the way schools work."
NY1 said: "When the city spent tens of millions of dollars on a computer system for student information, officials said it would revolutionize the way schools worked."
Describing a different computer system, Weingarten talked about how teachers "click on the picture of the student and get everything from attendance by class period, to parents' cell phone numbers, to last night's math homework, to even the type of help the student might need because the student has a disability."
NY1 republished its original script, which told viewers about how teachers "click on their pictures to get what they need: Everything from attendance by class period, parents' cell phone numbers, the type of help the student should get because of a disability."
The AFT has since added a footnote to the written copy of the speech on its website, acknowledging that "much of this information" came from the NY1 report.
"This attribution was inadvertently omitted from an earlier version," the footnote said.