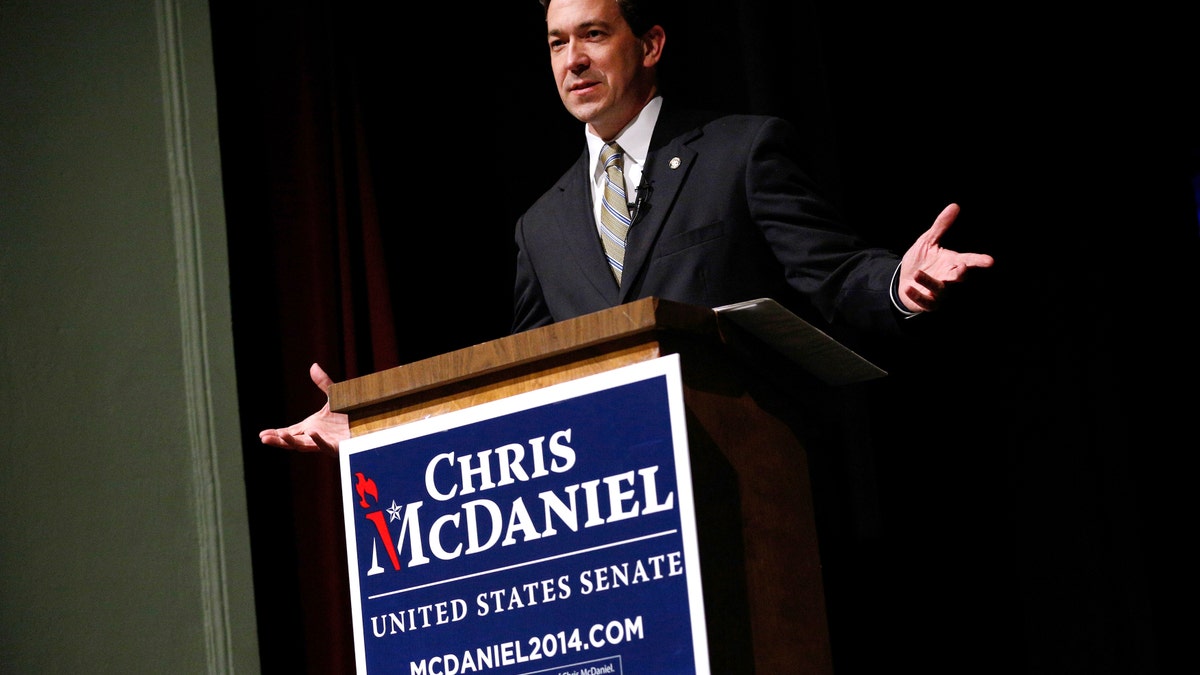 JACKSON, Miss. – A tea party-supported candidate is taking the first step to try to revive his lawsuit that challenges his Republican primary loss to Mississippi Sen. Thad Cochran.
Attorneys for state Sen. Chris McDaniel filed a notice of appeal Friday, saying they intend to ask the Mississippi Supreme Court to overturn a judge's dismissal of the lawsuit.
Judge Hollis McGehee ruled Aug. 29 that McDaniel missed a 20-day deadline to challenge results of the June 24 Republican primary runoff. A written order of dismissal was filed Thursday, starting a 30-day period for McDaniel to appeal to the state Supreme Court.
The document filed Friday contained no legal arguments.
McDaniel attorney Mitch Tyner said in a news release Friday that he disagrees with McGehee's ruling.
"The merits of Chris McDaniel's challenge are strong, and the evidence clearly shows the outcome primary runoff was corrupted by Democrats participating in the Republican primary runoff election," Tyner said.
Tyner told The Associated Press in a phone interview Friday that he will file papers Monday asking the Supreme Court for quick consideration on an appeal.
Cochran campaign spokesman Jordan Russell said Friday that the six-term senator is the GOP nominee and is focused on the Nov. 4 general election. He said Cochran's attorneys agree with McGehee's ruling and believe the Supreme Court will, too.
"The entire case is baseless," Russell said of McDaniel's lawsuit.
Certified results show Cochran won by 7,667 votes, but McDaniel claims the runoff was spoiled by voting irregularities.
State election officials already have prepared a general election ballot that lists the 76-year-old Cochran as the Republican nominee, former U.S. Rep. Travis Childers as the Democratic nominee and Shawn O'Hara as the Reform Party candidate for Senate.
McDaniel led a three-person Republican primary on June 3. Turnout jumped significantly for the runoff, including in predominantly African-American precincts where Cochran fared well.
McDaniel had called the runoff a "sham" and criticized Cochran for appealing to voters who traditionally support Democrats.
His lawsuit said Mississippi GOP officials violated the rights of Republicans by allowing people to vote who didn't intend to support the party's nominee.
Mississippi voters by law are banned from participating in one party's primary and another party's runoff in the same election cycle.
McDaniel's campaign, after weeks of examining ballots and other voting records, said it found about 3,500 people who illegally voted in the June 3 Democrat primary and June 24 Republican runoff. The campaign also questioned thousands of other ballots, which it termed "irregular."
The campaign between McDaniel, a 42-year-old state senator from Laurel, and Cochran was been a bitter one.
Four McDaniel supporters were arrested in May primary and charged in a plot to photograph Cochran's infirm wife, Rose, at her nursing home without the Cochran family's permission. Authorities say an image of Rose Cochran was used in an anti-Thad Cochran video that was briefly posted online.
Cochran was elected to the U.S. House in 1972 and the Senate in 1978. He is a former Senate Appropriations Committee chairman. The challenge by McDaniel was the most serious of his Senate career.
Cochran's campaign drew support from Mississippi's Republican establishment, including the family of former Gov. Haley Barbour. The campaign tried to portray McDaniel as a fiscal extremist whose policies would hurt Mississippi.