Talks on New U.S.-Afghan Pact Strain Relations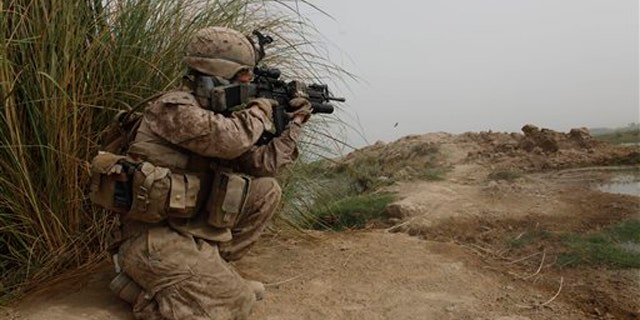 NEWYou can now listen to Fox News articles!
A pact aimed at clearing up mistrust and confusion between Washington and Kabul about the future of U.S. troops and aid in Afghanistan has instead sowed more of the same.
Afghan officials worry that the United States is looking for a way to decrease support for Afghanistan after the combat mission ends in 2014, especially in light of U.S. economic woes and waning public support for the war, now in its tenth year. American officials insist the agreement is designed to allay that fear, but acknowledge the draft agreement is less precise than the Afghans want, and unenforceable.
With Kabul seeking detailed guarantees but Washington insisting on something more vague, it's not surprising that each side is looking warily at the other.
Negotiators from both countries are to meet in Washington early next month to continue their talks. Discussions come at a time when relations are already strained, anti-Americanism is running high in Afghanistan and uncertainty abounds over what will happen to the nation as foreign forces continue their march home.
The document is meant, in part, to give Afghans confidence that the United States will not abandon them after 2014, when U.S. and other foreign combat troops have left or taken on military support roles. At the same time, it will give the U.S. a legal framework to continue counterterrorism, counter-narcotics and training missions, according to a senior U.S. official, who spoke on condition of anonymity to discuss the ongoing negotiations.
The goal is to have an agreement done before an international conference in Germany on the future of Afghanistan in December, but many sticking points remain. Among them:
-- Will American forces be stationed on joint or Afghan-run bases?
-- Who will take the lead in conducting nighttime kill-and-capture raids, a flashpoint for anger over foreign meddling in Afghanistan?
-- Will detention operations be run by the Afghans or Americans?
-- What long-term commitments will the U.S. make to support the struggling Afghan government, education and health care?
The document will leave several major questions unanswered, including how long American taxpayers will foot the bill for Afghan security forces, which in 2014 will cost an estimated $8 billion a year.
The agreement also sets up a potential conflict between two U.S. goals for Afghanistan -- a base of operations for counterterrorism and a peace deal between the Afghan government and the Taliban insurgency. The Taliban demand a complete withdrawal of foreign forces.
The so-called "strategic partnership agreement" was sought by Afghan President Hamid Karzai, and U.S. officials are confident that Afghans' desire to get something in writing is likely to trump their worry that the document is not specific enough.
But the talks have gone on longer than the Americans wanted, and there is palpable frustration at what two U.S. officials described as circular and repetitive discussions. The two sides already held talks twice this year.
Karzai has a string of specific demands, including that U.S. troops stop conducting nighttime raids to nab suspected insurgents and that Afghans be put in charge of detention facilities. He also wants a ban on U.S. launching operations into other nations from Afghan soil. The U.S. raid that killed Usama bin Laden in Pakistan was launched from Afghanistan.
Some Afghan officials also want the U.S. to equip them with F-16 fighter jets and Abrams tanks -- military wares that U.S. officials say are too costly and not needed by the nascent Afghan security forces.
"We will come to an agreement only if our conditions are accepted," Karzai boldly told a group of Afghan security officials at a recent meeting.
A senior U.S. official familiar with the negotiations said the Obama administration is not trying to water down the agreement, but can't -- or won't -- negotiate so many details of the relationship at once. The official said the agreement is supposed to be broad and by design will not carry the force of a treaty.
But Afghans say a vague agreement could leave them vulnerable to the Taliban, and that they need guarantees of support if they are going to risk the ire of neighboring nations like Iran by signing a long-term deal with the U.S. -- especially one that will allow tens of thousands of American troops to stay in Afghanistan.
Many Afghans are afraid of trusting the Americans because they felt abandoned by the U.S. after 1989, when the Soviet Union withdrew its army from Afghanistan. U.S. support to mujahedeen fighters battling the Soviets dried up a few years later and Afghanistan then sank into civil war.
That was followed by the rise of the Taliban and the Sept. 11 attacks by Al Qaeda, which was using Afghanistan as a sanctuary.
"There's a famous saying `Once bitten, twice shy,"' said Shaida Mohammad Abdali, deputy national security adviser and special assistant to Karzai. "We are worried about our destiny, our future." Still he is confident the two sides eventually will agree to a new pact.
A central question is how many American troops will remain in Afghanistan after the international combat mission ends in 2014, and for how long. Estimates have ranged from 20,000 to 40,000.
Two U.S. officials refused to specify any proposed numbers of American soldiers, and said the agreement would not have an expiration date.
A western diplomat, speaking on condition of anonymity to discuss the negotiations, said the U.S. wants to keep 35,000 American troops in Afghanistan after 2014. Discussions have centered on five locations, including Herat in the west near the Iranian border, Mazar-e-Sharif in the north, Jalalabad in the east along the Pakistan border and Kandahar in the south.
But Abdali says the question is not how many bases the American troops will occupy.
"What is important for us to agree upon are the terms. How will these facilities be used?" he said in an interview at the presidential palace.
Washington, though, has been very clear on one issue.
To ease friction with Afghanistan's neighbors, U.S. officials have said repeatedly the United States does not want permanent bases on Afghan soil. Pakistan, Iran, Russia and other regional powers have expressed concern over the idea of permanent U.S. bases in Afghanistan.
"I would not rule out an U.S.-Afghan, or coalition-Afghan agreement that provides for coalition forces remaining in country beyond 2014," U.S. Ambassador to Afghanistan Ryan Crocker told reporters recently. "They would obviously remain on bases. I would expect they would be joint bases although I don't know that for a fact."
Then he added: "I offer you this fearless prediction: They will not be permanent."