August is Deadliest Month for U.S. in Afghanistan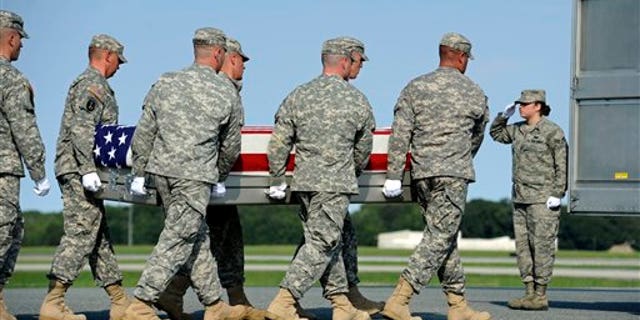 KABUL – Sixty-six U.S. troops have died in Afghanistan so far this month, making August the deadliest month for American forces in the nearly decade-long war.
Nearly half of the troops killed died on Aug. 6 when the Taliban shot down a Chinook helicopter in eastern Afghanistan. That was the single deadliest event of the war and sent the monthly total soaring, according to a tally by The Associated Press.
The 30 American service members -- most of them elite Navy SEALs -- were aboard the helicopter as it flew in to help Army Rangers who had come under fire. Most of the SEALs who died were from the same unit that killed bin Laden, although none of the men took part in that mission.
Aside from the 30 killed in the crash in Wardak province, southwest of Kabul, 23 died this month in Kandahar and Helmand provinces in southern Afghanistan, the main focus of Afghan and U.S.-led coalition forces. The remaining 13 were killed in eastern Afghanistan.
The deadliest month for American forces until now was July 2010 when 65 were killed.
The U.S. military recorded its worst monthly death toll at the same time that troops have begun going home.
President Barack Obama announced in June that he would begin pulling out the 33,000 extra troops he dispatched to the war. He ordered 10,000 out this year and another 23,000 withdrawn by the summer of 2012.
In addition to the 66 Americans killed so far this month, the NATO coalition suffered the loss of two British, four French, one New Zealander, one Australian, one Polish and four other troops whose nationalities have not yet been disclosed.
So far this year, 402 international service members, including 299 Americans, have been killed in Afghanistan.