Support for Ousted Honduran President Raises Questions About 'Democratic' Leadership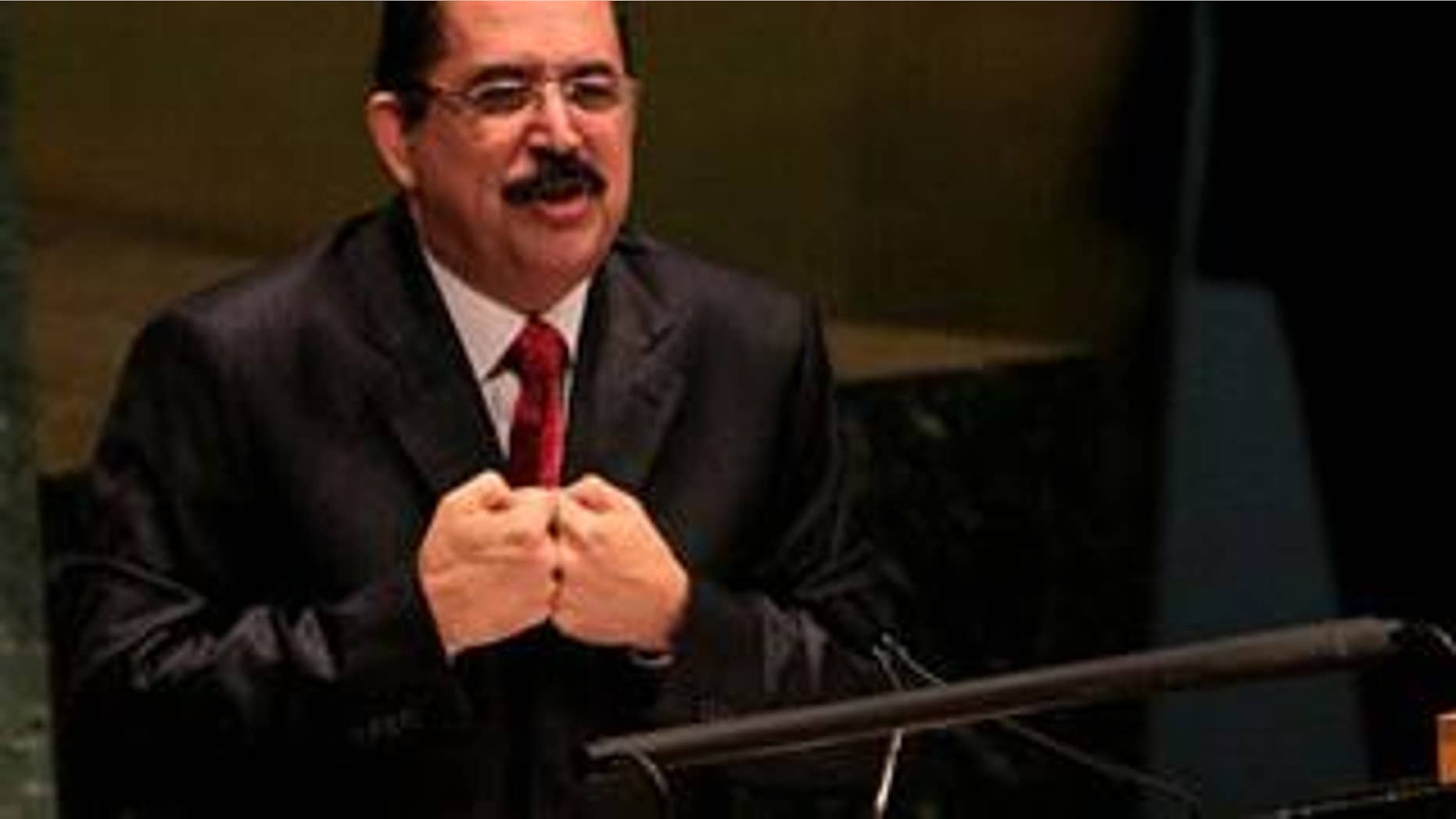 The U.N. General Assembly's decision to condemn the military coup in Honduras and demand the return to power of President Manuel Zelaya has created a rare incidence of near universal support for a man who has defied his nation's constitution and Congress.
But while Zelaya wins widespread support, including from President Obama as well as Venezuela's Hugo Chavez, critics in the United States are asking why the U.S. leader doesn't take a stand against clearly illegal actions by Honduras' ousted chief executive.
"Manuel Zelaya trampled the Honduran constitution by pushing for his illegal referendum to allow him to rule indefinitely, and by firing the top military official, Gen. Romeo Vasquez Velasquez, when he refused to comply with Zelaya's unconstitutional orders," said Rep. Connie Mack, R-Fla.
Zelaya, the ousted leftist leader, ignored a ruling from the Honduran Supreme Court, warnings from the military and opposition by a sizable swath of his country's population when he maneuvered to amend his country's constitution, apparently in hopes of extending his own rule
Many sectors of Honduran society now support the ascension of congressional leader Roberto Micheletti, who was sworn in as president after the military stormed the presidential compound and whisked Zelaya to Costa Rica. Elections are scheduled to be held in November.
But Zelaya, who was elected by popular vote in 2005, was bolstered by international support when the 192-nation General Assembly voted by acclamation Tuesday to condemn the military's arrest of the president.
Thomas Shannon, the top U.S. diplomat for the Americas, planned to meet with Zelaya on Tuesday after the Honduran leader traveled to Washington for a special gathering of the General Assembly of the Organization of American States.
Zelaya has said he will return home this week to regain control. The government run by Micheletti says he can come back -- but only as a common citizen.
Many voices in the Western Hemisphere and beyond have condemned the military coup, which has sparked clashes in the Honduran capital that have left dozens of people injured.
"We believe that the coup was not legal and that President Zelaya remains the democratically elected president there," President Obama said in Washington on Monday. "It would be a terrible precedent if we start moving backwards into the era in which we are seeing military coups as a means of political transition rather than democratic elections."
While Obama has won backing by some lawmakers, like Rep. Eliot Engel, D-N.Y.,  chairman of the House Foreign Affairs Subcommittee on the Western Hemisphere, Mack and others say Zelaya has led a tumultuous three years in power -- topped with an illegal "power grab."
"There is little doubt that Zelaya, in his blatant power grab, has moved Honduras down a dangerous path toward less freedom, less security, and less prosperity. ... The United States and our allies in the region must now stand with the Honduran people to ensure the respect of freedom, the rule of law and democracy," Mack said.
Central America analysts say Obama had no choice but to condemn Zelaya's ouster.
"If you watch what happens, regardless of your take of what is happening, you're going to come to the conclusion that it was wrong," Michael Lisman of the Inter-American Dialogue, said of the coup. "But, it's a complicated situation. Something had to be done. What (else could be) done remains to be seen."
Peter DeShazo, director of the Americas Program at the Center for Strategic and International Studies, said the military takeover of a democratically elected administration sets a "very dangerous precedent," one that awakens dormant memories of past military power.
Coups were common in Central America until the 1980s, but Sunday's ouster was the first military power grab in Latin America since a brief, failed 2002 coup against Chavez. That failed effort won early moral support by the Bush administration.
Sunday's coup was the first military ouster of a Central American president since 1993, when Guatemalan military officials refused to accept President Jorge Serrano's attempt to seize absolute power and removed him. They turned over power to a civilian within days.
Honduras had not seen a coup since 1978, when one military government overthrew another.
DeShazo said Zelaya's actions may have been unconstitutional, "but there are constitutional means for resolving these kinds of issues. That's what should be the process."
He added that "the United States really would be totally out of sync with its neighbors if it didn't come out and express concern about what happened in Honduras."
But Americans for Limited Government, which supports citizen democracy, noted that Obama "abetted the Zelaya power grab through his calculated silence" while at the same time he has been deafeningly silent about Iran, where the Islamic regime violently cracked down on protesters demonstrating against what they claim were rigged elections earlier this month. Obama has voiced support for protesters' rights but refuses to make specific demands on Iran's hard-line leaders.
Analysts who spoke with FOXNews.com said Obama's different responses are justified by the characteristics of each case.
"On the one hand, Iran is a lot more complicated, fraught with issues that I think affect a lot more sensibilities in our political culture," Lisman said. "It's not easy to talk about Honduras, but in this case, it's a political no-brainer to support democracy. Iran is anything but a no-brainer."
Complicating the drama in Honduras is the support Zelaya has gotten from Chavez, who has urged rebellion by the Honduran people.
Chavez has vowed to halt shipments of subsidized oil to Honduras, though the country gets most of its oil from other sources, and has said he will "do everything possible to overthrow this guerrilla government of Honduras.
"It must be overthrown," the socialist president said. "The rebellion in Honduras must be supported."
DeShazo said Chavez's support for Zelaya "is not of concern to the United States." What is of concern, he said, is that "mainstream" support in the region believes the military coup is "harmful to democracy in the region."