State races in California have a say on 2016 … in a couple of languages other than English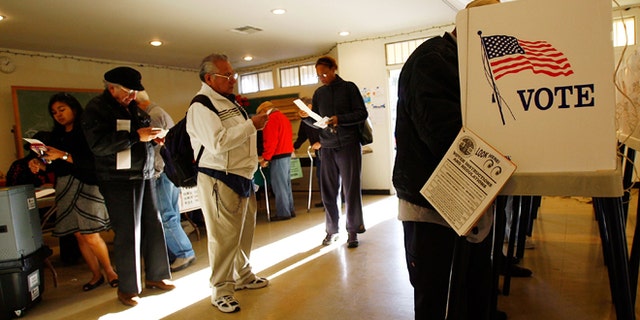 NEWYou can now listen to Fox News articles!
The state of California is presumed Democrat in the big picture of American politics, but move in a little closer and a few shades of purple start to appear here and there.
This year pundits are keeping a razor-like focus on a few highly-funded campaigns that will determine whether Democrats will retain their two-thirds supermajority in the Assembly and if they will regain it in the Senate.
In the 80-member Assembly, Democrats currently hold 55 seats – one more than needed for a supermajority – while in the Senate they lead 26-14.
Now, Democrats find themselves facing strong opposition in a few races. In two of those, Assembly's 65th district and Senate's 34th, the candidates are from the districts' two largest minority groups: Latino and Asian. The winner may be determined by a slim margin of voters who cross party lines, especially because the turnout is expected to be low.
Also, in those districts the numbers of registered Asians and Latinos and the numbers of registered Republicans and Democrats are both very close.
"In addition to the fact that these districts are epicenters for Democrats and Republicans, these races also represent the future of California's voters," said Victor Griego, a political strategist, to Fox News Latino. "This is a new page and it happens to be the new voters who are Latinos and Asians and who are candidates too," he added.
In the Assembly race, GOP challenger Young Kim hopes to win back the seat that Democrat Sharon Quirk-Silva took from a Republican in 2012.
The area, which includes Buena Park, Fullerton and West Anaheim, was redrawn as part of a statewide redistricting. Now this area is split roughly evenly with 37 percent Democrats, 35 percent Republicans (22.9 percent declined to state). As for ethnicity, Asian and Hispanic voters are also pretty much even, 21 percent to 23 percent respectively. White voters are still the largest share of the electorate.
"The majority of voters don't have a choice for someone who looks like them," said Andrew Acosta, Quirk-Silva's campaign manager. Some may vote the ticket, some may choose not to, he added. "We just won't know until the dust settles."
Kim surprised pundits by snagging 10 percent more votes in the primary, leading them to write off Quirk-Silva in November. But if fundraising, TV ads and leaflets are any indication, the race is still very much on. Both campaigns have spent nearly $1.4 million. (In uncontested races, some candidates raised $300,000).
Democrats and Republicans are bombarding the district's residents with TV ads, mailings and calls urging their voter base to get to the polls.
"Both parties are doing everything they can, very much like you'd see in a presidential year," said Erik Weigand, executive director of the Republican Party of Orange County.
The battle is fierce because the supermajority control that Democrats could have in both the Senate and the Assembly allows them to form a voter bloc that can pass bonds, tax measures or emergency legislation.
Meanwhile, in the Senate race, one of the most watched battles is over the 34th District, home to Santa Ana -- which has a sizeable Latino population and houses the headquarters of Democratic candidate, Jose Solorio -- and to Garden Grove and Westminster, with a thriving Vietnamese community centered in Little Saigon and also where Republican candidate Janet Nguyen's headquarters is located.
This district leans Democratic, but not by much. According to polling data, they hold about 39 percent of the vote and Republicans some 34 percent (22.6 percent declined to state). This is a district that voted for Obama in 2012 but went Republican just two years earlier.
Here Democrats fear that Latinos may not turn out in large enough numbers on November 4, while Republicans feel more confident about the Vietnamese community getting to the polls. A big motivator, analysts say, is that Nguyen would be the first ever Vietnamese-American in the California Senate.
"It's more complicated than straight ethnicity," said Dave Gilliard, campaign consultant for Kim and Nguyen. "The other side is worried about their turnout percentages. We're not going to make any predictions about it. We're fighting for every vote."
As changed demographic and new borders are tested next week, much may be learned about California's future voting habits.
"Do Republican Latinos cross over to vote Latino and do the Korean Democrats cross over?" asked Griego. "Does the ethnicity trump party line? That becomes the question."