State Dinner Crashers Sneaked In to Black Caucus Dinner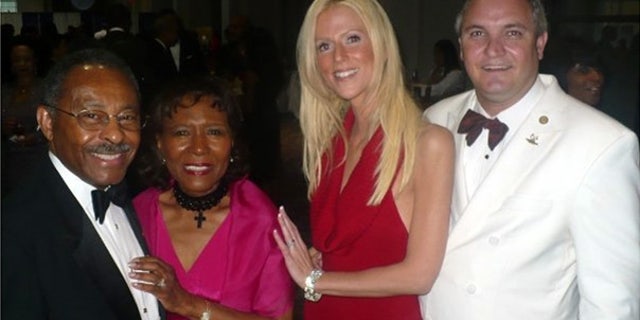 NEWYou can now listen to Fox News articles!
Less than a week after their appearance at the White House state dinner, Michaele and Tareq Salahi have some more explaining to do.
Representatives from the Congressional Black Caucus Foundation say the couple also attended their recent awards dinner without an invitation, and multiple sources told MyFoxDC.com they sneaked in to the event through an entrance meant for bus boys and caterers.
Last Tuesday, the Salahis strolled into President Barack Obama's first state dinner. They said hello along the official receiving line, but the White House says they weren't invited. They say security was breached, and an investigation was ordered.
But there are more images posted on Michaele Salahi's facebook fan page , including photo opportunities at the Congressional Black Caucus Foundation's Awards Dinner four weeks prior to the state dinner. Photos show the couple among the likes of Senator Roland Burris and his wife, Patrick Kennedy, and Star Jones. President and Mrs. Obama were also in attendance.
According to Congressional Black Caucus Foundation representatives, Michaele and Tareq Salahi crashed the September 26th dinner, and were caught sitting at someone's tables.
"I don't want to say it's like a kid getting his hand caught in the cookie jar, but in essence, that's pretty much what it was," said Lance Jones, a communications official with the foundation. "I had a sheet in front of me that said who was sitting at what table, and they weren't on that list."
Jones further explained to MyFoxDC.com how he discovered the Salahis, and what he did to have them removed from the venue at the D.C. Convention Center.
"I was told we had a couple sitting at our table that didn't belong, and as a result I walked back to security guards and I asked them to walk over with me-- that we might have a situation of some uninvited guests," Jones said. "I walked back to the table checked the list. Upon confirming that they did not belong, we escorted them out."
Continue reading at MyFoxDC.com