Lisa Murkowski announces support for Amy Coney Barrett during rare Saturday Senate session
A procedural vote is set for Sunday, final confirmation on Monday
NEWYou can now listen to Fox News articles!
Sen. Lisa Murkowski, R-Alaska, announced her support for Amy Coney Barrett Saturday during a floor speech in the Senate, strengthening the Republican votes to confirm the judge on Monday.
Murkowski said she's still opposed to the Senate taking up a Supreme Court nominee so close to Nov. 3 election, but the senator said she already lost that procedural fight and she must evaluate Barrett's qualifications to the bench.
"I will be a yes," Murkowski said Saturday in a floor speech. "I have no doubt about her intellect. I have no doubt about Judge Barrett's judicial temperament. I have no doubt about her capability to do the job -- and to do it well."
MURKOWSKI 'WOULD NOT SUPPORT' SENATE TAKING UP POTENTIAL SUPREME COURT NOMINEE AMID GINSBURG VACANCY
Murkowski, the only GOP senator to oppose Justice Brett Kavanaugh in 2018, threaded the needle Saturday by announcing she'd still vote "no" on the procedural motion on Sunday to advance Barrett's nomination. The senator still opposes the process but won't "hold it against" Barrett and therefore will vote "yes" on the merits of her nomination Monday.
"I have concluded that she is the sort of person we want on the Supreme Court," Murkowski said, praising Barrett's temperament, legal writing and patience.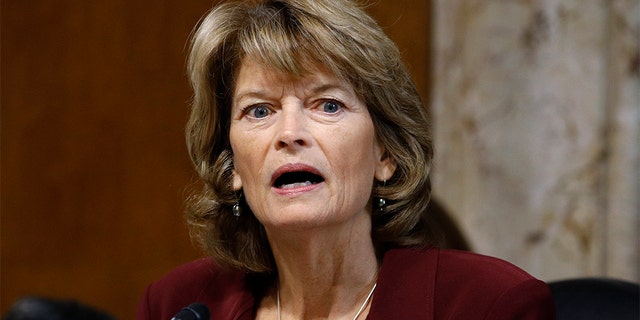 Republicans hold a 53-seat majority in the Senate. Only two Republican senators -- Murkowski and Susan Collins of Maine -- have openly opposed moving on Barrett's nomination before the election. But with Murkowski's announcement Saturday, Republicans appear to have 52 solid "yes" votes in favor of confirmation and all-but-cementing that Barrett will become the next Supreme Court justice and President Trump's third nominee on the high court.
The announcement came during a rare Saturday session as senators traded heated barbs over confirming Barrett just days before voters will decide whether Republicans will maintain control of the Senate and the White House.
Democrats, fiercely opposed to Barrett's confirmation so close to the election, boycotted the Judiciary Committee vote Thursday and Sen. Chuck Schumer, D-N.Y., staged four delay tactics Friday on the Senate floor, including forcing a brief closed session. On Saturday, Schumer tried to pause the confirmation proceedings by bringing up coronavirus relief legislation. But that effort was quickly shut down by the GOP.
Republicans, who hold power and have a majority of the votes, are bracing for more Democratic protests throughout the weekend but remain optimistic they have the 51 votes necessary to confirm Barrett during a final vote Monday.
MCCONNELL TEES UP FLOOR VOTE ON AMY CONEY BARRETT NOMINATION AFTER SCHUMER ATTEMPTS DELAY TACTIC
"Mainly, the reason we're here is so the Democrats can continue to protest," Sen. John Thune, R-S.D., told Fox News' Neil Cavuto on Saturday. "We had a series of procedural votes yesterday. They're trying to do what they can to delay or block her nomination."
Thune predicted that Barrett will clear a procedural vote Sunday afternoon and the final vote Monday evening just with GOP support.
"We are setting up for a vote tomorrow at one o'clock. It's what we call a cloture vote. It's a procedural vote. As long as we have every Republican here and available, we'll win that and that will set up a final vote on Judge Barrett's nomination for Monday evening," Thune said.
AMY CONEY BARRETT CONFIRMATION: WHAT TO EXPECT IN THE SENATE OVER THE NEXT FOUR DAYS
Also Saturday, Sen. Kelly Loeffler, R-Ga., said two of her staffers had tested positive for coronavirus, but Loeffler announced she tested negative, meaning she will be present to vote for Barrett.
"Senator Loeffler is more energized than ever to vote to confirm Amy Coney Barrett as the next Supreme Court Justice on Monday before returning home and traveling the state to meet with hardworking Georgians," Loeffler's office said in a statement said.
Democrats have dismissed the Barrett nomination as a "sham" process that's never been done so close to an election. Schumer made clear Democrats would continue to put up a fight with whatever delay tactics are at his disposal.
CLICK HERE TO GET THE FOX NEWS APP
Republicans are "running the most partisan, the most hypocritical and least legitimate process in the history of Supreme Court nominations," Schumer said Friday. "... We're not going to have business as usual."