Search for new FBI building canceled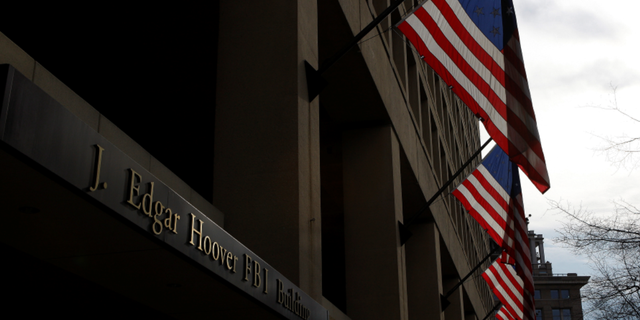 NEWYou can now listen to Fox News articles!
The decade-long search for a new FBI headquarters has been canceled by the federal government, The Washington Post reported Monday.
Officials from the General Services Administration (GSA), which oversees federal real estate, said a lack of stable leadership at both agencies could have deterred funding of the search, the paper said.
DONALD TRUMP JR. 'DID NOT COLLUDE WITH ANYBODY,' WHITE HOUSE SAYS
Both the FBI and GSA are undergoing leadership transitions.
President Trump's pick for FBI Director, Christopher Wray, has yet to be confirmed, while Trump has not yet nominated anyone to lead the GSA.
The plan, pushed by both the Obama and Trump administrations, was to relocate the FBI to a building in the District of Columbia's suburbs after trading the J. Edgar Hoover Building – the current ­headquarters – to a real estate developer and using $2 billion in taxpayer funds to cover what was left.
COMEY MEMOS REPORTEDLY HAD CLASSIFIED INFO; TRUMP SAYS 'THAT IS SO ILLEGAL'
Neither administration was able to convince Congress to approve the plan.
Congressman Gerry Connolly, D-Va., said in a statement that the report revealed "insurmountable" conflicts. Connelly represents northern Virginia and surburban Maryland, locations which were angling for the new headquarters.
"Reports that the federal government is pulling the plug on a new FBI headquarters reveals insurmountable Trump conflicts with GSA, FBI, and Vornado. This is devastating news. Conflicts have consequences," Connolly said.
TRUMP PARTNER SAID IN RUNNING TO BUILD FBI HEADQUARTERS
Vornado Realty Trust, a partial owner with the Trump Organization in two buildings, is also a major investor in a building owned by the family of Trump's son-in-law, Jared Kushner. Vornado was one of three finalists to build a replacement FBI building.
The plan was originally allocated $390 million in order to make the move.
Fox News' Chad Pergram contributed to this report.