Scalise remains in critical condition, doctors 'encouraged'
House Majority Whip Steve Scalise remains in critical condition after Wednesday's shooting attack but doctors are encouraged by his improvement over the last 36 hours, the director of trauma at MedStar Washington Hospital Center told reporters on Friday.
The lawmaker's vital signs have stabilized and doctors have controlled his internal bleeding, Director of Trauma Dr. Jack Sava said.
"The congressman's status remains critical. We are encouraged by the improvement of his condition in the last 36 hours," Sava said, adding Scalise will require more operations "to manage abdominal injuries and other bone injuries."
Scalise was injured along with four others in the shooting at a Republican congressional baseball practice in Alexandria, Va. Sava said that when Scalise arrived at MedStar, he was in "shock" and had an "imminent risk of death."
"I think that his risk of death is substantially lower than when he came in—when you think of the word critical, he was as critical as you can be when he came in," Sava said.
Scalise sustained a single rifle wound, entering his left hip and passing through toward his right hip, also known as a trans-pelvic gunshot wound. The round did substantial damage to bones, internal organs, and blood vessels according to Sava.
Scalise has received two surgeries for his injuries since Wednesday, including a surgery on Thursday in orthopedic trauma to repair a broken bone in his leg. Sava said Scalise remains in the Intensive Care Unit in critical condition.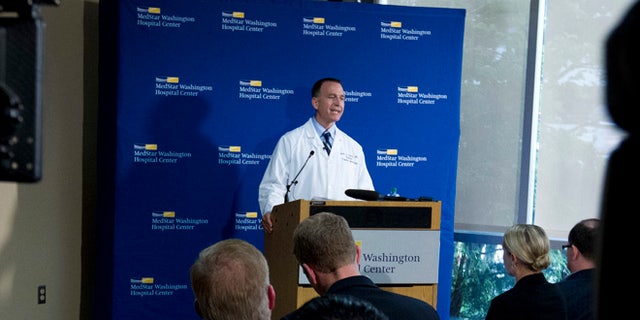 Sava told reporters that predicting Scalise's length of hospital stay was "difficult," but said it would be for a "considerable" amount of time, "presumably weeks."
"An excellent recovery is a good possibility," Sava said. "It's my job to be pessimistic, I feel a lot more confident and a lot more optimistic than I did two or three days ago."
Sava also updated on the condition of U.S. Capitol Police Special Agent Crystal Griner, who sustained an ankle gunshot wound. Griner remains in the hospital, but Sava said she is "in good condition" and "in good spirits."
Wednesday's shooting left five people wounded, including Scalise; Griner; Tyson Foods director of government relations Matt Mika; Zack Barth, a staffer for Rep. Roger Williams, R-Texas; and Special Agent David Bailey.
Scalise's Chief of Staff Brett Horton also read a statement from Scalise's wife, Jennifer.
"On behalf of Steve and our children, I want to thank everyone from the bottom of our hearts for the incredible amount of prayers and warm wishes we have received since Wednesday's events," Mrs. Scalise said in the statement.
"We are especially appreciative of the strong outpouring of love and support from our neighbors, friends, from Louisiana and across the country, as well as from President Trump, Vice President Pence, and all of Steve's colleagues who have reached out to us during this most challenging time."
Mrs. Scalise thanked the first responders, and said the family is "forever grateful for the heroism" of Griner and Bailey.
Fox News' Chad Pergram and Doug McKelway contributed to this report.