Santorum wins Kansas GOP caucuses, gains blunted by Romney's island victories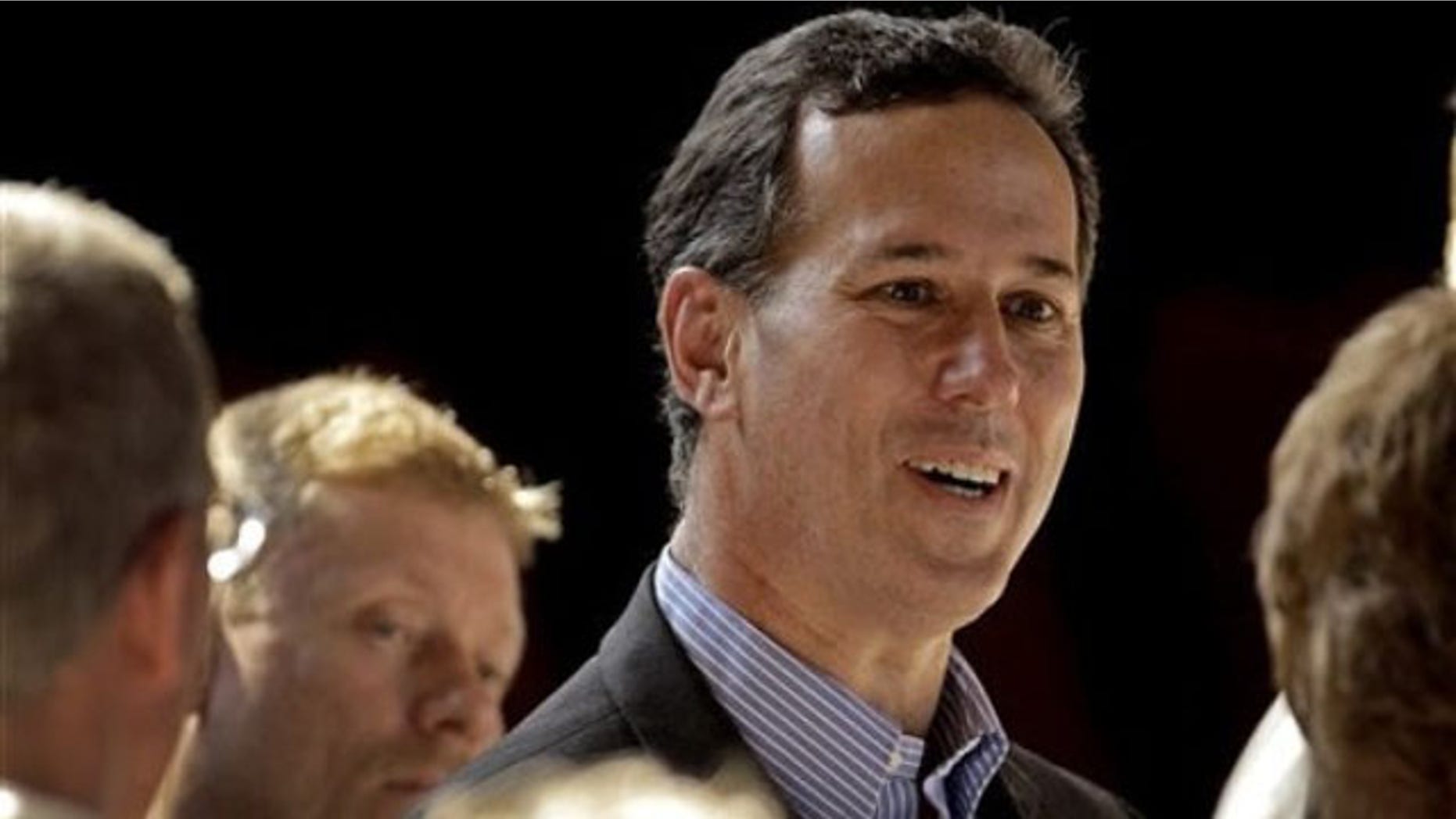 Mitt Romney's rivals are heading South in their latest attempt to shake up the Republican presidential leader board, after Rick Santorum scored a big heartland win in Kansas Saturday but was unable to erode the frontrunner's delegate lead.
The candidates appear to be in a tight and fluctuating race for Tuesday's primaries in Mississippi and Alabama. Recent polls in Alabama have interchangeably shown Santorum, Romney and Newt Gingrich in the lead.
Along with caucuses being held in Hawaii and American Samoa, Tuesday's contests offer up 119 total delegates – making it the most valuable single day of voting for the rest of the month.
But as Saturday's contests showed, Romney's rivals are having a tough time making any leaps in the delegate race.
Santorum dominated the Kansas contest with 51 percent support. Romney trailed with 21 percent, followed by Gingrich with 14 percent. Ron Paul placed last with 13 percent.
The former Pennsylvania senator ended up winning 33 of the 40 delegates up for grabs in the Kansas caucuses. He won another three in the latest round of voting out of Wyoming.
But Romney practically erased all of Santorum's gains Saturday, winning the overall Wyoming contest along with a series of tiny caucuses in far-flung locales like Guam -- racking up more than 30 delegates and once again using the nuances of the delegate battle to frustrate Santorum's effort to build momentum. Santorum still trails Romney by more than 200 delegates.
Santorum, speaking at a rally in neighboring Missouri Saturday, attributed his good fortune in the heartland to Americans voting their "values." Santorum, in a reference to Romney, urged Republicans not to nominate someone just because they think he has the best shot of winning in November.
"We have to have ... a nominee who can get up there and draw a clear contrast with the president of the United States," Santorum said.
Still, Romney was able to hold down Santorum's gains by competing across the five contests being held the same day.
In Kansas, Romney won seven delegates despite finishing second.
He later claimed victory in Wyoming's county conventions. In the first round of voting held last week, four Wyoming delegates went to Romney, and one to Paul. Romney picked up three more on Saturday, while Santorum gained three.
But what really paid off for the former Massachusetts governor were the three under-the-radar contests over the weekend. Romney picked up nine delegates each in caucuses held by Republicans in Guam and the Northern Mariana Islands, both U.S. territories that participate in the party nominating contest. Then he won at least four delegates in the U.S. Virgin Islands.
Larry Sabato, director of the University of Virginia Center for Politics, noted the importance of the barely noticed Romney victories on those island territories.
"Romney swept them. Why did he sweep them? Because he has the national organization and financing to have done the groundwork there," he told Fox News. "Those little things matter. They add up over time, and that's why Romney has far more delegates."
The Romney campaign even dispatched his son Matt to both Guam and the Northern Mariana Islands ahead of the vote. The campaign put out a statement after winning Guam, with Romney calling it "an important milestone in my quest to restore America to the principles and practices that made us great."
Santorum and Paul were the only candidates to actively campaign in Kansas in the run-up to that state's caucuses. Kansas, with its social conservative base, was considered a natural fit for Santorum -- Romney and Gingrich effectively skipped Kansas in favor of campaigning in Southern states that are holding primaries on Tuesday.
But Saturday's contests appear to leave the GOP presidential leader board looking the same as it has for weeks -- with Romney well out in front, Santorum in second, Gingrich in third and Paul a distant fourth.
Paul has not yet won a primary contest. Gingrich has won two -- in South Carolina and Georgia.
Santorum's supporters have been urging Gingrich to bow out of the race, arguing that the former House speaker is drawing votes away from their candidate and making Romney's path to the nomination easier.
Gingrich, though, told The Associated Press he plans to stay in the race -- even if he loses the primaries in Alabama and Mississippi, which are considered crucial to his Southern strategy.
Romney currently has 454 delegates out of the 1,144 needed to clinch the nomination. Santorum has 217, followed by Gingrich with 107 and Paul with 47.