Santorum: What You See is What You Get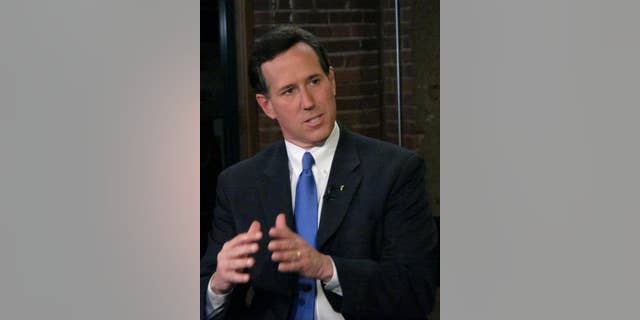 NEWYou can now listen to Fox News articles!
"What you see with Santorum is what you get," former Sen. Rick Santorum said of himself Thursday night after the first debate of the presidential primary season.
Santorum, who on Tuesday announced that he had filed paperwork with the Federal Election Commission to create a formal presidential exploratory committee, was one of five candidates to face off in the debate, hosted by FOX News and the South Carolina Republican Party.
Already known for his outspoken, socially conservative views, Santorum has emphasized his foreign policy credentials in recent weeks. But on Thursday, the former Pennsylvania lawmaker instead made a bid to distinguish himself as the strongest social conservative in the lineup.
"A lot of people out here can check the boxes and say they have conservative positions, but I've led on life and marriage," he told the Greenville audience. "I've got the arrows in my back from the mainstream media to prove it."
In largely conservative Greenville, Santorum dined with local pro-life advocates and was clear that his anti-abortion views remain a key issue for him. "Our rights come from God, the first of which is life," he said during the debate.
Though three fellow debate participants, former Minnesota Gov. Tim Pawlenty, former New Mexico Gov. Gary Johnson, and Texas Rep. Ron Paul, took part in a Tea Party rally Thursday afternoon, Santorum quietly attended a National Day of Prayer event instead.
Asked whether he appeals to the Tea Party voting bloc, Santorum did not mention them by name, pointing out that he's "never been go-along, get-along" in general, and that his record as a legislator shows he is willing to go against the grain.
"Anybody that would suggest we call a truce on moral issues doesn't understand what America is all about," he said when asked whether he will "tone down" his views on abortion and homosexuality in accordance with potential 2012 presidential candidate and Indiana Gov. Mitch Daniels' comment that GOP contenders should call a truce on debating social issues.
Speaking to reporters, Santorum called Paul "out of touch with the founders' values" for his views on illegal drugs.
Potential voters live-chatting on his website and posting on his Facebook wall asked him to "address the economy" and "be more specific," but also praised him for "standing up for real American values."
As for whether he can stand the test with voters after having lost his Senate seat by a significant margin in 2006, Santorum said simply, "Sometimes values go out of favor... You stand up for what you believe in and for what you think is true."
Santorum will spend the remainder of the week in South Carolina.