Santorum says 'bad math' makes Romney's lead look bigger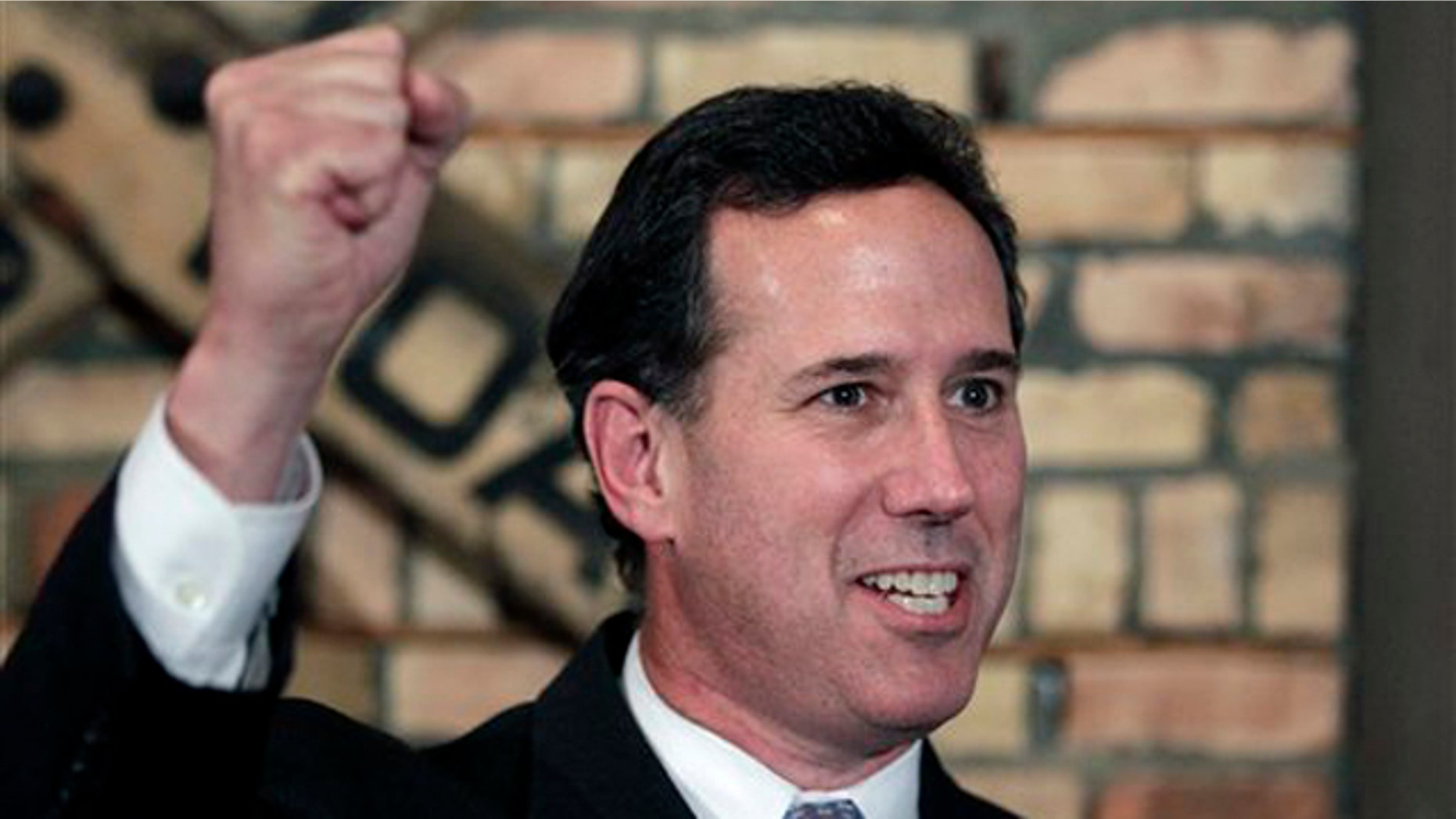 Rick Santorum claimed Sunday that his nomination chances are not nearly as dim as they look, as he tried to rally support coming off his big Louisiana win the night before and downplay front-runner Mitt Romney's seemingly unshakable 2-to-1 advantage in the delegate count.
The former Pennsylvania senator effectively claimed that the delegate tally is inaccurate.
"There's a lot of bad math there that doesn't reflect the reality of what's going on on the ground. And so I think we're in much, much better shape than what the numbers that are out there suggest," Santorum said in an interview.
Despite Santorum's Louisiana win, the Associated Press delegate tally shows Romney with 568 and Santorum with 272 delegates. Newt Gingrich has 135, and Ron Paul has 50 -- it takes 1,144 to seize the nomination.
While Santorum could feasibly prevent Romney from reaching the 1,144 threshold before the Tampa convention, he would need to overcome monumental odds to actually overtake Romney and reach that threshold himself.
Santorum, in an interview on CBS' "Face the Nation," argued that the delegate tally doesn't reflect reality. He said that Florida and Arizona, where Romney won all the delegates, are not actually supposed to be winner-take-all states -- citing earlier Republican Party rules that barred states from holding that kind of contest before April 1.
"So you're looking at, you know, probably 50 or more delegates that Gov. Romney has is going to be taken away from him," Santorum said. He also predicted that he would end up in the long run picking off more delegates from the Iowa contest, which he narrowly won after it was initially called for Romney.
Still, Romney would hold a commanding delegate advantage over Santorum even if those predictions held true.
Romney's team, increasingly confident, was dismissive of Santorum's chances following the Louisiana primary.
"Rick Santorum is like a football team celebrating a field goal when they are losing by seven touchdowns with less than a minute left in the game," said Romney spokesman Ryan Williams.
On Sunday, Santorum shot back, saying the comments came from "a desperate campaign that has no message."
Santorum said voters are "looking for someone who's going to win the election because they have better ideas, not because they've been able to pound their opponent into the ground with overwhelming negative ads. That's why we won Louisiana last night and that's why we're going to do well in Wisconsin."
Wisconsin is the next battleground, with the upcoming April 3 primary. Maryland and the District of Columbia are also voting, but they are worth fewer delegates and Santorum is not on the ballot in D.C.
Filing problems have already cost Santorum a host of delegates in this contest, not just in D.C. He was ineligible for the ballot in Virginia and for a chunk of delegates in Illinois -- both states Romney walked away from with more than 40 delegates.
Romney's campaign operation has proved formidable for Santorum, though the former Pennsylvania senator prides himself on running what he describes as a grassroots campaign.
Romney, and the super PAC supporting him, have dominated the ad wars -- a factor that surely helped the candidate pull off victories in closely contested states like Ohio and Illinois.
Plus he's been able to dispatch surrogates to low-key island contests. Romney steadily racked up small-scale wins in those elections, countering the delegate gains Santorum has made over the past few weeks with wins in Kansas, Alabama and Mississippi.
The Associated Press contributed to this report.