Santorum claims victory in Iowa, but confusion hangs over results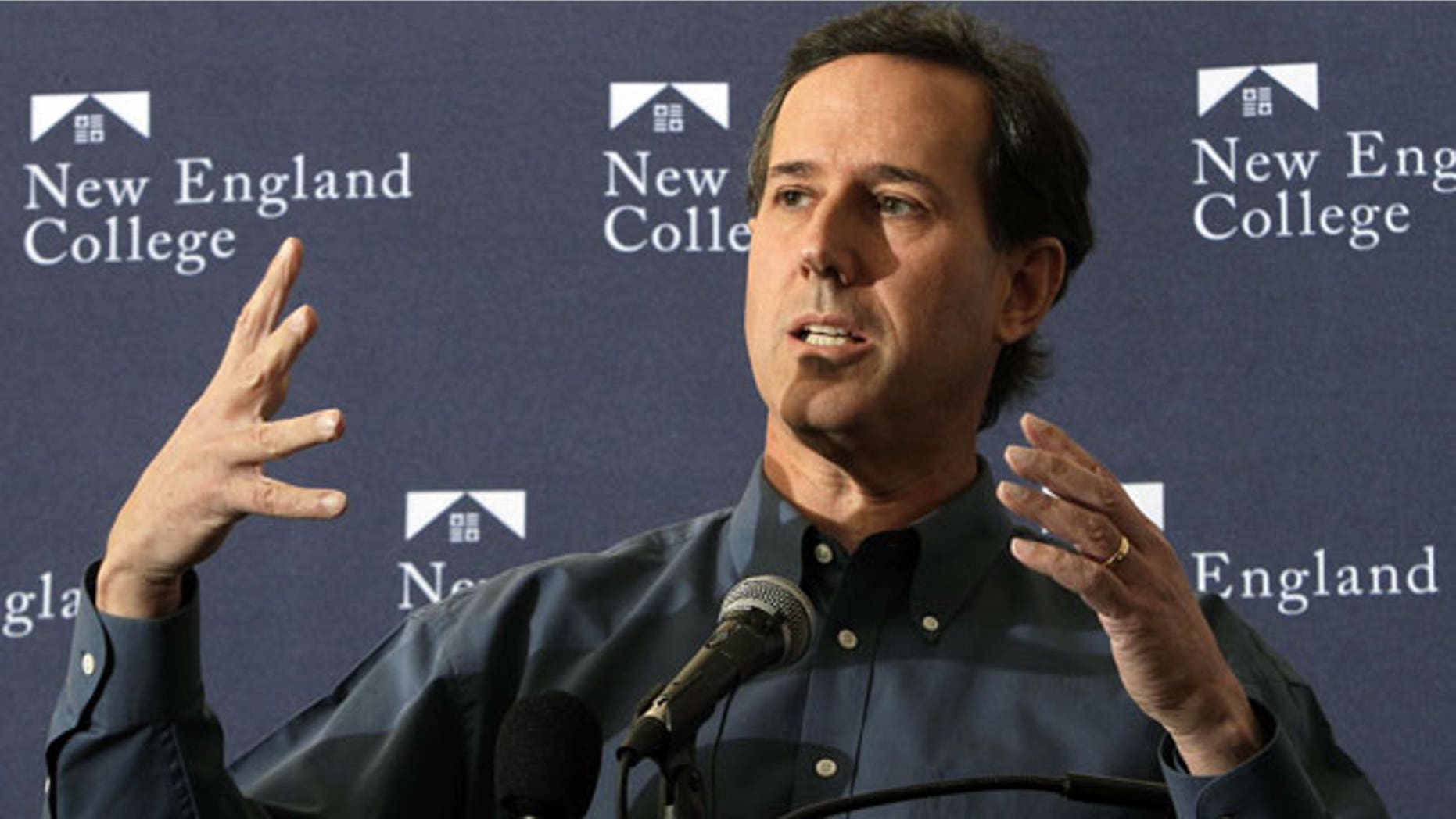 Clarity is hard to come by in the Iowa caucuses.
Two weeks after state Republican officials said Mitt Romney won by just eight votes, the Iowa GOP released certified results Thursday showing Rick Santorum edging out Romney by 34 votes.
Santorum has since declared victory, claiming Romney has even called to concede.
But not fast.
The Iowa GOP would not declare an official winner, saying results from eight precincts were still missing. And Romney's campaign is denying the former Massachusetts governor conceded the race.
Romney spokeswoman Andrea Saul acknowledged that Romney called Santorum, but said it was only "to congratulate him on the Iowa results."
Apparently that's not a concession in Romney's book, though Santorum's campaign is taking it that way. And Santorum's folks seemed taken aback by Romney's objection.
"(Romney) called him to congratulate him on the way the votes turned out in Iowa. We took that as a concession," Santorum spokesman Hogan Gidley told Fox News.
The spokesman later told Fox News that after being told Romney is denying that there was a concession, Santorum said: "Well then, what was he calling to congratulate me for? Being here in South Carolina?"
The dispute over the meaning of Romney's congratulatory phone call to Santorum would seem a fitting end to the Iowa certification process -- a process marred by confusion and conflicting accounts all along.
The totals reported just after the Jan. 3 ballots had given Romney a narrow, eight-vote win over Santorum. It gave an early boost to Romney's bid for the Republican presidential nomination.
But officials discovered inaccuracies in 131 precincts, with changes in one precinct alone shifting the vote by 50.
The Iowa GOP put the certified numbers at 29,839 for Santorum and 29,805 for Romney, with a turnout of 121,503.
"It's a split decision," the executive director of the Iowa GOP Chad Olsen told the Des Moines Register.
Iowa GOP Chairman Matt Strawn deflected blame over the inability of his state to provide a definitive count. He said there's "room for human error" in such a close contest. In reference to the leaders of the precincts where results are missing, he said, "I can't speak to why they weren't responding to the calls of our staff."
He said it's nevertheless clear that Santorum received the most certified vote results in Iowa.
Santorum's campaign declared victory in a statement Thursday morning, suggesting the surprise ending to the historically close Iowa caucuses has helped undercut the aura of "inevitability" around Romney.
"We've had two early state contests with two winners," Santorum spokesman Gidley said.
"Conservatives can now see and believe they don't have to settle for Romney, the Establishment's moderate candidate. ... This latest defeat of Governor Romney in Iowa is just the beginning, and Rick Santorum is committed to continuing the fight as the clear, consistent conservative voice in this race."
Romney won the New Hampshire primary by a wide margin, claiming back-to-back wins going into South Carolina. The announcement out of Iowa deprives him of that claim, though political analysts said it probably wouldn't do much to shake up the race -- particularly with the cloud of confusion still hanging over the results.
Santorum's lead may have been wider than the certified results suggest. Don Lucas, the GOP chairman in Lee County where results from four precincts were missing, told Fox News that the vote totals there showed Santorum up by 26 -- which would bring his statewide advantage to 60.
Though the official form with the totals was missing, Lucas still had access to the unofficial totals. Those results, though, still don't count the final tallies from the other four missing precincts.
Romney released a new statement acknowledging the vote in Iowa was too close to call.
"The results from Iowa caucus night revealed a virtual tie. I would like to thank the Iowa Republican Party for their careful attention to the caucus process, and we once again recognize Rick Santorum for his strong performance in the state," Romney said. "The Iowa caucuses, with record turnout, were a great start to defeating President Obama in Iowa and elsewhere in the general election."
Fox News' Bret Baier and Steve Brown and NewsCore contributed to this report.