Russian woman linked to gun-rights groups is charged with acting as Russian agent in US
A Russian woman accused of conspiring to infiltrate American political organizations — including the National Rifle Association — at the direction of an unnamed senior Kremlin official has been arrested, federal authorities announced Monday.
Maria Butina, 29, who accompanied Republican activist Paul Erickson to President Trump's inauguration, was arrested Sunday on a charge of conspiracy to act as an unregistered agent of the Russian government, according to court papers unsealed in Washington.
She made her initial court appearance Monday afternoon, and was ordered held pending a hearing set for Wednesday.
Butina, a former Siberian furniture owner, is also a board member and founder of the Russian gun rights group, "The Right to Bear Arms," The Washington Post reported. Her earlier work reportedly included assisting Russian central banker and politician Alexander Torshin, who is a lifetime member of the NRA.
"Maria Butina is not an agent of the Russian Federation," her attorney Robert Driscoll said in a statement Monday afternoon. "She is a Russian national in the United States on a student visa who recently graduated from American University in Washington, D.C."
Driscoll said she "has been cooperating with various government entities for months regarding public allegations related to her contacts with various American and Russian individuals," testified for eight hours before the Senate Intelligence Committee months ago and provided "thousands of documents."
FBI Special Agent Kevin Helson wrote that the goal was to "exploit personal connections with U.S. persons having influence in American politics in an effort to advance the interests of the Russian Federation."
Helson added, "I believe that Butina and the Russian official took these steps in order to infiltrate those groups and advance the interests of the Russian Federation."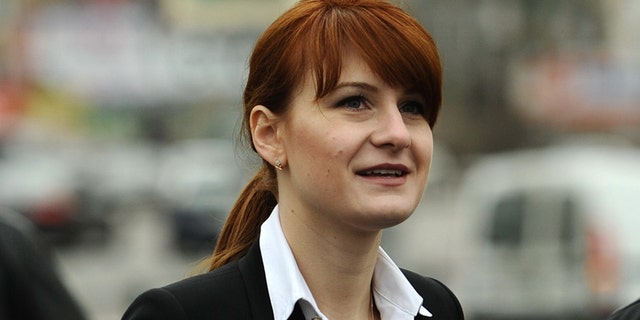 According to court papers, Butina met with U.S. politicians and candidates, attended events sponsored by special interest groups — including two National Prayer Breakfast events — and organized Russian-American "friendship and dialogue" dinners in Washington with the goal of "reporting back to Moscow" what she had learned.
"According to the affidavit in support of the complaint, from as early as 2015 and continuing through at least February 2017, Butina worked at the direction of a high-level official in the Russian government who was previously a member of the legislature of the Russian Federation and later became a top official at the Russian Central Bank. This Russian official was sanctioned by the U.S. Department of the Treasury, Office of Foreign Assets Control in April 2018," the Justice Department said in a statement.
The affidavit also stated she started reaching out to NRA members and other American gun enthusiasts in 2013, on several occasions hosting NRA executives and gun activists in Moscow, including one delegation that included former Sheriff David Clarke of Milwaukee County, Wisconsin.
She and Torshin also attended a series of NRA events in the United States starting in 2014.
Prosecutors said the Russian official since has been sanctioned by the U.S.
The DOJ added, "The court filings detail the Russian official's and Butina's efforts for Butina to act as an agent of Russia inside the United States by developing relationships with U.S. persons and infiltrating organizations having influence in American politics, for the purpose of advancing the interests of the Russian Federation. The filings also describe certain actions taken by Butina to further this effort during multiple visits from Russia and, later, when she entered and resided in the United States on a student visa. The filings allege that she undertook her activities without officially disclosing the fact that she was acting as an agent of Russian government, as required by law."
Fox News' Jake Gibson, Jennifer Griffin and The Associated Press contributed to this report.