Russia agrees to help with North Korea relationship, Trump says
Russia has agreed to help improve relations with North Korea, President Trump said in a tweet Wednesday.
Trump made the comments in a series of early morning tweets after his highly criticized meeting with Russian President Vladimir Putin in Finland and his visit with NATO countries.
"…Russia has agreed to help with North Korea, where relationships with us are very good and the process is moving along," Trump wrote. "There is no rush, the sanctions remain! Big benefits and exciting future for North Korea at end of process!"
There was no comment from the Kremlin on Trump's announcement.
Trump's remarks come days after Secretary of State Mike Pompeo said "firm commitments" were made during a meeting between U.S. and North Korea officials at the Demilitarized Zone to discuss the repatriation of American service members' remains from the Korean War.
Pompeo said the meeting was done to fulfill a commitment North Korean leader Kim Jong Un had made during the historic summit in Singapore.
Sunday's meeting marked the first time in nearly a decade the U.S.-led United Nations Command (UNC) met with their North Korean counterparts. The last face-to-face talks took place in the spring of 2009.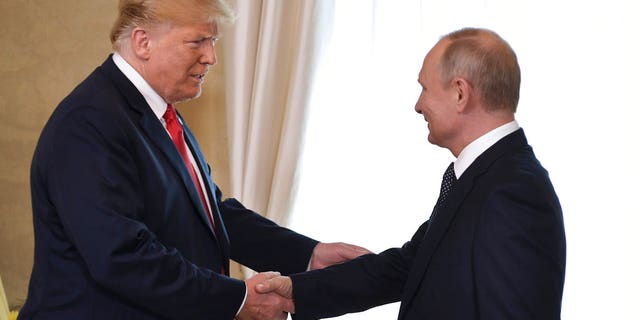 The return of American remains from the Korean War was one of the agreements made by President Donald Trump and North Korean leader Kim Jong Un last month at their historic summit in Singapore.
More than 7,800 Americans have been unaccounted for since the Korean War, which technically never has ended.
Trump and Kim met last month in a historic summit last month. Kim thanked Trump for his "energetic and extraordinary efforts" to improve the once hostile relations between the two countries in a letter.
Trump on Tuesday backtracked on his comments about Russia meddling in the 2016 elections. He said he misspoke when he dismissed allegations from the U.S. intelligence community, stating he accepted the conclusions as he tried to quell a firestorm over his press conference with Putin.
Fox News' Katherine Lam and Lucas Tomlinson contributed to this report.