Rubio slams Obama administration over lack of air marshals on flights from Cuba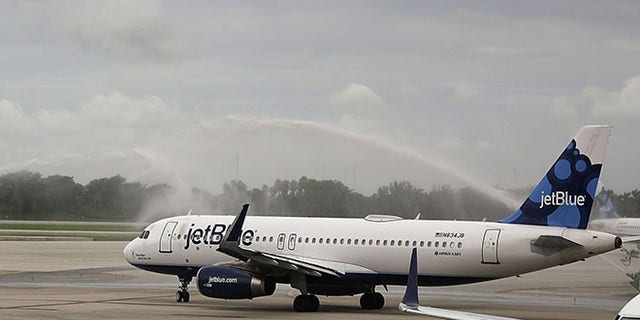 NEWYou can now listen to Fox News articles!
Florida Sen. Marco Rubio slammed the Obama administration on Tuesday for not demanding that air marshals be present on the newly begun commercial flights between the United States and Cuba.
The former Republican presidential candidate, who is currently running to keep his Senate seat, said that Obama's decision shows a "lack of concern for the American people's safety" and that the president is "putting [his] legacy ahead of the safety and security of the American people."
"Cuba remains a state sponsor of terrorism that is allied with some of the most despicable regimes in the world, including Iran to North Korea, and it is astonishing that the administration has allowed hundreds of U.S. passengers to board flights to and from Cuba under the false pretense that there would be federal air marshals on board," Rubio said in a statement.
While the Transportation Security Administration (TSA) said in August that federal air marshals will be aboard U.S. flights to and from Cuba, Huban Gowadia, deputy administrator at TSA, said earlier this month that talks are continuing to place air marshals on Cuba flights, but haven't been finalized yet.
Assistant secretary of Homeland Security for border and trade policy, Seth Stodder, had also told a Homeland Security subcommittee on transportation in May that flights wouldn't begin without an agreement on the marshals.
Rubio has called for the suspension of flights from Cuba after the TSA admitted that air marshals were not on the flights.
"TSA officials have now publically admitted the Castro government has not yet signed the document you submitted," Rubio said in his letter to Obama. "Simply put, your administration has been caught in a bold-faced lie that has put American lives at risk."
The first commercial flight – JetBlue Flight 387 – between the United States and Cuba in more than a half century landed in the central city of Santa Clara late in August.
The restart of commercial travel between the two countries after more than 50 years is one of the most important steps in Obama's two-year-old policy of normalizing relations with the island.
Many of the air routes are currently used by expensive charter flights that are largely expected to go out of business with the advent of regularly scheduled service from the U.S.
One-way fares from Ft. Lauderdale to Santa Clara started at just $99.
The Associated Press contributed to this report.
Like us on Facebook
Follow us on Twitter & Instagram