Roy Moore goes on offense against McConnell, as state party backs bid
Roy Moore is going on offense against the national Republicans who have demanded he drop out of the Alabama Senate race as the state GOP announced Thursday it won't abandon Moore as their nominee amid accusations of past sexual misconduct.
"Many of you have recognized that this is an effort by Mitch McConnell and his cronies to steal this election from the people of Alabama," Moore said in Birmingham of the Senate majority leader, who has called for him to leave the race.
"I want to tell you who needs to step down. That's Mitch McConnell."
Speaking at campaign event Thursday afternoon, Moore said, "I want to tell you who needs to step down. That's Mitch McConnell."
Meanwhile, the chairman of the Alabama Republican Party announced that the committee will not ditch Moore as the party's nominee for the Senate, even as influential Republicans, including the state's other Sen. Richard Shelby, said they won't support Moore in light of the allegations.
Chairman Terry Lathan said in a statement that the Alabama Republican Party Steering Committee met Wednesday evening to discuss the situation. The committee, she said, supports Moore "as our nominee and trusts the voters as they make the ultimate decision in this crucial race."
ROY MOORE SEIZES ON AL FRANKEN GROPING ALLEGATIONS
There has been great interest in the steering committee meeting as McConnell and other Republicans explored options for replacing Moore with another Republican or supporting a write-in candidate.
Alabama Secretary of State John Merrill told Fox News' Shannon Bream on Monday that it was possible the committee could vote to "disassociate themselves from Judge Moore and his candidacy and indicate that he is no longer their nominee."
But the party decided against any such action.
"Alabamians will be the ultimate jury in this election - not the media or those from afar," Lathan said.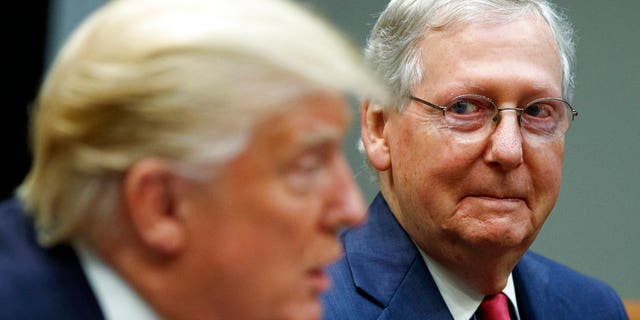 That indicates that national party leaders are running out of plausible options to stop Moore, even as polling indicates Democratic nominee Doug Jones is surging. A Fox News poll released Thursday shows Jones leading Moore by 8 points.
"Zero chance he's not nominee on Election Day," an Alabama Republican political operative said of Moore.
FOX NEWS POLL: JONES LEADS MOORE BY 8 POINTS IN ALABAMA SENATE RACE
White House press secretary Sarah Sanders suggested Thursday the President Trump will not join McConnell to force Moore out of the race.
"The president believes these allegations are very troubling and should be taken seriously," Sanders said. "He thinks the people of Alabama should decide who the senator should be."
Another option that had been publicly floated to stop Moore involved outgoing Sen. Luther Strange, who lost to Moore in the primary, resigning before next month's election so Alabama Gov. Kay Ivey could appoint someone else to the seat. Under that theory, Ivey could then cancel or postpone the special election she ordered for the seat once occupied by Attorney General Jeff Sessions.
But in an interview with a local news outlet, Ivey suggested she wouldn't play along.
"The election date is set for Dec. 12," Ivey told AL.com. "Were he to resign, I would simply appoint somebody to fill the remaining time until we have the election on Dec. 12."
Some Republicans have been attempting to nudge Sessions back into his old Senate seat.
Floating Sessions, McConnell said the name "most often discussed may not be available, but the Alabamian who would fit that standard would be the attorney general, who is totally well-known and extremely popular in Alabama."
But a source close to Sessions told Fox News this week the attorney general is not interested in leaving the Department of Justice to return to his old seat.
In a series of tweets Thursday, Moore attacked McConnell for working against him.
Moore reacted to the groping allegations made against Minnesota Democratic Sen. Al Franken on Thursday by attacking McConnell over his differing responses.
Moore tweeted: "Al Franken admits guilt after photographic evidence of his abuse surfaces. Mitch: 'Let's investigate.' In Alabama, ZERO evidence, allegations 100% rejected. Mitch: 'Moore must quit immediately or be expelled.'"
In another tweet, Moore, who was removed twice from his position as chief justice of Alabama's Supreme Court, suggested he will not be stepping down.
"I've taken a stand in the past, I'll take a stand in the future and I'll quit standing when they lay me in that box and put me in the ground," he said.
Moore has been denying the accusations and refusing to step down after the Washington Post reported a week ago that he pursued relationships with four teenage women dating back to the 1970s when he was in his early thirties and single. One woman told the paper she was 14 when the 32-year-old Moore allegedly asked her out and made sexual advances.
Another woman, appearing with celebrity attorney Gloria Allred during a Monday press conference, accused Moore of sexual misconduct while she was 16 and working at a restaurant in the 1970s.
And on Wednesday, three more women accused Moore of inappropriate behavior when Moore was an assistant district attorney in his early 30s.
He has dismissed all the allegations and said he never behaved inappropriately.
Fox News' Brooke Singman contributed to this report.