Ron DeSantis' 2024 warning: 'The left is playing for keeps' as they target conservatives
DeSantis, at Heritage Foundation confab, makes first public praise of the abortion bill he signed into law last week
OXON HILL, Md. – Florida Gov. Ron DeSantis didn't mention launching a presidential campaign, but he did have a warning about the 2024 elections on Friday for a crowd of over 1,000 top conservative activists, leaders and officials.
The popular two-term conservative governor, headlining the closing session of a leadership summit organized by the Heritage Foundation, emphasized that the "left is playing for keeps."
"If you look at what happens in 2024 — if the Democrats are able to sweep all the offices, president, Senate, and House — what will they do with that power? They will try to pack the U.S. Supreme Court. They will try to abolish the Electoral College. They will try to make Washington, D.C., a state, so they get two left-wing senators, virtually for life, and they will try to eliminate voter ID across this country and mandate ballot harvesting in every state of the union," DeSantis argued.
The governor charged that "that's not an agenda that's speaking to the aspirations of the average American. It's an agenda that a political movement is pursuing to try and block the conservative half of the country out of power, to try to keep our voices from being heard.''
TRUMP EXPANDS ENDORSEMENT, POLLING LEAD, OVER DESANTIS AND REST OF LIKELY 2024 FIELD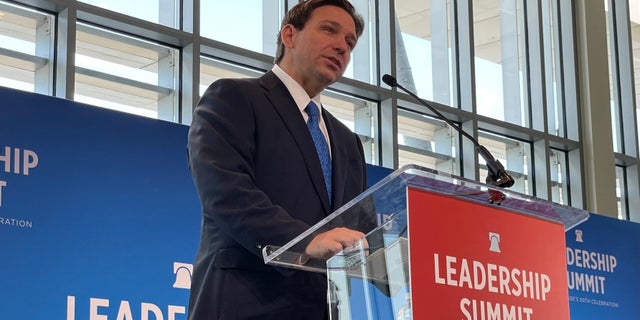 While DeSantis remains on the 2024 sidelines, he's expected to launch a presidential campaign sometime after the end of Florida's legislative session, which concludes next month. But behind the scenes, he's already made plenty of moves toward launching a campaign, including beefing up staff in Tallahassee. And in recent weeks he's made campaign-style stops in Iowa, New Hampshire and South Carolina, the first three states to vote in the GOP presidential nominating calendar.
WHO'S IN AND WHO'S ON THE SIDELINES — YOUR GUIDE TO THE 2024 GOP PRESIDENTIAL NOMINATION RACE
But speaking at a convention hall in National Harbor, just outside the nation's capital, the governor made no reference to his own 2024 plans, other than to repeat his often-used line that "freedom is worth fighting for" and "we have only begun to fight."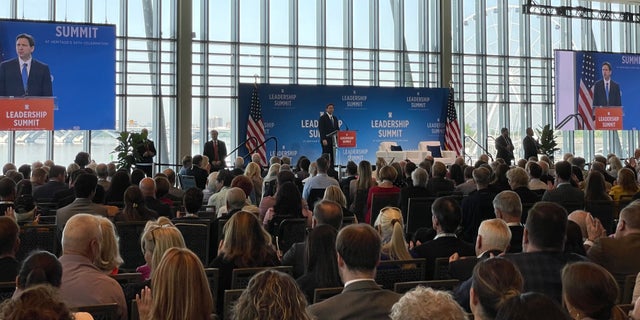 The Florida governor, a former congressman, saw his popularity soar among conservatives across the country over the past three years due to his forceful pushback against coronavirus pandemic restrictions and his aggressive actions as a conservative culture warrior going after media, corporations and teachers' unions.
DeSantis has been crisscrossing the country over the past couple of months, highlighting his "Florida blueprint" and promoting his newly released memoir, "The Courage to Be Free." As he has in other recent speeches, the governor highlighted his sweeping 19-point re-election victory last November. And he touted his record in the Sunshine State, pointing out that "Florida is fastest-growing state in the country." And he once again highlighted recent conservative legislative victories he scored, courtesy of a state house under the control of a Republican super majority.
But for the first time, DeSantis publicly referenced a controversial bill he signed into law last week that would ban most abortions in Florida after six weeks.
"We recently signed a heart bill to protect life," he said to applause from the crowd.
DeSantis had made no mention of the new law, which has been heavily criticized by Democrats, during speeches last week in Virginia and New Hampshire and earlier this week at two events in South Carolina.
Democratic National Committee spokesperson Ammar Moussa, taking aim at DeSantis, argued in a statement to Fox News "it only took a week after signing an abortion ban, behind closed doors and in the middle of the night, for Ron DeSantis to finally brag about it. Democrats will ensure voters hear not only about Ron DeSantis' abortion ban that will have devastating impacts on Florida girls and women, but also the exceedingly extreme and out of step abortion records of MAGA Republicans, including Donald Trump, who are hellbent on banning abortion across the country."
Most public opinion polls in the burgeoning GOP presidential nomination race position DeSantis in second place, trailing only former President Donald Trump, with everyone else in the field of actual and potential contenders in single digits.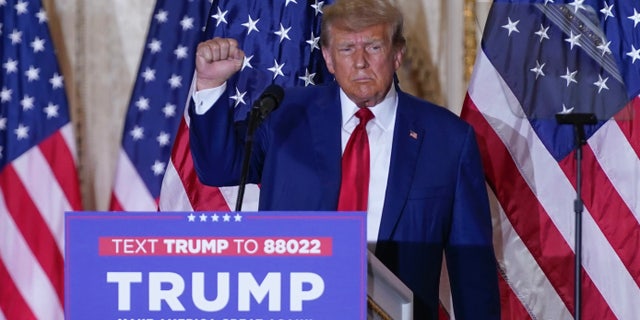 Trump, who launched his third White House bid in November, has for months repeatedly targeted DeSantis. And on Friday, Trump's campaign once again took shots at the Florida governor.
Trump campaign spokesman Steven Cheung accused DeSantis of spending "more time playing public relations games instead of actually doing the hard-work needed to improve the lives of the people he represents."
DeSantis' appearance in the Beltway was his second this week. DeSantis, who rarely visits the nation's capital, courted Republican lawmakers on Tuesday at a reception a couple of blocks from the U.S. Capitol.
Trump, meanwhile, rained all over the DeSantis visit, rolling out a spate of congressional endorsements, including a half a dozen from Florida, the state that the former president also calls home. Trump on Friday evening was scheduled to headline a Lee County, Florida, GOP dinner and discuss his plans to take on President Biden in next year's general election.
DeSantis was the second Republican expected to jump into the 2024 race to address the crowd at Heritage this week, following Sen. Tim Scott of South Carolina, who last week launched a presidential exploratory campaign.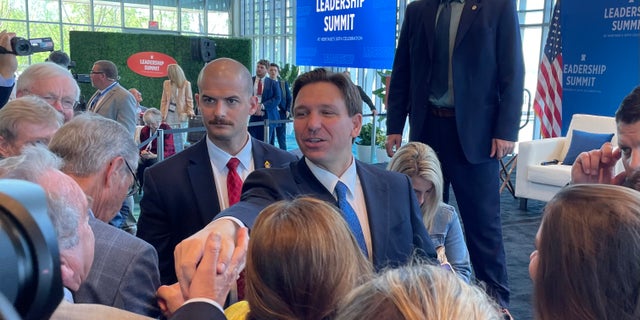 Heritage is one of the oldest and most influential think tanks on the right. Heritage president Kevin Roberts told Fox News that what his organization's legions of supporters are searching for in the Republican nomination race is "the most conservative, optimistic person who can win the general election."
CLICK HERE TO GET THE FOX NEWS APP
Asked about DeSantis, Roberts said, "We think what Gov. DeSantis has done in Florida is a blueprint for every state. Maybe it's a blueprint for the country. Conservative voters, American voters, may get the opportunity to weigh in."
He also spotlighted the pivotal policy role that his foundation, which is marking its 50th anniversary, plays.
"Does 2024, does 2028, does the future of America of run through Heritage? Absolutely," Roberts emphasized.