Rice Lashes Out at Russia for Blocking U.N. Council From Tackling Climate Change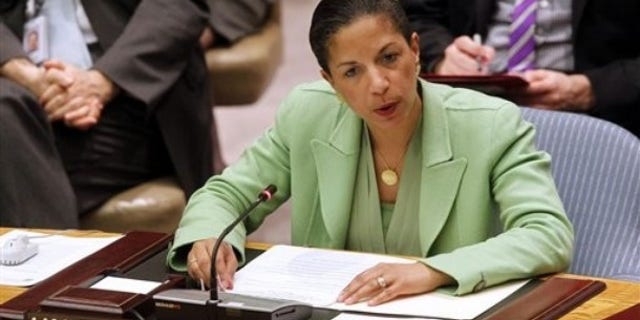 U.S. Ambassador to the United Nations Susan Rice this week issued a blistering rebuke of Russia, China and other countries that blocked the Security Council from adopting a statement linking the threat of climate change to international peace and security.
During the Security Council's first formal debate in four years on the environment Wednesday, Russia was not swayed by Western nations led by Germany, this month's council president, insisting that the 15-nation panel needs to respond to the effects that climate change has had on Sudan's Darfur region and in Somalia, where the United Nations say famine had struck two areas.
"We have dozens of countries in this body and in this very room whose very existence is threatened," Rice said without naming the countries. "They've asked this council to demonstrate our understanding that their security is profoundly threatened.
"Instead, because of the refusal of a few to accept our responsibility, this council is saying, by its silence, in effect, 'Tough luck.' This is more than disappointing. It's pathetic. It's shortsighted, and frankly it's a dereliction of duty."
Moscow's was "skeptical" about efforts to have the council address climate change, Russian envoy Alexander Pankin said, according to Reuters.
"We believe that involving the Security Council in a regular review of the issue of climate change will not bring any added value whatsoever and will merely lead to further increased politicization of this issue and increased disagreements between countries," Reuters quoted him as saying.
India and Brazil, both temporary members of the council, also express reservations about getting the body involved.
The council "does not have the wherewithal to address the situation," Indian Ambassador Hardeep Singh Puri said, according to Reuters.
Instead, the council settled on a diluted statement that expressed "concern that possible security implications of loss of territory of some states caused by sea-level-rise may arise, in particular in small, low-lying island states."
Secretary-General Ban Ki-Moon said the United Nations Framework Convention on Climate Change (UNFCCC) must take decisive action at its next conference in December in South Africa on the agreements reached during a meeting in Cancun in 2010. Those agreements called for protecting forests, adaptation and technology.
"Durban must provide a clear step forward on mitigation commitments and actions by all parties, according to their responsibilities and capabilities," he said in a statement posted on the U.N.'s website. "Developed countries must lead, while at the same time emerging economies must shoulder their fair share."
Achim Steiner, executive director of the U.N. Environment Program, warned the council that time is running out to respond.
"It is the speed of environmental change, including climate change, that will be increasingly at the heart of our collective concern and response," he said in a statement posted on the U.N. website.
"There can be little doubt today that climate change has potentially far-reaching implications for global stability and security in economic, social and environmental terms which will increasingly transcend the capacity of individual nation states to manage."