Republicans' Impostor Tweets on Dem 'Budget' Elicit Muted Reaction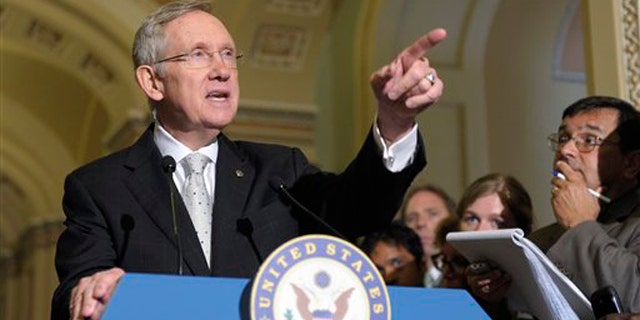 NEWYou can now listen to Fox News articles!
Political shenanigans on Twitter have gotten plenty of attention lately. But so far, the National Republican Senatorial Committee hasn't felt much heat over a slew of impostor tweets it blasted out early this week.
The NRSC on Monday posted a series of retweets under the names of prominent Democrats. The posts all referenced a "new" Senate Democratic budget proposal and website -- demsplanforamerica.com.
President Obama, Senate Democratic Leader Harry Reid, ex-Democratic Party Chairman Tim Kaine, Missouri Sen. Claire McCaskill, Montana Sen. Jon Tester and the Senate Democratic caucus as a whole were all quoted as touting this supposed budget.
"Proud of fellow Democrats for launching budget website today!" the "RT" -- or retweet -- from Tester said.
However, the link to the budget website didn't go anywhere because the website was not real. Senate Democrats have not unveiled a budget plan and the Democrats quoted by the NRSC never actually wrote those things.
The NRSC was, of course, needling Senate Democrats for not proposing a budget -- a criticism Republicans, who are under fire for their own budget, have been leveling for some time.
But if they were bracing for backlash, they didn't get it.
Calls to McCaskill's and Tester's offices seeking comment were not returned. The Democratic Senatorial Campaign Committee likewise did not respond to requests for comment about the tweets.
Twitter's official policy prohibits "impersonation" on its pages. That means users are not supposed to pretend to be someone else "in order to deceive." Users are, however, allowed to engage in "parody," so long as it does not "mislead or deceive others."
NRSC spokesman Brian Walsh said that's exactly what the tweets were intended to be.
"This was very clearly a parody and it's clear that most people got the joke," he said in a written statement. "Of course what's not funny is that it's been over 780 days since Senate Democrats last passed a budget, while our federal debt has skyrocketed past $14 trillion. So if there are any on the left who didn't appreciate our efforts to call attention to this, then all they need to do is tell Harry Reid and Chuck Schumer to do what every American family has to do every month, and propose a budget."