Reid returns to Capitol after exercise injury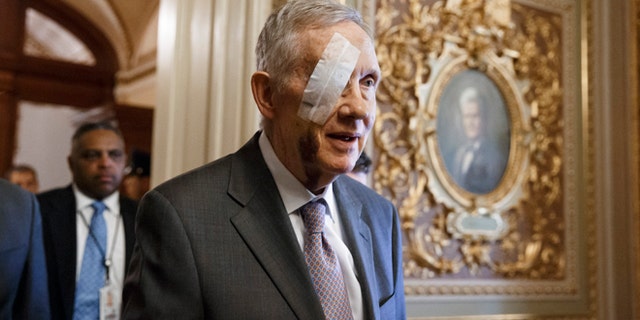 NEWYou can now listen to Fox News articles!
Sen. Harry Reid returned to the U.S. Capitol Tuesday after missing the first two weeks of the new session with major injuries from an exercise accident.
The Senate's top Democrat has broken bones in his face and fractured ribs suffered when a piece of exercise equipment broke and sent him barreling into cabinets at his new home in Nevada.
"Not bad," Reid said when reporters asked how he's feeling. He said his injured right eye is "doing better."
Reid was greeted with extended applause as he entered a meeting of fellow Democrats.
The 75-year-old Reid has said the injuries won't prevent him from running for a sixth term next year.
A photograph of Reid sitting at his desk was posted on his Twitter account Tuesday morning. He has a patch covering his right eye and facial bruising.
Reid aides said he won't attend President Barack Obama's State of the Union speech Tuesday night.