Reid emerges from fiscal crisis talks with fences to mend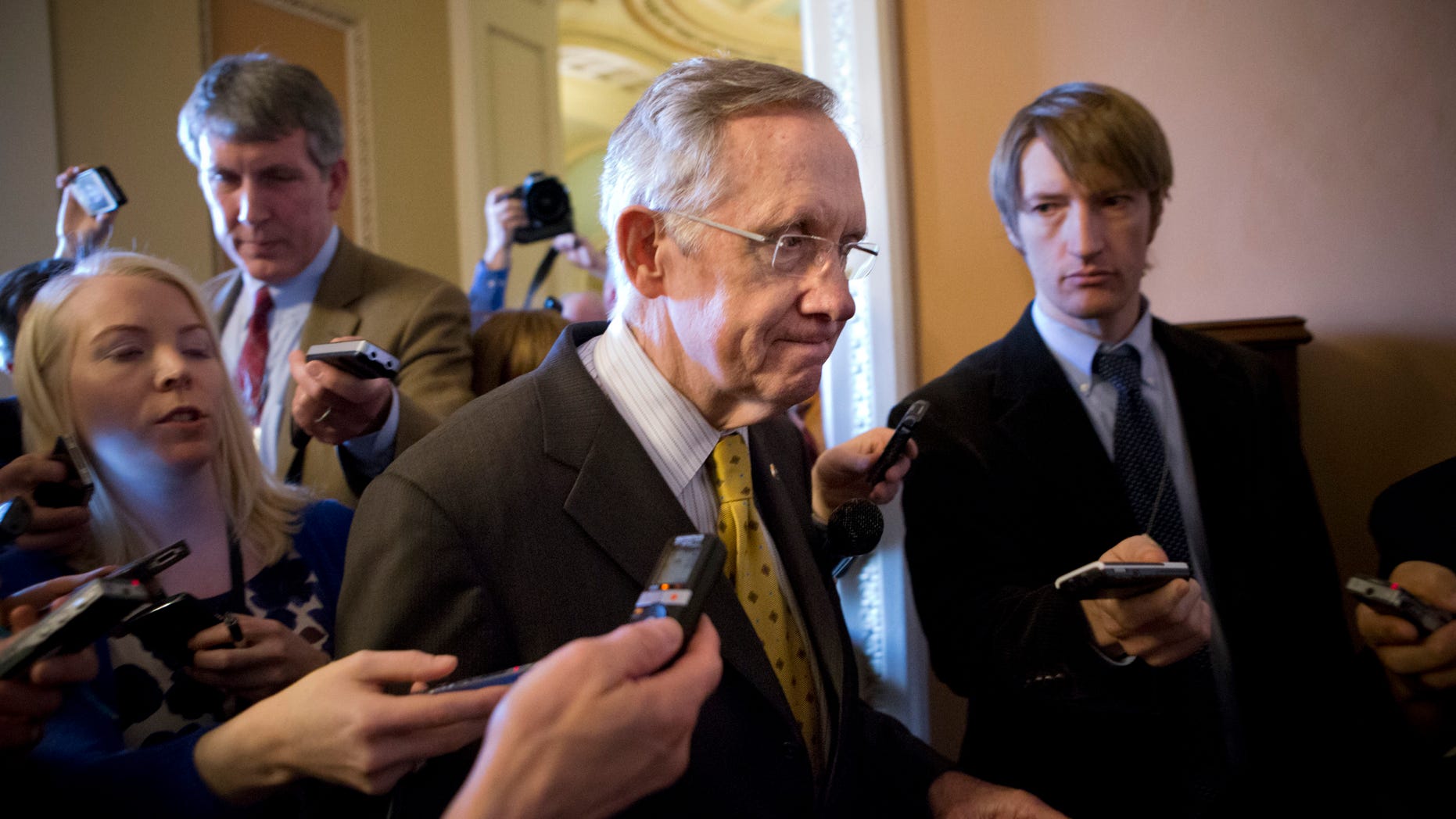 While House Speaker John Boehner was sharply criticized for his role in this week's fiscal crisis negotiations, his Democratic counterpart in the Senate hardly escaped unscathed.
Before it was over, Sen. Harry Reid managed to provoke a profane -- and widely reported -- outburst from Boehner, as well as frustrate his Republican counterpart Mitch McConnell by declining to put up a counteroffer between Saturday evening and Sunday afternoon.
McConnell ultimately found a new dance partner in Vice President Joe Biden, who helped seal the final compromise. Going forward, Reid may have to work overtime to patch things up.
"In order for the Senate to function, Senator Reid needs to walk back ... to a situation of comity with McConnell far more than was displayed over the past week," said John Ullyot, a former senior Republican Senate aide.
"Boehner and Reid could not have had a worse week," Ullyot said, noting that they both ended up on the sidelines as McConnell and Biden made the deal. "Biden and McConnell really emerged as the two adults in the room."
Ullyot said Boehner may be in the stronger position going forward, on the heels of his speakership re-election Thursday. Despite turmoil in the House GOP caucus, Boehner still has a comfortable majority. Reid, barring some reform of the filibuster process, will continue to need 60 votes -- meaning some Republicans -- on controversial legislation.
Reid's role in the fiscal deal process began to erode over the weekend, with negotiations starting to break down by Sunday. At that point, according to Republicans, McConnell was still waiting for a response to an offer he put on the table at roughly 7:10 p.m. the previous evening. McConnell claimed he was told by Reid's office that they'd be back with a response by 10 a.m. Sunday.
By early afternoon Sunday, with no response in hand, the Republican leader started to complain. One senior Senate Republican aide said they felt like they were being "slow-walked."
It was around that time McConnell placed a call to Biden -- as Reid publicly acknowledged that the Senate Democrats were "not able to make a counter-offer." Reid would later make an off-hand remark about having a new offer, but his spokesman immediately walked that back.
Through the night and into the next morning, Biden and McConnell would continue to trade ideas, with the differences between them narrowing. Things started to wrap up around 8:30 p.m. Monday, when McConnell agreed to the terms, after which President Obama called Reid and Pelosi -- and Biden was dispatched to the Hill to make the final pitch to Senate Democrats.
Wednesday on the floor, Reid's deputy, Sen. Dick Durbin, D-Ill., claimed Reid played a "critical" role during those talks.
"There were three parties to that negotiation," he said, adding he spent 16 hours in Reid's office on Monday.
But at least on Sunday, Reid appeared to be out of the conversation. Asked Sunday evening if there was progress, he said, "talk to Joe Biden and McConnell."
Two days earlier, Reid had also gotten into a tiff with Boehner while they were at the White House for a meeting. Sources confirmed to Fox News that Boehner approached Reid and told him to "go f--- yourself."
The animosity apparently stemmed from Reid, on Thursday, likening Boehner to a dictator on the House floor. Claiming Boehner was holding up talks out of concern for his own speakership, Reid said the chamber was "being operated with a dictatorship of the speaker."
According to a House GOP leadership source, Reid responded to Boehner's outburst Friday by claiming he only writes what's written for him in his speeches.
At that moment, the source said, Reid's chief of staff David Krone interjected and told Boehner the staff would never write something like that and "would never do that to you."
"The guy (Krone) just totally threw his boss under the bus right in front of everyone. It was stunning," the source said.
It's unclear where there was in fact any tension among Reid's staff. But Reid joked about the drama Thursday, making a quip about visible dark spots on his face.
"The marks that people see on my face -- that has nothing to do with the fiscal cliff or the disagreements that Speaker Boehner and I had," he said. "It's from being very pale and living in the desert most of my life."
Reid is hardly the only congressional leader with fences to mend. During the speakership vote Thursday, nine Republicans voted for someone other than Boehner, including three votes for GOP Majority Leader Eric Cantor. Those votes came amid whispers once again of tension between Cantor and Boehner.
A House Republican leadership aide told Fox News, though, that the two are "damned if they do and they're damned if they don't" -- in that any showing of solidarity between them is often dismissed as contrived while any disagreement is blown out of proportion.
Obama and Boehner, too, are not exactly on great terms. A Boehner aide said the speaker does not plan to hold one-on-one meetings with the president going forward and will instead debate legislation solely through the regular House process.
As for Reid, the first test of the new session may be his handling of whether to overhaul the filibuster rules. The process, Democrats complain, has allowed Republicans to block all manner of bills by demanding a 60-vote threshold. Reid, though, so far has not gone forward with an attempt to overhaul those rules - and in turn weaken Republicans' clout - with a simple majority vote.
Ullyot said the filibuster issue will indeed be a test for Reid, in terms of the bipartisan relationship going forward. "Signs point to yes there in terms of wanting to patch up a relationship with McConnell and the Republicans," he said.
FoxNews.com's Judson Berger and Fox News' James Rosen contributed to this report.