Rahm Emanuel Takes Witness Stand in Chicago Mayoral Residency Hearing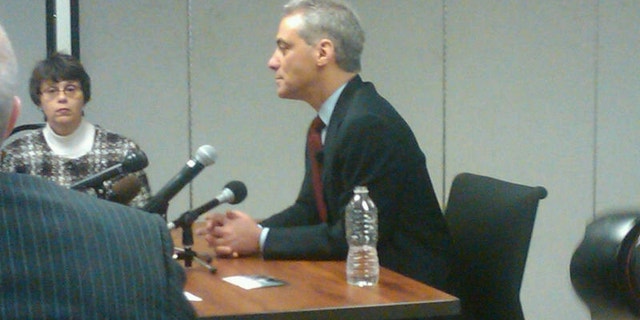 In a packed hearing room in the basement of the Chicago Board of Elections, all eyes are focused on Chicago mayoral candidate Rahm Emanuel.
Emanuel is in the midst of answering a long series of questions about his personal and professional life: Where he grew up, Where he went to school, Where he worked, for whom and how long. Essentially it's a play by play account of his resume. At one point, an attorney questioning Emanuel said, "this is better than a [campaign] commercial, isn't it?" Emanuel paused and said, "Well, it's cheaper."
Tuesday marks the first day of testimony in the evidentiary hearing brought about by the two dozen city residents who object to Emanuel running for mayor of Chicago, because they claim he doesn't meet the residency requirement.
Illinois law states a candidate cannot run for office unless he or she lives in the city for one full year prior to Election Day. In this case, Election Day is February 22, 2011.
After Chicago Mayor Richard Daley's surprise announcement that he would not seek re-election next year, Emanuel left his position as President Barack Obama's Chief of Staff earlier this year to move back to Chicago and pursue a run for Chicago Mayor. But there was a problem. Emanuel had already rented out his north side Chicago home to Rob Halpin and his wife Lori.
Emanuel testified he was "willing to compensate the Halpins" with moving expenses in order for Emanuel to be able to move back into his home. The Halpins turned down the offer, refusing to move out or break the lease which doesn't end until June 30, 2011. Emanuel is currently renting another apartment in Chicago.
After fixing some unanticipated audio problems with his microphone, the lead hearing officer, Joseph Morris, asked Emanuel to say something to test the microphone. Emanuel jokingly said, "It's a pleasure to be here," which got a laugh from the crowd of observers in the hearing room.
Attorney Burt Odelson, who represents two city residents objecting to Emanuel's run for mayor, is taking every opportunity to establish where Emanuel lived and for how long, noting his various moves to Washington and back to Chicago. At one point photos showing the inside of Emanuel's home were displayed on a projector screen.
Odelson asked Emanuel to identify each room in the house asking, "And this is the kitchen?" Emanuel replied, "very good Mr. Odelson." Emanuel paused and went on to say, "US History for $200," referencing the television game show, "Jeopardy."
Emanuel is being cooperative and direct. He's talked about his property taxes, registering his Chicago vehicle, federal tax returns, and now his voter registration. At some point after several more hours of this type of questioning, you could expect his patience may wear thin.
Tuesday afternoon, about a dozen Chicago residents stepped up to the podium for their chance to question Rahm Emanuel about his residency.
He explained when he moved to Washington, to serve as Chief of Staff for President Obama he was working 7 days a week, around the clock. While he was in DC, he says he saw his wife and three children once a month back in Chicago. In contrast, while he was serving in Congress he saw his family 4-5 nights a week. When asked why he rented out his Chicago home (after his wife and children moved to DC in June 2009) Emanuel said, "For the safety and security of the house, it was recommended by the realtor."
One objector asked Emanuel, "How far do you expect individuals to make allowances for you? How far do we break the law?" Emanuel responded, "I vote here, pay property taxes here ... the only reason I don't put my head down on my pillow is because the President, in time of crisis, asked me to serve as his Chief of Staff."
During questioning there were multiple outbursts from one objector in the room, Jeffrey Black, shouting, "You're under arrest Mr. Emanuel. You're running out of time. Indict Rahm."
When Black got his opportunity to question Emanuel, he asked, "Are you [Emanuel] being blackmailed or bribed prohibiting you from giving truthful testimony today?" Emanuel was not forced to answer the question. Apparently not satisfied with Emanuel's demeanor, Black later asked Emanuel, "Have you ever heard the statement, 'smiling like you killed the butcher's dog?' " The lead hearing officer scolded Black and said if he continued that line of questioning it's possible Black may be held in contempt.
There are three Chicago police officers present in the hearing room and more standing just outside the doors. One woman was escorted out of the room after a minor outburst when she repeatedly boo'd one of the lawyers for his line of questioning of Emanuel.
The goal is to finish all questioning for Emanuel Tuesday.
Emanuel has a picture of his wife and three children with him on the witness table where he is sitting and during the lunch break, he dined on takeout from Rosebud restaurant in Chicago.