Property rights battles threaten to further slow California's costly, long awaited bullet train project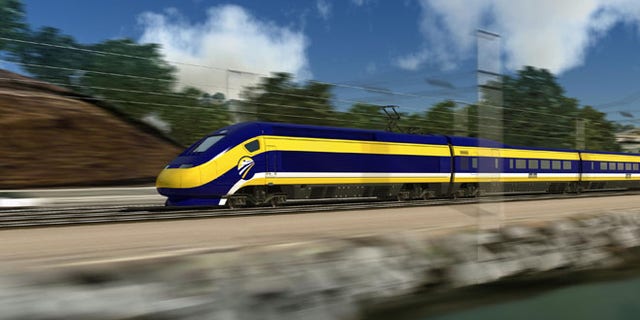 California's quest to build a $68 billion high-speed rail system is facing more potential delays and costs as the state haggles over property rights with Central Valley farmers and land investors -- and more legal cases are just around the bend.
The state broke ground just after New Year's on the first part of the San Francisco-to-Los Angeles/ Anaheim bullet train -- considered the most expensive public works project in U.S. history. When completed, officials say it is expected to travel between the two cities in under three hours and at speeds up to 200 mph.
The estimated, final completion date is 2029, but the deadline is being threatened by farmers and other property owners in the valley who are balking at initial offers for their land. The result has been the state taking some people to court under the process of eminent domain, in which the government would have the power to take private property for public use.
California officials anticipated that acquiring land in downtown Los Angeles and San Francisco would be challenging and expensive. However, they appear to have found harder-than-expected negotiations in the fertile Central Valley, where the farmers and wealthy investors own land that can yield crops worth millions annually.
The California High-Speed Rail Authority is already at least 18 months behind on the first phase of construction, a 29-mile stretch in the valley region that includes building bridges and rail beds, according to The Los Angeles Times.
In a 52-page status report released earlier this month, the authority acknowledged that land deals could slow construction.
"Delays in the acquisition process could affect the (phase-one construction) contractor's ability to meet project deadlines and costs," officials wrote.
They also argued that "right-of-way issues … are not unique to the high-speed rail program." But the contractor is already reportedly seeking compensation for the delays and saying major work won't begin until late spring or early summer.
The authority needs 525 parcels for the first phase of construction and has closed deals with the owners of 123 of them. About 154 other owners have rejected initial offers, which has resulted in the state initiating eminent domain proceedings, The Times reports.
Authority spokeswoman Lisa Marie Alley told FoxNew.com on Tuesday that the early projections on rights-of-way were done before deciding on a final rail path and hiring a contractor, which has slowed efforts. However, that department has added staff, continues to close deals on a "weekly basis" and that final completion dates will not be impacted.
The system will eventually extend to Sacramento and San Diego, totaling 800 miles with up to 24 stations.
The land deal is just the latest challenge in the project, which was first proposed in the 1980s.
Voters narrowly approved $10 billion in bonds for the project in 2008 but critics have been vocal.
"For years now, Go. (Jerry) Brown and the high-speed rail authority have turned the idea of high-speed rail into a public albatross far beyond what Californians envisioned or voted for," House Majority Leader Kevin McCarthy, R-Calif., said after the groundbreaking. "Supporters of the railroad in Sacramento can't admit their project is deeply flawed, and they won't give up on it despite the cost."
The authority and other supporters say the project's cost and environmental impact is far less than it would be for building more roads and highways in the already notoriously traffic-filled state.
"We have to make a decision about whether or not there are larger superseding benefits and value that this decision would bring, not only to this community, but to the state as a whole," authority Chairman Dan Richards told Central Valley property owners last spring.