President George H.W. Bush's casket makes train journey to final resting place
The special funeral train carrying former President George H.W. Bush arrived in College Station, Texas on Thursday -- the last leg of his journey before America's 41st president is laid to rest.
Following a funeral at St. Martin's Episcopal Church in Houston, Bush's casket – draped in an American flag – was loaded aboard a Union Pacific Locomotive 4141 train car in Spring, Texas.
Former President George W. Bush and his family were among those in attendance at the ceremony, after which they boarded the train.
GEORGE H.W. BUSH HONORED AT TEXAS FUNERAL: 'A LIFE NOBLY LIVED'
During the funeral, the elder Bush – who died Friday at age 94 – was remembered for his "decency, boundless kindness and consideration of others" by a longtime friend and former secretary of state, James Baker.
Bush is to be interred on the grounds of the George H.W. Bush Presidential Library and Museum, on the Texas A&M University campus, near his wife, Barbara, and Robin, their daughter who died of leukemia at the age of 3 in 1953.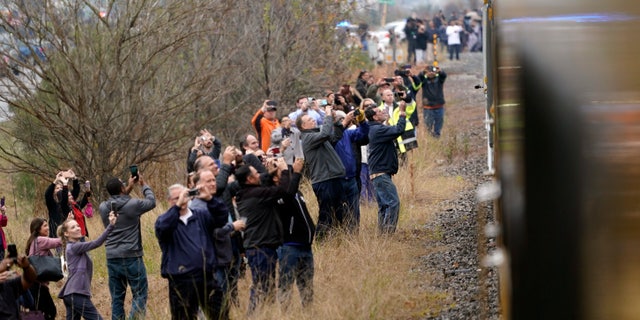 The train was scheduled to slow down through a number of towns along its roughly 70-mile trip. That included Magnolia, where hundreds of people gathered to see 4141 go by. Crowd members waved flags and cheered as the train arrived.
GEORGE H.W. BUSH'S FUNERAL, MEMORIAL SERVICES: EVERYTHING YOU NEED TO KNOW
There have been several other such funeral trains in the nation's history. That includes the one that carried Dwight D. Eisenhower's body from the National Cathedral in Washington to his Kansas hometown of Abilene several decades ago, according to The Associated Press.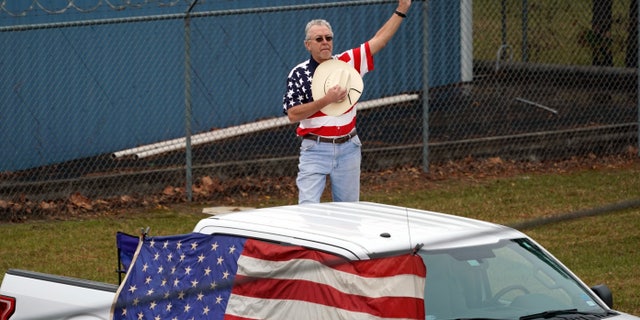 Upon the train's arrival in College Station, members of the Bush family and guests observed as the casket was placed into a hearse.
He was later buried during a private service.
Fox News Alex Pappas, Madeleine Rivera and The Associated Press contributed to this report.