President Calls Cesar Chavez 'American Hero' Who Held U.S. To Its 'Lofty Ideals'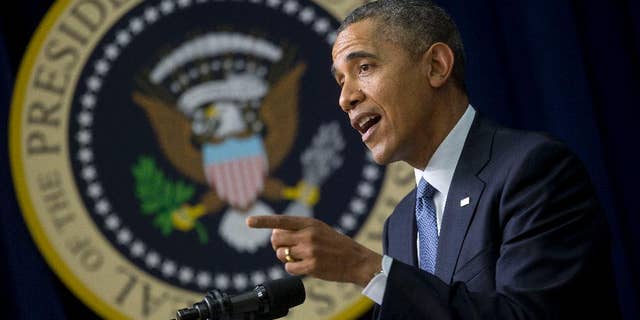 In his opening remarks Wednesday before a White House screening of a movie about Cesar Chavez, President Obama called the labor rights leader "an American hero" determined to make sure the United States "lived up to its lofty ideals."
The film,directed by Diego Luna,stars Michael Pena as Chavez. The movie opens on March 28.
In a room of about 100 people, including actresses Rosario Dawson and America Ferrera, labor leader Dolores Huerta, House Minority Leader Nancy Pelosi and relatives of Chavez, Obama touted Chavez's can-do spirit.
"This movie, this film tells the story of a man guided by an enormous faith — faith in a righteous cause and a loving God, and the dignity of every human being," Obama said. "And it reminds us how throughout our history that faith has been tested, and that it falls to ordinary Americans, ordinary people, to fight and restore that faith."
"Cesar himself said that he spent his first 20 years working as an organizer without a single major victory," the president said. "But he never gave up. He kept on going, and the world is a better place because he did."
Obama, who then drew parallels to his current fight to get Congress to pass a comprehensive immigration reform law and raise the minimum wage, said Chavez provided a great lesson for everyone.
"No matter how long the odds, you keep going, fueled by a simple creed — sí, se puede," he said.
The president did not stay to watch the film, but told the crowd he would view it while his wife and daughters are traveling in China.
In 2012, Obama announced the creation of a monument in California to honor Chavez, who died in 1993.
The Cesar E. Chavez National Monument, which includes 120 acres, became the first to honor a Latino born later than the 1700s.
Follow us on twitter.com/foxnewslatino
Like us at facebook.com/foxnewslatino