Prank California highway signs 'welcome' felons, illegal immigrants and MS-13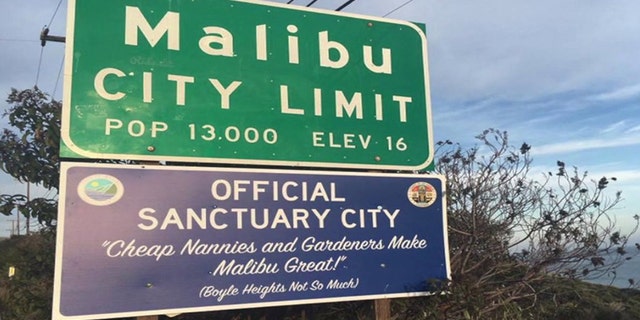 NEWYou can now listen to Fox News articles!
Drivers entering California are being greeted with signs proclaiming the liberal bastion an "OFFICIAL SANCTUARY STATE," according to photos and videos circulating on social media appearing to show a prankster attached the official-looking blue signs just below legitimate "Welcome to California" markers.
The sanctuary state sign, which adds "Felons, Illegals and MS13 [gang members] welcome," is similar to one hung up by a Malibu activist last year.
"Democrats Need The Votes!" reads a message on the signs, which are plastered with the Great Seal of California and a donkey, one of the symbols of the Democratic Party.
California Department of Transportation (Caltrans) spokesman Mark Dinger told Fox News on Tuesday that one of the signs was taken down yesterday on Interstate-15 near the California/Nevada border. A crew has been dispatched today to remove another sign spotted on I-40 near the border with Arizona, he added.
"For safety reasons, Caltrans does not permit any unauthorized signs in the state right of way," the agency said in a statement. "If we haven't done so already, Caltrans crews will take steps to remove them."
California became a "sanctuary state" on Monday after a bill Democratic Gov. Jerry Brown signed into law in October officially took effect.
The law bars police in the nation's most populous state from asking people about their immigration status or participating in federal immigration enforcement activities in most cases.
The Golden State is home to an estimated 2.3 million illegal immigrants.
The signs in photos and videos being circulated on social media are similar to one placed in Malibu in April 2017, after it declared itself a sanctuary city.
"Official Sanctuary City 'Cheap Nannies and Gardeners Make Malibu Great!' (Boyle Heights Not So Much.)" read the sign on the side of the Pacific Coast Highway, according to FOX5.
That sign was reported by a California State Parks employee to authorities but was already taken down by the time deputies arrived to investigate.
"This was not an official city sign," Malibu Councilwoman Laura Rosenthal had told the Los Angeles Times. "It's down, and it's very disheartening that anyone would put up such an ugly sign."
"Whoever did this spent some time on it," she added.
Fox News' Amy Lieu contributed to this report.