Postal Service Chief: 'Radical Changes' Needed to Save Agency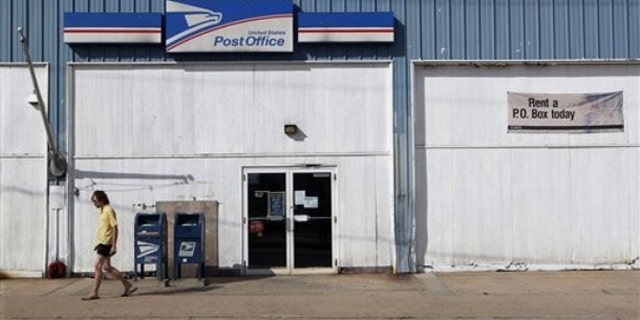 NEWYou can now listen to Fox News articles!
The head of the U.S. Postal Service said Tuesday that "radical changes" will be needed to keep the agency afloat, warning lawmakers that it will likely face default sometime next year without congressional intervention.
Postmaster General Patrick Donahoe, in testimony on Capitol Hill, said "comprehensive, long-term" legislation will be needed to stabilize the tightly regulated service. He said in a report to Congress that the agency stands to lose $10 billion this fiscal year.
"Our situation is urgent," he told lawmakers.
The service could shut down without severe changes. Donahoe said that the agency will hit its $15 billion borrowing limit this month and, as a consequence, will miss an upcoming $5.5 billion payment for future employee health care costs.
At best, Donahoe said, the service can stave off total default until this time next year.
He told Congress that the fundamental problem is the service is restricted by law from doing the kinds of things a business would do to address financial shortfalls. He said the Postal Service needs to have the ability to operate "more as a business does."
The rise of email and online bill-paying, as well as the economic downturn, have taken a heavy toll on the agency. Donahoe has proposed a host of drastic changes, including ending Saturday mail delivery, but would need congressional action to enact them.
Current agreements, for instance, prohibit layoffs. Donahoe wants to cut 120,000 jobs, and would need legislation in order to do it. He also has proposed overhauling employees' health care and pension systems; reclaiming billions in supposedly overpaid pension payments; and closing down thousands of post offices.
Donahoe was one of several witnesses testifying Tuesday afternoon before the Senate Homeland Security and Governmental Affairs Committee. The Postal Service faces a tangle of competing interests and concerns on the Hill as it pushes for a fundamental overhaul of the way it does business.
Some lawmakers are averse to ending Saturday delivery, while the postal unions are not happy about proposed layoffs.
Sen. Susan Collins, R-Maine, said Tuesday that she believes some post offices could be closed. But in rural areas, she said, "This simply is not an option." She also warned that moving to five-day delivery would have "significant downsides," including harming other businesses that rely on weekend service.
On the House side, Rep. Darrell Issa, R-Calif., is pushing a bill that would create a commission to recommend office closures, allow for five-day delivery and make other changes.
While the Postal Service is governed by strict federal rules, it is not technically taxpayer-funded, relying instead on fees generated by postage. However, it does not have to pay taxes and enjoys other benefits.
The Associated Press contributed to this report.