Planned Parenthood to End Abortion Services in Three Arizona Cities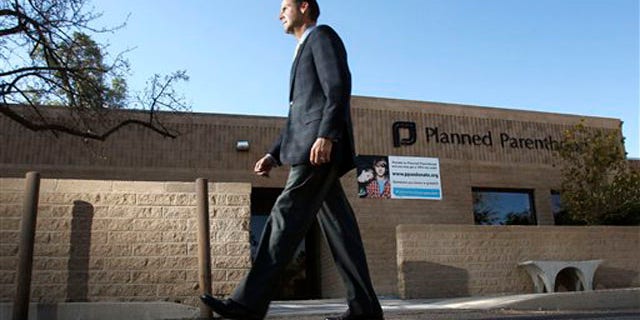 NEWYou can now listen to Fox News articles!
FLAGSTAFF, Ariz. – Planned Parenthood is ending abortion services in three Arizona cities to comply with recent state laws that placed restrictions on abortions, the organization announced Thursday.
Starting Friday, women will no longer be able to terminate their pregnancies at the Planned Parenthood clinics in Prescott Valley, Flagstaff and Yuma that offered abortion through medication. Women can still receive surgical and medication abortions in the Tucson and Phoenix areas, but will those services will cease at some suburban locations.
"I think we've really done women a disservice in all parts of the state by imposing rules that have no medical significance and just creating barriers," said Bryan Howard, president of Planned Parenthood of Arizona.
The move came a week after an Arizona a state appeals court allowed key parts of a 2009 state law restricting abortions to take effect. That includes a requirement that women see a doctor in person the day before getting an abortion to hear about risks and alternatives, and allowing health care workers to refuse to participate in abortions for moral or religious reasons.
The Arizona Court of Appeals ruled the provisions constitutional and said they do not put an undue burden on women seeking to end their pregnancies.
Howard said the group likely will appeal the ruling to the Arizona Supreme Court but believed it was broad enough to impact a separate challenge over 2011 laws regarding abortion. Planned Parenthood withdrew a request for a preliminary injunction in that case ahead of a Sept. 12 hearing, Howard said.
But Howard said he was unclear whether provisions of the 2011 law that prohibit nurse practitioners from performing medication abortions would go into effect immediately but decided to scale back abortion services anyway. Flagstaff, for example, has only a nurse practitioner who performs abortions.
Dave Cole, solicitor general for the state attorney general's office, said it would defer to the judge in the case on when the laws are enacted.
The Arizona laws are part of a wave of restrictions that legislatures across the country have passed, reducing access to abortions. Other measures include bans on late-term abortions and preventing coverage in new insurance exchanges. More than half of U.S. states require waiting periods for abortions -- typically 24 hours, while a larger number require some type of counseling beforehand, according to the National Conference of State Legislatures.
In Kansas, two abortion providers are challenging new regulations for hospitals, clinics and doctor's offices performing five or more elective abortions a month. A North Dakota law, also being challenged, would prevent the state's only abortion clinic from performing medication abortions. Funding for Planned Parenthood is also under attack in some states.
Preventative care will be more important than ever in Arizona now that women, particularly in the northern part of the state, will have to drive farther to reach abortion clinics if that's what they choose, Howard said.