PGA helping America's veterans at Congressional Country Club
For the past two years, Congressional Country Club has welcomed America's combat veterans to its world-class facilities and championship golf courses for two months of instruction, free of charge. The goal: helping America's heroes heal through the game of golf.
It's all possible thanks to the PGA of America's HOPE program, which stands for Helping Our Patriots Everywhere.
"PGA HOPE is amazing," said former Maj. Pierre Larkin, originally from the south side of Chicago, who served in three services – the Army, Air Force, and Marines – over his 32-military career.
Larkin, 51, is a veteran of four combat tours to Iraq, Afghanistan, and Africa.
"It builds on those core values that soldiers have -- that camaraderie, esprit de corps, even when you have issues like PTSD, or trauma, when you come here, and you're learning golf with other people with that same kind of spirit and drive, this program's amazing," Larkin told Fox News at the club located in Bethesda, Md., just a few miles outside the nation's capital.
It's the shared experience of combat and love of golf that brings these vets together.
Former Marine infantryman Sgt. Shawn Branscum, 36, served in Iraq's Anbar Province at the height of the war. In addition to his strong Christian faith, Branscum credits the PGA's Hope Program for helping him.
"The world's a lot bigger than just the Marine Corps and the battlefield, sometimes people get stuck there," said Branscum who hails from Cabot, Ark. "I don't have to keep replaying some of those thoughts from being overseas," he added.
It's not the first time Congressional Country Club has supported the military.
America's first Special Forces -- who parachuted behind enemy lines during World War II -- came here to train under the Office of Strategic Services, or OSS, the precursor to the CIA.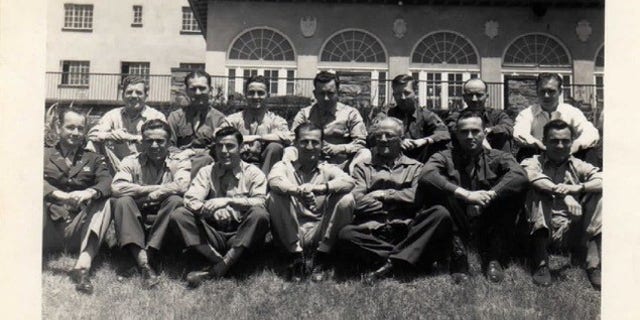 "They used to use the club to blow things up. They used to use it for nighttime commando exercises. They had a mockup of a plane they used to jump out of," said Charles Pinck, president of the O.S.S Society in an interview with Fox News.
"One OSS veteran described it as 'malice in wonderland,' [O.S.S. recruits] taught the 10 Commandments in reverse--how to lie cheat, maim, steal and kill," Pinck said.
In three years, the National Museum of Intelligence and Special Operations will open near Dulles Airport in Northern Virginia to pay tribute to America's special operations forces. The museum will honor the OSS, America's first clandestine unit created in 1942 by Gen. William "Wild Bill" Donovan, who was known as the founding father of American intelligence and special operations.
"A Ph.D. who can handle himself in a bar fight," was the description of the ideal O.S.S. candidate.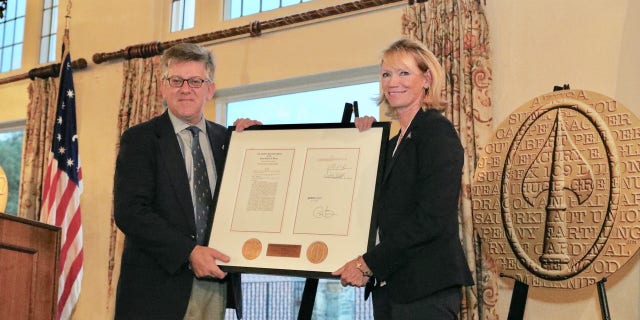 Congressional Country Club was one of the first clubs to open its doors to wounded warriors through the PGA's Hope Program. Today, 10 PGA pros spend hours over eight weeks to helping America's veterans.
Former Cpl. Scott Allen of Crownsville, Md. is a Marine combat veteran of two tours in Iraq.
"It's been a treat to come out here and unwind," said Allen. "Congressional has opened their arms and made all this possible. The instructors, the time they donated, it's been really helpful."
Founded in 1921, Congressional Country Club called Presidents Coolidge, Taft, Hoover, Wilson and Harding lifetime members. It hosted the U.S. Open three times. The club wasted little time opening its world-class facilities to veterans.
"It was the fastest approval process in the history of the membership it took 10 minutes for the board and management to say ok we are grabbing on to this," said Jason Epstein, the PGA Director of Golf and Athletics.
"When you think of the nation's capital and golf, Congressional's history with the military and patriotism shines through," he said.
PGA Hope has the support of golf's greatest player.
"We are here for you, as you have always been here for us," Jack Nicklaus said in a promotional video for PGA Hope. "It takes a nation to heal our veterans. Now it's our turn to fight for you, to offer every chance for a healthy and successful life."
Former Marine Corps officer and Naval Academy graduate Kurt Knapper is the PGA's Middle Atlantic Section's Assistant Executive Director. He traveled to Congressional to say thanks to the members and staff.
"There's nothing like giving back to those that have served," Knapper said on Congressional's opening hole. "It's very gratifying."