Petraeus Slumps Over Desk During Senate Hearing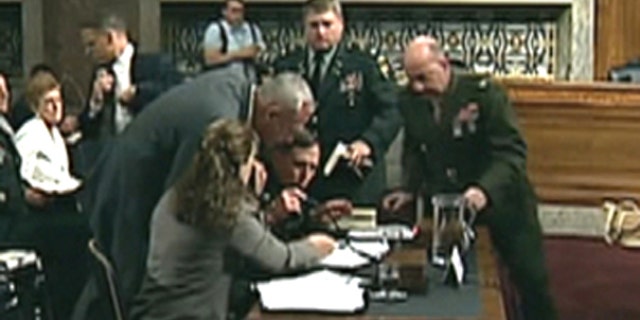 NEWYou can now listen to Fox News articles!
Gen. David Petraeus explained that he must have gotten "dehydrated" after he appeared to pass out in the middle of a Senate Armed Services Committee hearing Tuesday.
The head of Central Command was in the midst of a dialogue with Arizona Sen. John McCain when he slumped over the witness table. Several officials gathered around Petraeus, who was able to stand up and walk out on his own.
When he returned a few minutes later to a round of applause, he told the committee that he had gotten "light-headed."
"It wasn't Senator McCain's questions," he said to laughter. "I just got dehydrated."
The committee adjourned until Wednesday and the general left Capitol Hill, claiming he was feeling fine.
Committee Chairman Carl Levin, D-Mich., suggested earlier that Petraeus was dehydrated but had recovered quickly.
"General Petraeus appears to be doing very well," he said, noting that the general was having a bite to eat.