Pentagon to review claims US soldiers killed during search for Bergdahl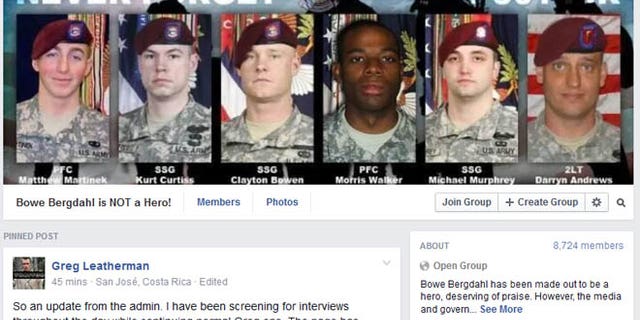 The Pentagon said Monday it is reviewing claims that U.S. soldiers were killed in the course of the years-long search for Army Sgt. Bowe Bergdahl, who was released over the weekend by his Taliban captors.
The sense of celebration surrounding the announcement Saturday of Bergdahl's release quickly has given way to controversy -- including questions surrounding his initial disappearance from his eastern Afghanistan post five years ago and the lengths to which U.S. forces went to find him.
The names and faces of six soldiers, who died allegedly during the search for Bergdahl, began to emerge within hours of the soldier's release.
Asked about the claims, Pentagon spokesman Col. Steve Warren said it's "impossible" to confirm right now whether anybody's death was directly linked to the hunt for Bergdahl.
But the Pentagon will look further into the circumstances of the deaths being associated with the search, he said.
Several social media sites have circulated claims that six soldiers died while searching for the captive Bergdahl. They are: 2nd Lt. Daryn Andrews, Staff Sgt. Clayton Bowen, Staff Sgt. Kurt Curtiss, Pfc. Matthew Martinek, Staff Sgt. Michael Murphy and Pfc. Morris Walker.
Fox News has confirmed that all six died in Afghanistan, though any connection to the search is unclear.
The Daily Beast published a first-hand account of the search for Bergdahl as told by a former Army officer, Nathan Bradley Bethea.
Bethea says he served in the same unit as Bergdahl -- the 1st Battalion, 501st Parachute Infantry Regiment -- which lost the six soldiers in the roughly five-week search after he disappeared.
"For five years, soldiers have been forced to stay silent about the disappearance and search for Bergdahl," wrote Bethea, who said he participated in the searches. "Now we can tell our story."
The 28-year-old Bergdahl left his post five days after his battalion's first casualty. Until his return, he was the only U.S. prisoner of the war in Afghanistan. The Obama administration traded five Taliban prisoners at Guantanamo Bay for the captive soldier, a decision that has also generated controversy on Capitol Hill.
But Bergdahl's conduct, and his writings before his capture, have also raised questions.
According to a 2012 Rolling Stone article, he sent an email to his parents shortly before his capture saying: "I am ashamed to be an american. And the title of US soldier is just the lie of fools."
There are also reports that Bergdahl's father was communicating on Twitter with a man described as a Taliban spokesman.
Sue Martin, who described herself as the Bergdahl family spokesperson, did not respond directly to questions about the criticism of Bowe Bergdahl's conduct.
She said despite the controversy surrounding the prisoner swap and the latest allegations, his town of Hailey, Idaho, stands united behind him.
Though some accounts say Bergdahl fell behind on a patrol or wandered off drunk, the accounts by Bethea and others say Bergdahl left his outpost, OP Mest, in the Paktika Province of Afghanistan under the cover of night.
They also give essentially the same account that Bergdahl left behind his rifle, helmet and body armor, taking only his compass and perhaps a knife and water.
"The place was an Afghan graveyard," wrote one person who identified himself in an online forum as Jeff Howard and suggested he also was part of the unit. "Bergdahl had been acting a little strange, telling people he wanted to 'walk the earth' ... We lost good men trying to find him."
Warren acknowledged the Defense Department has conducted "preliminary" investigations into Bergdahl's disappearance but said the agency has never confirmed whether he is a deserter.
"We've never publicly said anything primarily because we haven't had a chance to speak to Sgt. Bergdahl himself," he said.
Howard lists the same six soldiers and, like others, suggested even more were either indirectly wounded or injured because vital resources -- including drones and air support -- were diverted to the Bergdahl search and troops became easy targets for the Taliban because members knew about their well-known recovery missions.
Bethea gave the following report of the six soldiers killed:
Walker and Bowen were killed Aug. 18 by a homemade bomb while on a reconnaissance mission; Curtis was fatally shot in the face Aug. 26 while searching for Taliban members supposedly connected to Bergdahl's captors; Andrews and Martinek were fatally ambushed Sept. 4 while heading to a village close to where Bergdahl was last seen; Murphey died after stepping on a land mine Sept. 5 near a village also associated with the captors.
Bergdahl, who was returned to a Navy SEAL team near the Afghanistan-Pakistan border, is recovering now at the Landstuhl Medical Center in Germany.
Though Warren acknowledged preliminary "looks" into Bergdahl perhaps deserting, prosecution may be unlikely.
"He probably went through hell," Defense Secretary Chuck Hagel said Sunday. "The first issue is his health."
On Monday, senior U.S. defense officials said prosecution is unlikely "given all that he and his family have been through."
Fox News' Justin Fishel, Jennifer Griffin and Dan Springer contributed to this report.