Pentagon says six Guantanamo Bay detainees transferred to Uruguay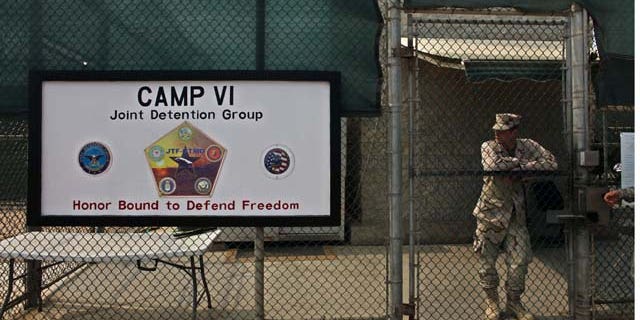 The U.S. government said early Sunday that it had transferred six detainees held at Guantanamo Bay in Cuba for over 12 years to Uruguay for resettlement as refugees.
All six men had been detained as suspected militants with ties to Al Qaeda, but had never been charged. A Pentagon statement on Sunday identified the men as four Syrians, a Tunisian and a Palestinian. They are the first Guantanamo Bay prisoners to be sent to South America.
They had been cleared for release since at least 2010 but they could not be sent home and languished as the U.S. struggled to find countries willing to take them.
Among those transferred is 43-year-old Syrian Abu Wa'el Dhiab, who was on a long-term hunger strike at Guantanamo to protest his confinement. He was at the center of a legal battle in U.S. courts over the military's force-feeding of prisoners who refuse to eat.
The other Syrians sent to Uruguay on Saturday were identified by the Pentagon as Ali Husain Shaaban, 32; Ahmed Adnan Ajuri, 37; and Abdelahdi Faraj, 39. Also released were Palestinian prisoner Mohammed Abdullah Taha Mattan, 35, and 49-year-old Adel bin Muhammad El Ouerghi of Tunisia.
The latest release brings the total number of prisoners at Guantanamo to 136 -- the lowest number since the first month the prison opened in January 2002. The U.S. has said that the men pose no threat, but cannot be allowed to return to their countries of origin.
"We are very grateful to Uruguay for this important humanitarian action, and to President Mujica for his strong leadership in providing a home for individuals who cannot return to their own countries," U.S. State Department envoy Clifford Sloan said.
Mujica had agreed to take the men in January, but the Pentagon didn't notify Congress of its intent to transfer the detainees to Uruguay until July. The Associated Press reported that administration officials have been frustrated that the transfer took so long and blame outgoing Defense Secretary Chuck Hagel for not approving the move sooner.
The handoff was further delayed until after Uruguay's October presidential election and late-November runoff when the transfer became a campaign issue. On Friday, Mujica reiterated his willingness to accept the detainees in an open letter to President Barack Obama that appeared on the Uruguay leader's official website.
Obama pledged to close the prison upon taking office but was blocked by Congress, which banned sending prisoners to the U.S. for any reason, including trial, and placed restrictions on sending them abroad.
The slow pace of releases has created a tense atmosphere inside the prison. A hunger strike that began in February 2013 totaled about 100 prisoners at its peak, including Dhiab and Faraj.
The restrictions on sending them overseas have been eased and the U.S. has released 19 prisoners so far this year. Officials say several more are expected by the end of the year.
Prisoners have been sent to countries around the world but this is this largest to the Western Hemisphere. Four were sent to Bermuda in 2009 and two to El Salvador in 2012.
The Associated Press contributed to this report.