Pennsylvania Supreme Court issues new congressional map, which could benefit Dems
Pennsylvania's high court issued a new congressional district map for the state's 2018 elections Monday, the latest attempt to carve out voting boundaries in time for the state's May 15 primary.
The map, approved in a 4-3 decision by the Democratic-majority state Supreme Court, is expected to give Democrats a better shot at winning seats in Philadelphia's heavily populated and moderate suburbs, where Republicans had held seats in bizarrely contorted districts, including one labeled "Goofy Kicking Donald Duck."
Republicans said they would challenge the new boundaries in federal court this week, but did not specify what type of legal remedy they would seek or whether they would appeal to a district court of the U.S. Supreme Court.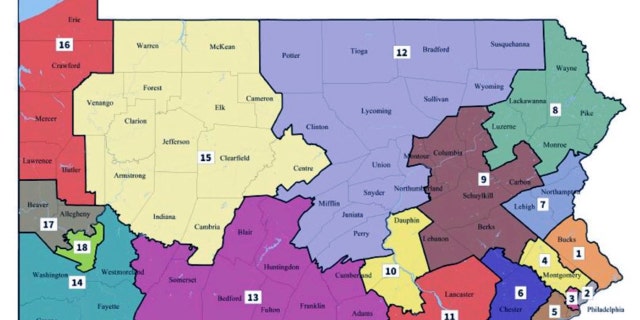 Meanwhile, sitting congressmen, dozens of would-be candidates and millions of voters have to sort out which district they live in barely a month before the candidates' deadline to submit paperwork to run.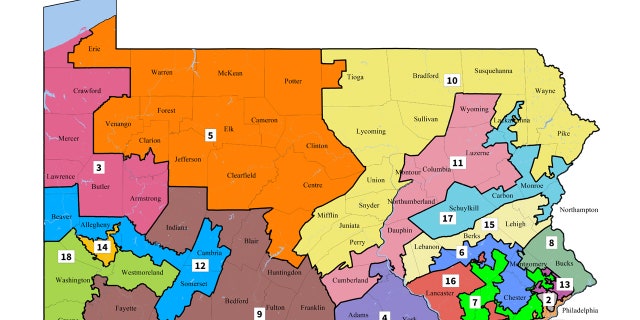 Pennsylvania Gov. Tom Wolf, a Democrat, applauded the court's map, which he described as an "effort to remedy Pennsylvania's unfair and unequal congressional elections."
"Over the last month, I have personally heard from thousands of Pennsylvanians and they are sick and tired of gerrymandering, which perpetuates gridlock, alienates citizens and stifles reform," Wolf said in a statement. "I have stood for fairness and rejected a proposed map that was universally seen as another partisan gerrymander."
The court ruled last month in a 5-2 party line decision that the district boundaries drafted by the GOP-led legislature unconstitutionally put partisan interests above neutral line-drawing criteria, such as keeping districts compact and eliminating municipal and county divisions.
Republicans won 13 of 18 seats in three straight elections under the now-invalidated map, even though Pennsylvania's statewide elections are often closely divided and registered Democratic voters outnumber Republicans.
The decision is the first time a state court threw out congressional boundaries in a partisan gerrymandering case and handed a victory to the group of registered Democratic voters who sued last June in a lawsuit backed by the League of Women Voters.

Candidates can start circulating petitions to run in their new district in a little over a week, Feb. 27. Pennsylvania has seen a surge in interest in running for Congress with six incumbents elected in 2016 not running again -- the most in four decades -- and Democrats vehemently opposing President Donald Trump.
The new map will not apply to the March 13 special congressional election in southwestern Pennsylvania's 18th District between Republican Rick Saccone and Democrat Conor Lamb.
Fox News' Bill Mears and Michelle Chavez contributed to this report. The Associated Press also contributed to this report.