Pataki speaks Spanish announcing run for White House, signaling intention to pursue Latino vote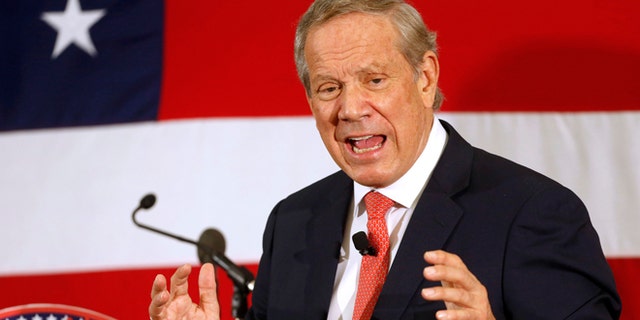 NEWYou can now listen to Fox News articles!
When George Pataki declared his candidacy for president on Thursday, the former New York governor sprinkled his speech with Spanish.
That's because he taught himself the language when he ran for re-election in 2002, one of his many efforts to endear himself to the Latino community – who ended up backing him in strong numbers.
In a field that has two Latinos (Ted Cruz and Marco Rubio) and a presumed candidate who is considered very immigrant-friendly (Jeb Bush), Pataki understands the need to appeal to the critical Hispanic vote.
Pataki, who declared his candidacy via a video posted on YouTube Thursday morning and later announced his run live in front of around 150 supporters in Exeter, N.H., was able during his time as New York governor to maintain strong Hispanic support, due in large part to policies that benefited the state's growing Latino population.
And then there are his linguistic skills.
During his last re-election campaign, in 2002, Pataki taught himself Spanish – he also speaks Hungarian and French – and won at least a third of the state's Hispanic votes, a solid share for a Republican in a heavily Democratic state.
"Our neighborhoods are stronger, our state is stronger, because we have a very strong Latino community," Pataki said during one campaign stop.
Fernando Mateo, head of the New York State Federation of Taxi Drivers, said Pataki has the compassion that "Latinos need."
"He was a good governor for Latinos, so I think he would make a good president as he is a moderate Republican who understands our problems," said Mateo, a moderate Republican who heavily backed Pataki during his run for governor. "Unlike other politicians, he acknowledged our existence, he acknowledged what we wanted and that we were a force to be reckoned with…That is something that our party doesn't do right now."
Along with Pataki's Spanish skills, which he claims have improved greatly since 2002, the former governor also pushed through a slew of legislation that benefited industries with a large number of Latino workers. Pataki was able to get financial aid for families of livery drivers who are injured or killed while on duty, for one, and polling showed that he also drew widespread praise among Latinos for his reaction to the World Trade Center terror attacks.
Despite having made frequent trips to the early nominating states of Iowa and New Hampshire since leaving office in 2006 – more than half a dozen trips to New Hampshire this year alone – Pataki has been largely out of the political limelight for nearly a decade. The 69-year old has been working primarily as a lawyer, and he opened a consulting firm, but his potential Latino appeal could prove crucial.
During the 2012 elections, Republican nominee Mitt Romney only garnered 27 percent of the Latino vote compared with Barack Obama's 71 percent. The GOP has made a concerted effort since to bump up its Hispanic outreach and to appeal more to the country's fastest-growing demographic.
Despite Pataki's Spanish skills and support in New York, Latinos may be turned off by his adamant criticism of Obama's executive order extending deportation protection to millions of other immigrants living in the country without documentation. Pataki has said he would reverse Obama's executive order.
"Spanish is a beautiful language and it's great that Pataki speaks it because he could have offered a bilingual alternative to the GOP's mass deportation agenda," said Pablo Manriquez, the DNC Hispanic Media Director. "Instead he did the opposite, calling for the repeal of Obama's plan to keep immigrant families together."
Pataki supports making it easier for contract workers to remain in the U.S. for longer periods and a process for immigrants already in the country illegally to get legal status through a system of fines and community service.
"I believe it's totally unrealistic if we think we're going to take 11 million people and send them back where they came from," he said at an Iowa forum. "We do have to find a way for the vast majority of them to legalize their status here."
The Associated Press contributed to this report.