Panetta Vows to Fight Sweeping Defense Cuts in Defict-Reduction Law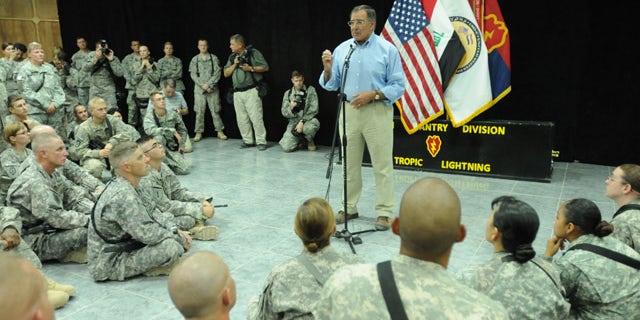 NEWYou can now listen to Fox News articles!
Pentagon chief Leon Panetta vowed Wednesday to fight any across-the-board cuts to defense spending that could be triggered in the next phase of deficit reduction that he says could do "real damage to our security, our troops and their families, and our ability to protect the nation."
"The United States must be able to protect our core national security interests with an adaptable force capable and ready to meet these threats and deter adversaries that would put those interests at risk," he said in a message to Defense Department personnel,
After enacting $900 billion in spending cuts, the debt-limit bill signed Tuesday paves the way for a bipartisan supercommittee to find another $1.5 trillion in savings by Dec. 23. If the committee can't reach an agreement, the trigger would be enacted for across-the-board cuts, including $500 billion in cuts to defense spending.
But a senior defense official said in a briefing that the Pentagon does not expect that phase to go into effect and are not preparing a plan.
Sweeping cuts "would have a serious adverse effect resulting in thousands of furloughs and lay-offs." Would be a "serious situation" and "unacceptable," said the defense official who deals with budgets.
The Pentagon believes in the first phase that the amount of cuts facing the Defense Department is about $400 billion dollars over a decade, which falls within the more than $400 billion dollars in cuts over 12 years that President Obama requested in April in a speech where he outlined where the budget would be cut. Then-Defense Secretary Bob Gates already asked the Pentagon to look for these cuts. "It's hard to do but manageable," a senior defense official said.
In other words the Pentagon is hoping not to have to make any new cuts other than those that it was planning back in April.
Panetta said another round of cuts in security spending would be "completely unacceptable."
The defense official noted that when someone is laid off from the Pentagon, "you don't save a dime in the first year" due to separation costs, among other things.
There is nothing in the $350 -- $400 billion that the debt-limit outlines in the defense cuts in the first phase that touches "overseas contingency budget" - in other words Iraq or Afghanistan or any other current wars.
Also the president, according to the new law, has the ability in the sequestration phase to exempt military personnel from being cut. This gives the president and Pentagon maximum flexibility to not cut personnel.
The Pentagon hopes that the supercommittee will focus on entitlements and taxes and not more discretionary cuts, including defense.
Fox News' Jennifer Griffin contributed to this report.