Palin Set to Launch Bus Tour of East Coast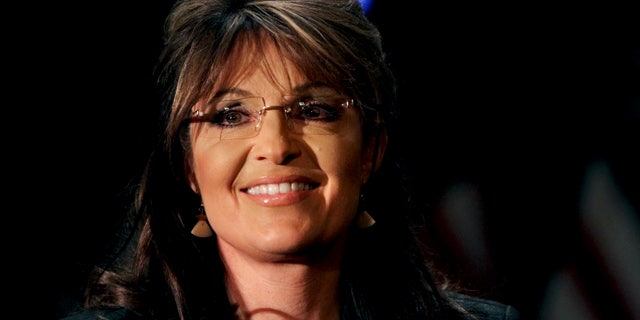 NEWYou can now listen to Fox News articles!
Former Republican vice presidential nominee Sarah Palin on Sunday will launch a tour of the East Coast, including a stop in the politically important state of New Hampshire, a development likely to roil the GOP presidential nominating contest.
SarahPAC, the former Alaska governor's political action committee, announced Thursday that Ms. Palin would tour "historical sites that were key to the formation, survival and growth of the United States of America."
She will appear Monday at the annual Memorial Day "Rolling Thunder" event on the National Mall in Washington, a gathering of motorcycle-riding veterans.
Aides wouldn't detail other stops on the tour but said it would include New Hampshire, site of the nation's first presidential primary election, fueling speculation that Ms. Palin is preparing to run for president.
SarahPAC aides said they don't know if she intends to run.
Whatever her plans, Ms. Palin's re-emergence into the spotlight will affect the race for the GOP nomination, party strategists say. The tour likely will garner wide press attention at a moment when Republican presidential hopefuls have started trying to generate enthusiasm for their own candidacies.
Ms. Palin's revived public presence could reshape the battle for the support of social conservatives and tea party-affiliated Republicans.
Her flirtation with a run also could prompt undecided Republican donors and party leaders to hold back on aligning with any candidate as they wait for the field to settle.
"She's a threat to everyone," said Fergus Cullen, a former Republican Party chairman in New Hampshire.
The tour announcement is the latest of several moves by Ms. Palin that have whipped up speculation about her political plans.
In recent days, she and her husband, Todd Palin, purchased a $1.7 million house in Scottsdale, Ariz., giving her a base of operation in the lower 48 states. She also rehired two logistics aides she had dismissed, a Palin aide said Wednesday.
In addition, a full-length feature film focused largely on her time as governor is in the final stages of editing by conservative filmmaker Stephen K. Bannon.
A Palin confidant said he is 95% certain she won't run. Ms. Palin's image among the broader public has dimmed in recent months, polls show.
The April Wall Street Journal/NBC News poll found that 25% view her favorably, while 53% view her unfavorably. Only 9% felt very positively toward her, a low in Journal polling, while 41% viewed her very negatively, a new high.
Ms. Palin still places in the top tier when GOP voters are asked their choice for president. She was second, at 15%, in a Gallup survey of Republicans and GOP-leaning independents released Thursday, trailing only Mitt Romney, the former Massachusetts governor, with 17%.
Gallup said Ms. Palin was the top choice among voters most concerned about social and moral issues, while Mr. Romney's support was more broad-based, including a larger share of voters concerned with government spending and the economy.
Still, the confidant of Ms. Palin said she doesn't want the negative scrutiny that would come from a run, and she doesn't want to jeopardize the lucrative speaking, broadcasting and book-writing career that has followed her unsuccessful run for the vice presidency.
Ms. Palin is a contributor to Fox News Channel, which ended its contracts with several other Republicans when they began to campaign for the White House. "We are not changing Sarah Palin's status," said Bill Shine, executive vice president of programming for Fox News, on Thursday. Fox and The Wall Street Journal are owned by News Corp.
Republican organizers say Ms. Palin's re-emergence could siphon support from other social conservatives and tea party favorites, such as potential candidate Rep. Michele Bachmann (R., Minn.) and announced candidate Herman Cain, a former corporate executive.
As a number of GOP figures opted recently not to run, attention had turned to former Minnesota Gov. Tim Pawlenty as the leading alternative to Mr. Romney, the putative front-runner. Those deciding not to run have included Mississippi Gov. Haley Barbour, Indiana Gov. Mitch Daniels, former Arkansas Gov. Mike Huckabee and real estate mogul Donald Trump.
"He just got rid of Trump, who had sucked up all the oxygen," said Kevin Smith, director of Cornerstone Action, a conservative think tank in New Hampshire, assessing Mr. Pawlenty's position. "Now all of a sudden Palin starts stirring the pot."
Alex Conant, a Pawlenty spokesman, said "we welcome everyone into the race and look forward to voters comparing the candidates' records."