Pakistan Vows 'Zero Tolerance' in Bin Laden Probe, Obama Questions Complicity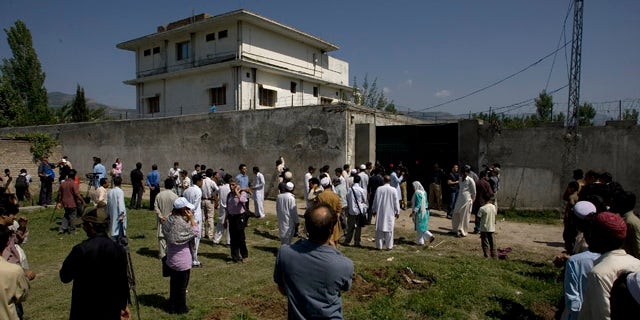 Pakistan's ambassador to the United States vowed Sunday that "heads will roll" following an investigation into how Usama bin Laden was able to hide out for years in a military city in northern Pakistan, as President Obama said the terror leader must have benefited from a "support network" inside Pakistan.
The comments are the latest developments in the diplomatic dance both countries have been performing since the U.S. raid on bin Laden's compound last weekend.
Top U.S. officials say they have serious questions for Pakistan's government and that an investigation is critical. Pakistani officials continue to criticize the Obama administration for crossing its borders for the raid without first telling Islamabad.
But both sides have also sought to dial back tensions a hair. National Security Adviser Tom Donilon said Sunday there's no evidence so far to suggest Pakistani leaders were involved in sheltering bin Laden. And amid discussion on Capitol Hill about the possibility of cutting off billions in U.S. aid to Pakistan, the country's U.S. ambassador said the U.S. and Pakistan "need each other" and will continue to cooperate -- he sought to assure the U.S. his country is doing all it can to assist in the fight against Al Qaeda.
Husain Haqqani, in an interview with ABC's "This Week," said that if anybody in the government, military or intelligence knew of bin Laden's whereabouts, "we would have taken action."
"Usama bin Laden's presence in Pakistan was not to Pakistan's advantage," he said. "A lot more people have been arrested in Pakistan, including Al Qaeda people, than in any other country. So Pakistan did not have a policy of protecting these people."
He vowed tough consequences if the investigation reveals any "complicity" inside the government.
"Heads will roll once the investigation has been completed. Now, if those heads are rolled on account of incompetence, we will share that information with you. And if, God forbid, somebody's complicity is discovered, there will be zero tolerance for that, as well," Haqqani said, adding that bin Laden's wives and children who were living on the compound are being interrogated. "Pakistan wants to put to rest any, any misgivings the world has about our role."
At the same time, the ambassador prodded the United States, suggesting U.S. focus on Iraq and Afghanistan distracted attention away from Pakistan, contributing to the "cracks through which things fell."
Plus, he said, Pakistan was "offended" by the "violation of our sovereignty" allegedly inherent in the U.S. raid last weekend.
"America has a selling job to do in Pakistan, too. Convince more Pakistanis that you are more of our ally and, therefore, there would be less offense," Haqqani said.
But with billions in U.S. aid to Pakistan on the line, the ambassador acknowledged the reverse is also true.
Obama, in the "60 Minutes" interview, said both countries are going to have to investigate how bin Laden was able to operate in relative security in northern Pakistan.
"We think that there had to be some sort of support network for bin Laden inside of Pakistan. But we don't know who or what that support network was. We don't know whether there might have been some people inside of government -- people outside of government. And that's something that we have to investigate. More importantly, that's something the Pakistani government has to investigate," Obama said. "But these are questions we're not going to be able to answer three or four days after the event. It's going to take some time for us to be able to exploit the intelligence we were able to gather on site."
Donilon, pressing Pakistan, also said Sunday that the U.S. wants access to all information gathered by the Pakistanis at the compound and urged the country to follow through on the investigation.
"It is important ... for the Pakistanis to investigate what happened here. We don't have evidence at this point that the political, military and intelligence leadership of Pakistan knew about the bin Laden operation in Abbottabad, Pakistan. But that issue is front and center in Pakistan right now. It does need to be investigated," Donilon told "Fox News Sunday."
He also said the U.S. needs to examine the Pakistan relationship "in its totality."
"We have had our problems with Pakistan, but we have also had a tremendous amount of partnership and cooperation with them in the effort against terrorism, including against Al Qaeda," Donilon said.
Sen. Richard Lugar, R-Ind., in an interview with CNN's "State of the Union," said the U.S. should not suspend aid to Pakistan over its misgivings on bin Laden.
Sen. John Kerry, D-Mass., also said the questions raised over bin Laden's location could actually present an opportunity to fix the myriad problems with the U.S.-Pakistani relationship.
"I see opportunity in all of this to sort of punch a reset button," Kerry told CBS' "Face the Nation."
Still, Kerry said he would find it "extraordinarily hard to believe" that bin Laden lived in his sprawling compound with family and loyalists without a "support system" in Pakistan.