One-time hostage of Iranian militants urges denial of visa to new Iran envoy involved in siege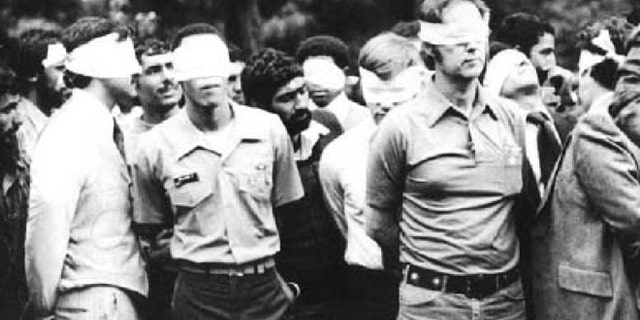 Former American hostage Barry Rosen, held by student extremists at the U.S. Embassy in Tehran for more than a year, said Monday it would be an "outrage" and "disgrace" if Washington gave a visa to one of the militants recently named by Iran as its new U.N. ambassador.
"It may be a precedent but if the president and the Congress don't condemn this act by the Islamic Republic, then our captivity and suffering for 444 days at the hands of Iran was for nothing," Rosen said. "He can never set foot on American soil."
Iran wants to send Hamid Aboutalebi to New York as its new U.N. ambassador. He may be a 56-year-old veteran diplomat, but it turns out that Aboutalebi was apparently a member of the hard-line Muslim student group that in 1979 took over the U.S. embassy in Tehran for 444 days and held American diplomats hostage.
"It's a disgrace if the United States government accepts Aboutalebi's visa as Iranian Ambassador to the U.N.," Rosen said.
Rosen was the embassy's press attaché, who was blindfolded and held at gunpoint, along with 51 fellow Americans taken hostage. In a statement to Fox News, Rosen demanded that the Obama administration deny a visa to Aboutalebi to prevent him from taking up Tehran's U.N. post.
U.S. State Department spokesperson Marie Harf did not indicate if the administration intends to bar Aboutalebi from the country by refusing to issue him a visa.
"The visa procedure is obviously confidential, we don't discuss individual visa cases. People are free to apply for one and their visas are adjudicated under the normal procedures that we adjudicate peoples', and we don't make a prediction about what the outcome of that process might look like," she said.
"This is a thumb in the eye of the United States," charged former U.S. Ambassador to the United Nations John Bolton. "This is really Iran's ambassador in America since they have no direct diplomatic ties, and I think that it is intended to show that this regime, despite some of the p.r. moves we've heard about it, is still the same fundamentally anti-American regime it's been since 1979."
Under existing U.N. agreements, it appears that the White House may have its hands tied in trying to stop Aboutalebi from representing the Islamic Republic of Iran. The U.N.-U.S. host country agreement generally only allows the U.S. government to reject a diplomat's visa if the subject presents a national security risk to the United States. Sources say officials are exploring their options on whether it could be legal to bar Aboutalebi.
"Personally I think Iran should either be expelled or suspended under the U.N. charter because it is not a peace loving state," Bolton said. "I have no hesitation at all in saying we should deny a visa to this individual. There is no chance the Obama administration will do that because they'll fear its consequences for the nuclear negotiations."
Iranian officials have not responded to Fox News' request for comment on their selection.
Aboutalebi has told the Iranian news media that while he was not a part of the initial violent takeover of the embassy, he admitted serving as an interpreter during a news conference for some of the freed hostages. He also said that he was a translator. He was 22 years old at the time. Since then, he has served extensively in the foreign service in a variety of high-profile posts. He was Iran's Ambassador to Australia, Belgium, Italy, and the European Union. He has also been the political director general of the Foreign Ministry.
"For the past 15 years, I have been an ambassador to many Western countries that are very close to the U.S., from Europe to Australia, and have always been dealing with the West," Aboutalebi told the website Khabar Online. "Even in 1994 when I traveled to the US as a member of our country's delegation at the U.N. General Assembly for a while, no questions [about my past] ever come up."
But others, like Iranian-American activist Banafesh Zand, say Aboutalebi's past is very much part of his present.
"The fact of the matter is that he was one of the members of the students of the Line of the Imam and he did turn up in Tehran within days the embassy takeover," Zand told Fox News. She said the news conference in which he served as a translator for the student militants was "no more than two weeks after the Nov. 4th invasion."
Zand, who is calling for the State Department to refuse Aboutalebi a visa, described him as "a deft player in the Iranian regime's divide and conquer attitude toward U.S., who stays exactly on point in the exploitation of the partisan bickering in the U.S. and blames Republicans for creating a phobia against the Iranian regime."
If Aboutalebi is allowed in and takes up residence in Iran's opulent Fifth Avenue limestone mansion, he certainly will be Tehran's chief advocate in America, Bolton said.
"He's typical of the style of the Iranian Foreign Ministry to make nice with people who are inclined to be gullible to begin with, and he is a real master at selling the Iranian line. It recalls Talleyrand's famous statement, 'a diplomat is a statesman sent out to lie for his country.' That's what the new Iranian Ambassador to the U.N. will be," he added.
Follow Eric Shawn on Twitter: @EricShawnonFox