Omarosa lashes out at Trump, alleges 'mental decline' in new book
Omarosa Manigault-Newman minces no words in a forthcoming tell-all about her White House days, reportedly going so far as to question President Trump's mental state.
The reality TV star's book, "Unhinged: An Insider's Account of the Trump White House," is set to hit the shelves later this month. In an excerpt obtained by DailyMail.com, she cites her former boss' interview with NBC News' Lester Holt last year as a moment when she presumed "something wasn't right."
"While watching the interview I realized something real and serious was going on in Donald's brain," Omarosa reportedly writes. "His mental decline could not be denied. ... Many didn't notice it as keenly as I did because I knew him way back when. They thought Trump was being Trump, off the cuff. But I knew something wasn't right."
Omarosa, who resigned in December 2017 as director of communications for the White House Office of Public Liaison, first met Trump in 2004 as a contestant on the first season of NBC's "The Apprentice." At the White House, Omarosa reportedly had a tense relationship with Chief of Staff John Kelly, who cracked down on her Oval Office access among other things.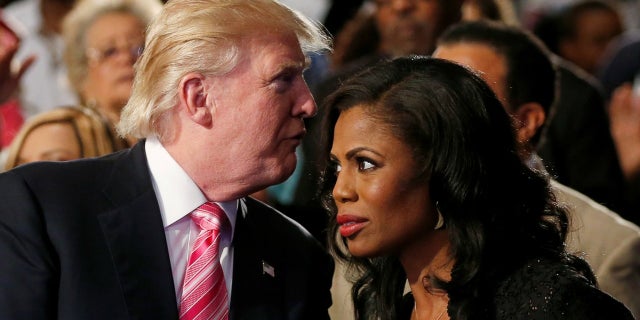 She has previously spoken out against the White House since her departure, and her new book appears to follow in that track.
Regarding the Lester Holt interview, conducted after James Comey's firing, Omarosa reportedly writes that Trump "contradicted" himself on the reasons for the FBI director's ouster.
"Throughout this erratic and contradictory interview, I kept thinking, 'Oh no! Oh no! This is bad! Donald rambled. He spoke gibberish. He contradicted himself from one sentence to the next," she writes.
Omarosa is said to repeatedly criticize Trump in the book, despite their history from his reality TV days.
"Their relationship has spanned fifteen years—through four television shows, a presidential campaign, and a year by his side in the most chaotic, outrageous White House in history," the publisher, Gallery Books, said in a statement to DailyMail.com. "But that relationship has come to a decisive and definitive end, and Omarosa is finally ready to share her side of the story in this explosive, jaw-dropping account."
The publisher did not immediately respond to Fox News.
The White House did not immediately  respond to Fox News' request for comment.
But when allegations about the president's mental state were floated in the media earlier this year, Press Secretary Sarah Sanders told "Fox & Friends" such claims were outrageous.
"It's absolutely outrageous to make these types of accusations and it's simply untrue, and it's sad that people are going and making these desperate attempts to attack the president," she said. "What I think is really mentally unstable is people that don't see the positive impact that this president is having on the country."
The former "Apprentice" contestant drew press attention last year after she brought her 39-person bridal party inside the White House for an "extended" photo shoot in the Rose Garden. It is unclear whether she had permission. She was reportedly banned from posting any of the photos online by White House officials citing security and ethical concerns.
Upon her resignation, Trump tweeted wishing Omarosa "continued success."
The Associated Press contributed to this report.