Oil Spill Spreads to Midterm Races, Endangering Supporters of Offshore Drilling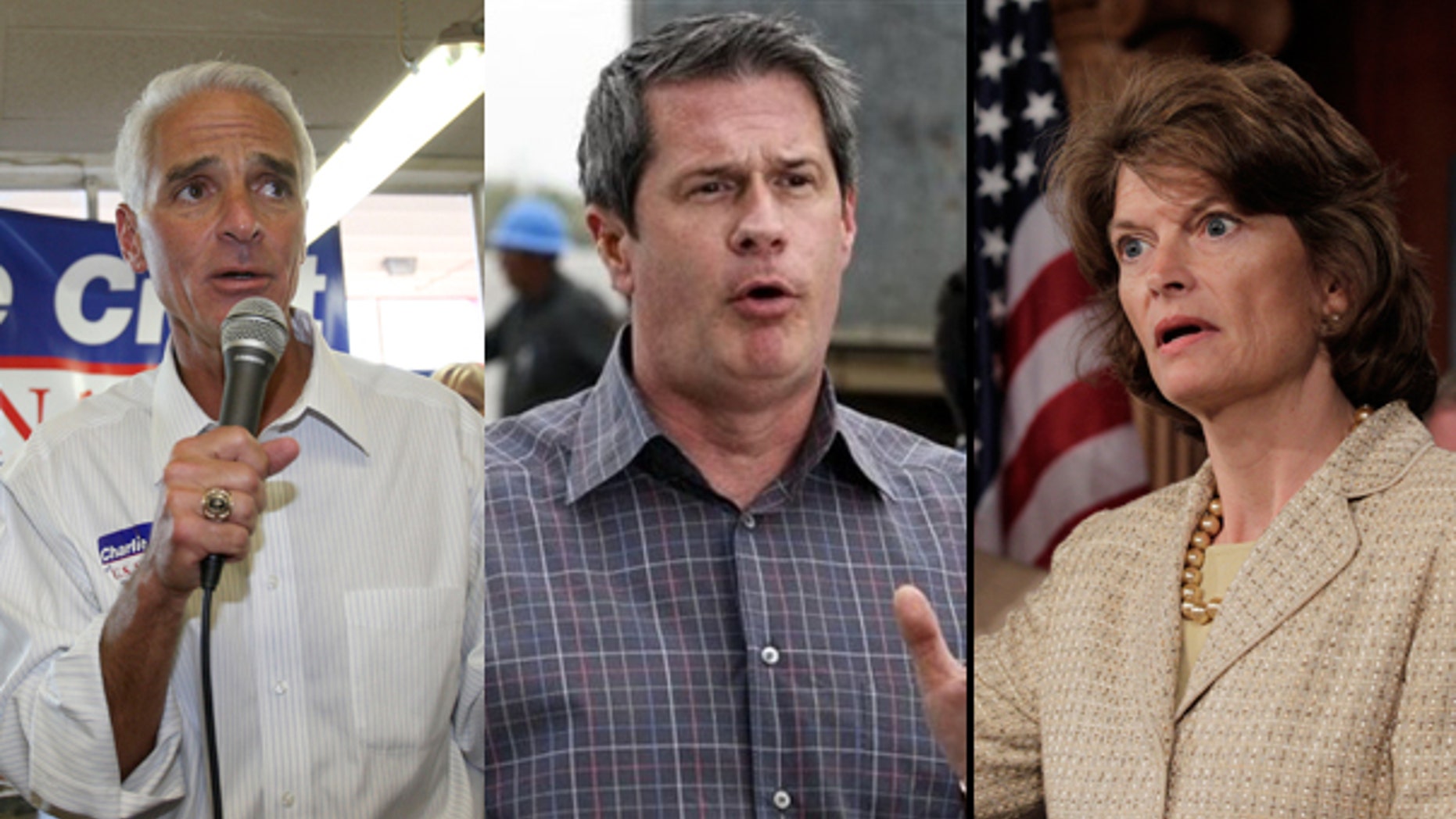 Politicians known for chanting "drill, baby, drill," may want to turn the volume down this year.
As November's midterm elections loom, politicians who still support offshore drilling are facing unexpected fights over energy policy in the wake of the massive BP spill in the Gulf of Mexico. With images of pelicans drenched in oil, the candidates are finding themselves having to acknowledge the emotional reaction to the disaster while addressing the need to reduce U.S. dependence on foreign oil.
The issue appears certain to emerge in the U.S. Senate race in California, where Sen. Barbara Boxer opposes offshore drilling and her newly minted opponent, former Hewlett-Packard CEO Carly Fiorina, supports it.
But the issue has already leaked into other races.
In Florida, Rep. Kendrick Meek, the Democratic nominee for the Senate seat, has aggressively pursued anti-offshore drilling legislation, putting pressure on his two Senate opponents, Republican Marco Rubio and newly declared independent Gov. Charlie Crist.
"It's time to put an end to any and every misguided attempt to drill offshore and put Florida's coasts and economy at risk," Meek said last month about legislation he co-sponsored with Sen. Bill Nelson, D-Fla., to block the Obama administration from advancing plans to expand offshore drilling.
"Any effort to revive offshore drilling needs to be stopped dead in its tracks," he said.
Rubio has maintained his support for expanded offshore drilling, but Crist has dropped his support.
"Recognized that offshore drilling indeed poses many threats to the well being of our state, Charlie Crist advocates for a ban on the issuance of offshore oil leases," his Senate campaign said on its website. "Gov. Crist advocates letting Florida votes decide whether we should have a constitutional ban on offshore drilling."
In North Carolina, state Democrats are using an online campaign to accuse Sen. Richard Burr, R-N.C., of carrying water for BP as the environmental disaster spreads. He's also under attack from his potential Democratic opponents in the fall who oppose offshore drilling and say that marks a clear difference between them and Burr.
Burr has tried to fend off the attacks.
"This is not about elections or politics," he said in an e-mail to the local newspaper. "This is about capping this well and containing the leak so we can move forward with cleaning up the oil and preventing any further damage to the Gulf and Gulf Coast communities."
In Alabama, Sen. Richard Shelby has come under fire for his support of offshore drilling amid the oil spill. At a Senate hearing last month, Shelby said halting all offshore drilling "will not address our energy needs and would immediately increase our dependence on foreign oil.
"This accident should not be used as an excuse to halt the gains the United States has made in developing domestic energy sources," he told the Senate Committee on Environment and Public Works.
His opponent in the fall, Bill Barnes, whom he is expected to steamroll, has attacked Shelby for urging Obama to lift the moratorium – a ban that Barnes has called a "sensible action."
"Obviously, it is more important to the Republican leadership to turn the Gulf of Mexico's emerald waters and sandy white beaches into a dead sea than it is to do without crude oil for the big oil companies," Barnes said.
Last month, a Rasumussen Reports survey found that total support for offshore drilling fell from 64 percent two weeks earlier to 58 percent. But 74 percent of Republicans and 65 percent of unaffiliated voters said that offshore drilling should be allowed and further explored.
But it's not just supporters of offshore drilling that are finding themselves in the crosshairs of campaign opponents. Supporters of Obama's six-month ban on deepwater drilling are also being targeted in some races.
In Louisiana, Sen. David Vitter, who is pushing Obama to lift the moratorium, has angered Democrats by claiming their candidate in the Senate race, Rep. Charlie Melancon, supports it.
"Charlie Melancon's support for President Obama's offshore moratorium will kill Louisiana jobs," Vitter told his supporters in a recent e-mail. "Melancon has endorsed Obama's moratorium in numerous interviews and repeatedly makes the point that he thinks offshore rigs are 'toys,' not jobs."
The Melancon camp has fired back at Vitter, saying he is "lying" about Melancon's position.
"Charlie Melancon couldn't be any clearer; he opposes the president's moratorium on offshore drilling," Melacon campaign spokesman Jeff Giertz said in an e-mail to the Hill newspaper. "David Vitter's just trying to distract attention from his efforts to bail out BP by lying about Charlie's record – Vitter's lied to Louisiana once, and he'll lie again."
Even Sen. Lisa Murkowski, a vocal supporter of expanded offshore drilling, is catching flak in Alaska from her primary challenger, Joe Miller, for her qualified support of Obama's moratorium.
"If the delay is for a season to ensure we have the highest levels of protection in place, that's one thing," she said. "But if it means that existing permits are allowed to lapse – effectively killing Shell's participation in Alaska – that's not acceptable to me or Alaska."
Miller, who has received an endorsement from former Alaska Gov. Sarah Palin for the Aug. 24 primary, called Murkowski's support "yet another example of how far out of touch she is with Alaska."