Official Repeal of Gay Ban Causing Few Waves in Military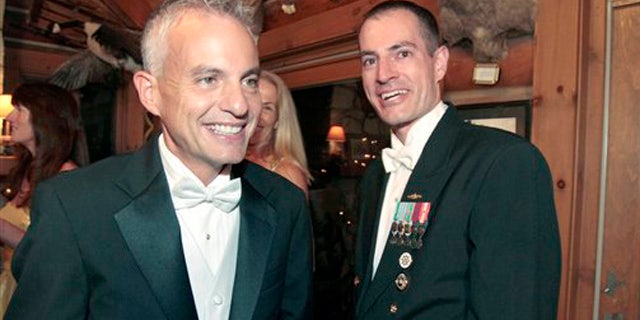 After years of debate and months of final preparations, the U.S. military passed a historic milestone Tuesday with the repeal of a ban on gays serving openly in uniform.
Repeal of the 18-year-old legal ban took effect at 12:01 a.m. EDT, ending a prohibition that President Obama said had forced gay and lesbian service members to "lie about who they are."
Some in Congress still oppose the change, but top Pentagon leaders have certified that it will not undermine the military's ability to recruit or to fight wars.
Obama issued a statement saying he is confident that lifting the ban will enhance U.S. national security.
"As of today, patriotic Americans in uniform will no longer have to lie about who they are in order to serve the country they love," he said. "As of today, our armed forces will no longer lose the extraordinary skills and combat experience of so many gay and lesbian service members."
The Army was distributing a business-as-usual statement Tuesday saying simply, "The law is repealed," and reminding soldiers to treat each other fairly.
"From this day forward, gay and lesbian soldiers may serve in our Army with the dignity and respect they deserve," said the Army statement, signed by Army Secretary John M. McHugh, Army chief of staff Gen. Raymond Odierno, and the Army's top enlisted soldier, Sgt. Maj. of the Army Raymond F. Chandler III.
The commander of Air Mobility Command, Gen. Raymond Johns, told reporters that repeal is being taken in stride in the Air Force.
"It really hasn't come up in any significant conversation" he has had recently, Johns said. "It's not a big deal."
Defense Secretary Leon Panetta and the chairman of the Joint Chiefs of Staff, Adm. Mike Mullen, scheduled a Pentagon news conference to field questions about the repeal.
Gay advocacy groups began a series of celebrations across the country.
At a San Diego bar, current and former troops danced and counted down to midnight. "You are all heroes," Sean Sala, a former Navy operations specialist, said. "The days of your faces being blacked out on the news -- no more."
The head of Pentagon personnel put out a memo to the work force at 12:01 a.m. EDT. "All service members are to treat one another with dignity and respect regardless of sexual orientation," the memo from Clifford Stanley said.
"The Department of Defense is committed to promoting an environment free from personal, social or institutional barriers that prevent service members from rising to the highest level of responsibility possible regardless of sexual orientation."
In Iraq, a spokesman for U.S forces put out a statement Tuesday morning noting that all troops there had been trained for the change.
Pentagon press secretary George Little said Monday that the military is adequately prepared for the end of the current policy, commonly known as "don't ask, don't tell," under which gays can serve as long as they don't openly acknowledge their sexual orientation and commanders are not allowed to ask.