Obama's State of the Union: Heavy on promises, mixed record on results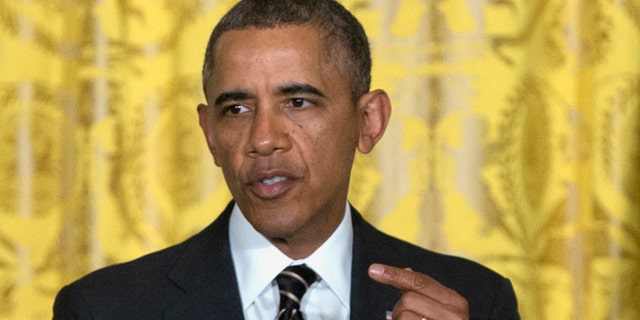 President Obama will announce a host of proposals to reshape America in his annual State of the Union address on Tuesday. But if past is prologue, only a handful of them will come close to execution.
From repeated calls to lower the corporate tax rate to last year's declaration that the "time has come" to pass immigration reform, Obama's State of the Union vows frequently have either run into congressional gridlock or been drowned out by other priorities.
This year's laundry list of promises is expected to focus on addressing "income inequality" and other economic issues. Obama will try to forge ahead with a few holdovers while quietly dropping several initiatives touted in his 2013 speech.
One item prominent in last year's address, which came on the heels of the Newtown school shooting, was a pitch for tighter gun control. Though Obama may revisit it in Tuesday's address, the push largely has been dropped after an intense but ultimately failed effort to get legislation passed on Capitol Hill.
Tax and entitlement reform also were big agenda items in last year's State of the Union address, but have lately fallen by the wayside -- considering White House officials who spent the weekend previewing the address did not mention them as a priority.
Obama, instead, will for the third straight year make the major theme of his address economic opportunity and bridging the income inequality gap for the poor and middle class.
However, he appears likely to make a subtle shift, focusing more on worker protections and job training than job creation. The White House says Obama will announce that he will sign an executive order increasing the minimum wage from $7.25 to $10.10 for new federal contracts.
[audio-clip]
The initiative dovetails with Obama's broader call for an increase to the federal minimum wage, something he also touched on last year.
"Let's declare that in the wealthiest nation on Earth, no one who works full-time should have to live in poverty and raise the federal minimum wage to $9 an hour," the president said to applause in his 2013 address.
However, the White House is now backing a congressional Democratic plan to increase the federal wage to $10.10 over three years, then indexing it to inflation.
Senior White House adviser Dan Pfeiffer told "Fox News Sunday" that Obama will try to "restore opportunity" through a series of proposals including ones on job training, education and manufacturing.
He also pointed out that Obama's effort to create 15 manufacturing hubs across the country has had some success, despite Congress rejecting his proposal, and remains a work in progress -- with four complete, two in place and two "in the pipeline."
Amid the apparent shift, Oklahoma GOP Rep. James Lankford is questioning whether Obama really intended to follows through on all of his 2013 plans.
"I don't think he ever intended to achieve tax and entitlement reform," Lankford, chairman of the Republican Policy Committee, told FoxNews.com on Monday. "That was pure rhetoric. The shift is really from Americans saying, 'This is a nice guy but we don't think he can lead.' He's lost their trust."
His comments follows Texas GOP Sen. Ted Cruz saying Sunday that the president's existing economic policies are "not working" and "exacerbating" income equality.
Cruz, whose effort last year to defund ObamaCare fueled a partial government shutdown, is also calling on the president to announce new investigations into the fatal Benghazi attacks and the IRS scandal and to admit his economic program has failed -- and that passing ObamaCare on a party-line vote was a mistake.
"I would expect ... he would call for some accountability now [on Benghazi], that he would join me and 24 other senators who have called for a joint select committee to get some answers," Cruz told Fox News on Monday.
The president is also expected to renew his push for free pre-kindergarten for 4-year-olds and comprehensive immigration reform, which if passed would almost certainly become a hallmark of his presidency. Both those initiatives were also featured in Obama's 2013 address.
The Democrat-controlled Senate passed a comprehensive immigration bill last summer. But the Republican-controlled House has not, largely because the chamber's conservative wing has so far argued that granting citizenship to some of the country's 11 million illegal immigrants is tantamount to "amnesty."
House leaders reportedly will release a broad plan this week, but the White House has reserved comment until it is made public.
"We think it is progress that the Republicans are going to put something forward," Pfeiffer also told "Fox News Sunday." "Let's see what they put forward and hopefully we can come together and make progress."