Obama's comeback cut short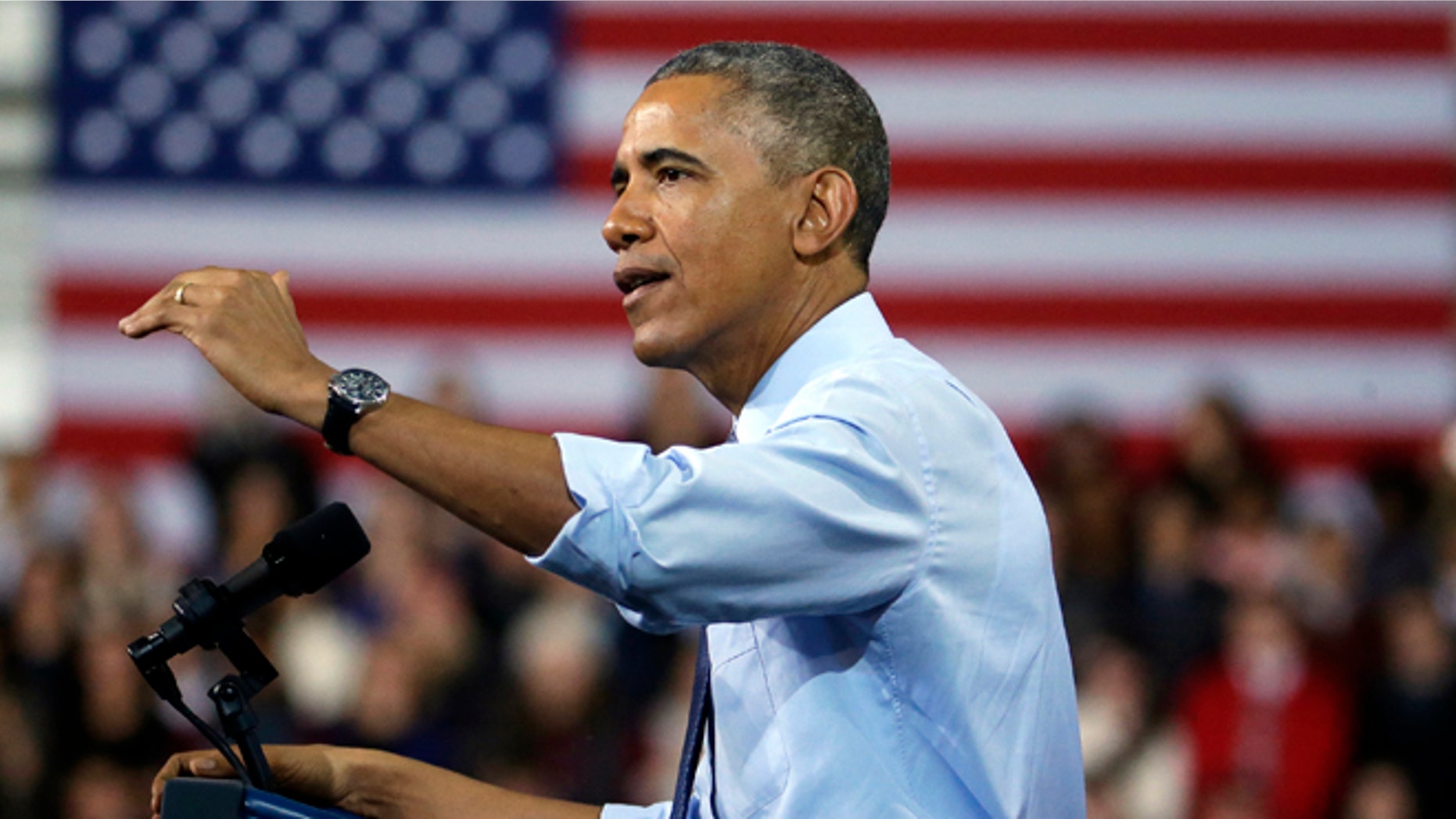 **Want FOX News First in your inbox every day? Sign up here.**
Buzz Cut:
• Obama's comeback cut short
• Bubbaography: Clintons nix Scorsese flick
• High stakes weekend for GOP Sixteeners
• Romnesians huddle with Mitt in Boston today
• Of course Canada has a hockey stick black market
OBAMA'S COMEBACK CUT SHORT
Just a few weeks ago, the sun was shining again in Obamaland. The economy was snapping out of its six-year funk, thanks in large part to cheap gasoline, liberals were pumped up about executive action on immigration, no one else had died of Ebola and the press and public were swooning over Cuba. A conventional wisdom that had concluded just a month prior that President Obama was a failure, scampered right past "comeback kid" and ran all the way to "conquering hero." The seeming conclusion was that if only the country could have seen January, November would have looked completely different. And then everything started to fall apart overseas again.

[AP: "Israeli Prime Minister Benjamin Netanyahu's planned trip to Washington in March is kicking up a diplomatic dust storm in the nation's capital. On Thursday, the White House said President Barack Obama would not meet the prime minister when he comes to the U.S. to address a joint session of Congress.]

Things fall apart - Starting with the audacious raid on a Paris magazine in broad daylight by Islamist militants and continuing through horrifying headlines today about the collapse of the Western client government in Islamist-benighted Yemen, the strong sense is that the struggle between Islamists and the West has taken a strong turn for the worse. News that the king of America's problematic but indispensable ally, Saudi Arabia, had died stoked new fears about unrest in the region. The mortal enemies of the House of Saud, the Shi'a theocrats of Iran, are probing for weakness everywhere and cutting new military deals with yet another hostile power, Russia. And as for the U.S.-led effort to contain the barbarous wannabe caliphs of ISIS, it would appear that things are getting worse, not better.

["This counterterrorism campaign will be waged through a steady, relentless effort to take out ISIL wherever they exist, using our air power and our support for partner's forces on the ground. This strategy of taking out terrorists who threaten us, while supporting partners on the front lines is one that we have successfully pursued in Yemen and Somalia for years." –President Obama statement on ISIS on September 10, 2014]

Rerun - We have seen this movie before. In the summer of last year, the establishment press, dreeing their coverage of the Republican romp to come, saw a glimmer of hope for Democrats to at least hold the Senate. The economy was puttering more than sputtering and Democrats were pushing an audacious plan to sink Republicans in a sea of campaign cash and attack ads. But the almost tragicomic handling of an unraveling world scene, highlighted best by the president's ill-conceived round of golf following a press conference at which he professed to be "heartbroken" by the beheading of an American by ISIS, ended those dreams of a blue November. And here we are again. Green shoots of hope for Democrats mowed down by public distrust of the president's foreign policy and judgment. This time it was the bungling of the unity march in Paris that started the cycle rather than a round of golf, but the political outcome will be the same.

[Power Play - Republican strategist Ed Pozzuoli and liberal talk radio star Garland Nixon join Power Play host Chris Stirewalt to discuss the president's problem selling his Iran plan and other foreign policy woes. WATCH HERE.]

Long shadows - But the one who should be most worried is not the current president, but rather the woman who Democrats believe will succeed him. Hillary Clinton will have little trouble ditching domestic policies from this administration. But on foreign policy, which was in her care for the president's first term, there will be no escape.

"This is a president who the other night talked about turning the page, who talked about the shadow of crisis having passed. I think any of us who watched what's happened around the world not just the last 48 hours but the last few weeks, in France… Any time you have freedom loving people anywhere around the world who are under attack by radical Islamic terrorists, it's a threat to all of us." – Gov. Scott Walker, R-Wis., on "The Kelly File" Watch here.

[Power Play – Montana Rep. Ryan Zinke, a veteran Navy SEAL, joins Power Play host Chris Stirewalt to discuss threats facing the country. The freshman GOP congressman says the Obama administration is leading from behind and needs to face up to Islamist extremism. WATCH HERE.]

CLINTONS NIX SCORSESE FLICK ON BUBBA
Hollywood Reporter: "Martin Scorsese's planned documentary on President Bill Clinton has stalled, The Hollywood Reporter has confirmed. The two men's camps are in disagreement about the documentary, which the director has been making for HBO, according to a New York Times report. Sources told The Times Clinton wanted more control over the questions asked and the final product than the director wanted to allow. Portions of the film, which was announced in December 2012, have been shot over the past two years…According to Times sources, Clinton sought to omit questions that could potentially damage his wife Hilary Clinton's reputation as the 2016 presidential election nears and questions of her candidacy loom."

Power play: Hillary, party of one - President Obama has his political machine, Hillary Clinton has hers. Garland Nixon and Ed Pozzuoli discuss whether the 2016 Democratic frontrunner will feel obliged to march in lock step or be freewheeling when it comes to the sitting president's policies. WATCH HERE.

[Ron Fournier further examines how Hillary will distance herself from the current administration.]

#Mediabuzz: Pundits vs. president - This week Howard Kurtz welcomes guests including Jonah Goldberg and Joe Trippi. Watch "#mediabuzz" Sunday at 11 a.m. ET, with a second airing at 5 p.m.

WITH YOUR SECOND CUP OF COFFEE...
What's being bilingual worth? The New Yorker explores the advantages and disadvantages. The ability to switch between languages is something researchers call the bilingual advantage, creating an agile and flexible mind. Psychologist Ellen Bialystok found that bilinguals had enhanced executive control, a common thread in improved academic performance. Bialystok also found another advantage, bilingualism showed a benefit to fight back aging in the brain. Multilingual people seem to resist the effects of dementia far better than monolinguals do. Regardless of the language or activity, simply keeping the brain actively engaged gives it a higher capacity to continue functioning. And so while the mental advantages may not be exactly what researchers thought, they could be far outweighed by the physical ones.

Got a TIP from the RIGHT or LEFT? Email FoxNewsFirst@FOXNEWS.COM

POLL CHECK
Real Clear Politics Averages
Obama Job Approval: Approve – 45.1 percent//Disapprove – 49.7 percent
Direction of Country: Right Direction – 31.8 percent//Wrong Track – 58.3 percent

HIGH STAKES WEEKEND FOR GOP SIXTEENERS
It's a big weekend in the race for the Republican nomination. Top contenders will audition at dueling events, one hosted by social conservatives and another from the libertarian wing of the party. The landscape stretches from Iowa to California and the stakes are sky high not only for the Sixteeners, but for the two power centers themselves and their ability to coalesce behind a conservative candidate to challenge (or absorb) the party's establishment wing. While Mitt Romney and Jeb Bush tussle over the moderate middle, the backing of at least two legs of the Reagan-era "three-legged stool" are up for grabs.

Center stage at Iowa Freedom Summit - The Hill: "[Saturday's] Iowa Freedom Summit, organized by controversial Rep. Steve King (R-Iowa) and Citizens United, is drawing many of those hoping to become the right's standard-bearer….Speakers include Wisconsin Gov. Scott Walker, New Jersey Gov. Chris Christie, Texas Sen. Ted Cruz, former Arkansas Gov. Mike Huckabee, former Texas Gov. Rick Perry, former Pennsylvania Sen. Rick Santorum, businesswoman Carly Fiorina and neurosurgeon Ben Carson. The gathering could be crucial for many of the candidates who are hoping to unify enough of the state's Evangelical Christian, Tea Party and libertarian activists as they seek to be this cycle's insurgent favorite. The caucuses helped launch Huckabee in 2008 and Santorum in 2012 as the conservative alternative."

[Watch Fox: Campaign Carl Cameron reports on the 2016 contenders live from Des Moines ahead of this weekend's Iowa Freedom Summit.]

Tracker - Des Moines Register has the deets on what Walker, Cruz, Fiorina, Perry, Carson, Santorum and Huckabee are up in Iowa to aside from the conservative confab.

Walker drafts strategist with Iowa connections - Des Moines Register: "The team that is building Wisconsin Gov. Scott Walker's political organization for a possible presidential campaign has brought on a GOP strategist with Iowa ties: David Polyansky. Polyansky, a Texan who played senior roles in two Iowa presidential campaigns and was a top strategist in Republican Joni Ernst's successful campaign for U.S. Senate this past fall, will be Team Walker's senior adviser in Iowa, sources told The Des Moines Register Thursday…Seven years ago, Polyansky helped orchestrate former Baptist minister Mike Huckabee's victory in the 2008 Iowa caucuses."

Cruz, Rubio and Rand together at American Policy Forum - There will be lots of libertarian vibes in Palm Springs, Calif. this weekend as the Freedom Partners Chamber of Commerce, part of the network founded by industrialists Charles and David Koch, hosts Sixteeners Sen. Ted Cruz, R-Texas, Sen. Rand Paul, R-Ky., and Sen. Marco Rubio, R-Fla. The audition for the most influential conservatives in the country will take place on Sunday with the three rivals sharing the stage for a moderated discussion of economic issues, energy and health policy. In a surprise move, the final panel of the forum will opened up to coverage via the Internet. Another potential contender, Gov. Scott Walker, R-Wis., is slated to attend, but not take part in the Cruz-Paul-Rubio session.

RUBIO RAMPS UP
Fox News: "Sen. Marco Rubio has signed on a major Republican fundraiser -- and is lining up donors and top advisers -- as he moves toward a 2016 presidential bid, Fox News has learned. The Florida senator also plans to visit early-primary states starting next month, according to a senior Rubio adviser….
Rubio has enlisted Anna Rogers, the finance director for conservative group American Crossroads, as a lead fundraiser. She would serve as Rubio's finance chairwoman if he officially launches a bid. The developments were first reported by ABC News. The Rubio adviser also told Fox News that two major donors are on board for a Rubio bid. They include Dallas' George Seay, founder and CEO of investment firm Annandale Capital who previously served on the campaign teams for then-Gov. Rick Perry in 2012 and [Mitt Romney] in 2008; and Atlanta's Jim Rubright, former CEO of RockTenn who has served on state leadership committees for Bush, Romney and Sen. John McCain, R-Ariz."

[David Drucker reads the tea leaves surrounding a Team Rubio gathering of supporters and campaign contributors in Miami this weekend.]

West Coast swing - Tampa Bay Times: "Sen. Marco Rubio [R-Fla.] will spend next week in California as part of an aggressive fundraising schedule that underscores he is not backing away from a run for president even as Jeb Bush, Mitt Romney and others charge ahead. Rubio's trip begins Sunday in Palm Springs, when he'll appear at the Koch Brothers retreat…Invites show Rubio will attend a lunch fundraiser on Tuesday in Costa Mesa…Later that day, in La Jolla, Rubio will drop by a steak house for a Rubio Victory Committee fundraiser that benefits his Senate campaign and Reclaim America PAC…Rubio will travel to Newport Beach for a Rubio Victory Committee fundraiser hosted by Hispanic 100, the Lincoln Club of Orange County and New Majority Orange County…Rubio drops into Beverly Hills for a breakfast fundraiser with a $1,000 per-person admission."

ROMNESIANS HUDDLE WITH MITT IN BOSTON TODAY
Eliana Johnson at NRO:"On the heels of Mitt Romney's meeting with Jeb Bush in Salt Lake City, Romney's closest advisers are preparing to huddle in Boston. The band is getting back together. The meeting will include members of the former Massachusetts governor's inner circle: his son, Tagg, top aides Spencer Zwick and Matt Waldrip, longtime confidante Beth Myers, political consultant Eric Fehrnstrom, longtime pal Bob White, and adviser Ron Kaufman. Though the precise location and the reason for the meeting are unknown, and several of those attending did not return immediate requests for comment, it signals a ratcheting up once again of the operation that propelled Romney's campaigns in both 2008 and 2012."

Twitter slap fight - USA Today: "Rand Paul mocked Jeb Bush and Mitt Romney for their private meeting in Utah, but he lost points for misspelling with his dig on Twitter. The Kentucky senator took a swipe at his potential rivals for president and their support for Common Core educational standards in a tweet that suggested they exchanged gifts. The problem? Paul's digital team misspelled the word 'friendship' in the tweet…Kristy Campbell, an aide to Bush, fired back a tweet of her own that noted the spelling error with the comment: 'Maybe there is something to be said for higher standards?'"

[Blue Book, Golden State - Bush is in San Francisco today  giving the keynote address at the National Automobile Dealers Association Convention.]

Condi takes over Jeb's education foundation - "Dr. [Condoleezza Rice] is honored to step in as chair of the board of directors for the Foundation for Excellence in Education. She is passionate about education reform and advocating for our nation's youth. Having served as a board member for two years, she will continue the work of the foundation that Governor [Jeb Bush] started six years ago." --Georgia Godfrey, Chief of Staff, Office of Condoleezza Rice

PERRY TO JOIN CPAC CROWD
Wash Times: "CPAC will welcome former Texas Gov. Rick Perry in their speakers lineup at the annual gathering of conservatives in February…The four-day event - formally titled the Conservative Action Political Conference, begins Feb. 25 at the glittering National Harbor on the banks of the Potomac River a few miles south of the nation's capital. Mr. Perry joins such luminaries as Sens. Rand Paul and Tim Scott, Ben Carson, Rick Santorum, Laura Ingraham and Mark Levin on the extensive list of confirmed speakers."
FOX NEWS SUNDAY: KASICH ON THE ROAD
Chris Wallace welcomes White House Chief of Staff Denis McDonough to discuss the latest from the administration following President Obama's State of the Union address. Gov. John Kasich [R-Ohio] is on to discuss his balanced budget amendment tour through the West. The presidential question is sure to come up as Kasich was featured in the most recent interview for the 2016 Contenders series on "Special Report with Bret Baier." "Fox News Sunday with Chris Wallace" airs at 2 p.m. and 6 p.m. ET on Fox News. Check local listings for air times in your area.

[ICYMI - Gov. John Kasich [R-Ohio] sat down with Bret Baier to discuss his balanced budget amendment and possibilities for 2016. WATCH HERE.]

RIGHT TO LIFE GROUP JOINS JINDAL PRAYER RALLY
[New Orleans] Times-Picayune: "Gov. Bobby Jindal has managed to pull one of Louisiana's largest, annual anti-abortion events into his prayer rally scheduled for this Saturday…Louisiana Right to Life announced its annual South Louisiana march will combine with The Response, the official name of [Jindal's] prayer rally, around 11 a.m. Both the march and The Response were already taking place on LSU's campus in Baton Rouge on the same day, albeit in different buildings. The governor is being billed as the keynote speaker and main attraction at both events."

BATTERED REID 'INTENDING' TO SEEK RE-ELECTION 'AT THIS STAGE'
AP: "Senate Democratic leader Harry Reid displayed a large bandage over his right eye, a determination to seek-re-election and an unimpaired partisan political instinct Thursday at his first news conference since suffering an injury while exercising. He said he looks forward to surgery to reconstruct the broken bones. 'At this stage I'm fully intending to run' for a new term in 2016, he said at a carefully arranged event in his Capitol suite that coincided with speculation about his political future after the accident that injured his eye and broke several ribs…Reid, 75, said next week's surgery is planned to reconstruct a broken bone and drain blood off the back of his eye. He said doctors are 'confident that I'll be really quite good after that.'"

Steyer opts out of California Senate contest - "I applaud and respect those running, and am confident that Californians will choose a representative who will serve them well. Given the imperative of electing a Democratic president, along with my passion for our state, I believe my work right now should not be in our nation's capitol but here at home in California, and in states around the country where we can make a difference." –California Philanthropist Tom Steyer in Huffington Post Blog.

Pelosi lieutenant in the hunt - Politico reports that Rep. Xavier Becerra [D-Calif.] is inching closer to running for the seat of retiring Sen. Barbara Boxer, saying, "I'm talking to a lot of folks. California is a very important state. As goes California, so goes the nation. We need to have strong leadership, someone who can hit the ground running."

MCCONNELL KEEPS THE HAMMER DOWN
Fox News: "Senate Majority Leader Mitch McConnell followed through on a threat to keep members of the upper house of Congress working late Thursday, as he teed up a final vote on a bill approving construction of the Keystone XL pipeline for next week. Facing a slate of 12 amendments to the legislation, McConnell took the unusual step of pushing the Senate into two so-called live quorum calls requiring Senators to come to the floor. The Senate also voted to have Sergeant at Arms Frank Larkin request absent lawmakers to go to the floor. The unorthodox maneuver by McConnell stemmed from unsuccessful attempts to come to an agreement with Democrats to allow up-or-down votes on the various amendments…Democrats objected to the maneuvers, claiming that McConnell was attempting to stifle further debate on the bill."

DEM GROUP FILES ETHICS COMPLAINT OVER GOHMERT TRAVEL
Roll Call: "The most quotable member of Congress may have violated House ethics rules by using campaign cash to cover travel expenses for speaking engagements in England, a liberal watchdog group alleged Thursday. Citizens for Responsibility and Ethics in Washington [CREW] filed a complaint with the Office of Congressional Ethics against Rep. Louie Gohmert [R-Texas], asking for an investigation into the Texas Republican's use of more than $6,000 in campaign funds to for a late November trip CREW believes was not for campaign or political purposes…But Gohmert said the trip was political…House rules state that campaign funds may not be used for official purposes. With respect to travel rules, campaign funds may only be used to pay travel expenses when the primary purpose of the trip is an activity that serves a bona fide campaign or political purpose."

OF COURSE CANADA HAS A HOCKEY STICK BLACK MARKET
In a very Canadian crime, Ottawa Sun reports that two thieves robbed a sporting goods store in Gatineau, Quebec of $28,000 worth of hockey sticks. Each stick retails for around $300. Police believe that the merchandise will likely end up on the black market, "We believe there might be people out there trying to sell cheap hockey sticks. It happens once in a while," Sgt. Jean-Paul LeMay said. The store manager, Simon Morin, said that while one of the more expensive items they are fairly difficult for thieves to handle due to their size and shape. "It was pretty bold and only 10 o'clock at night. It only took about five minutes," he said. Security footage shows they had some difficulty occasionally getting stuck in the doorway. And in the most Canadian description police report that the first man had a dark tuque, balaclava and white sneakers while the second had a coat, hood and winter boots.

AND NOW, A WORD FROM CHARLES…
"Saudis are looking at the Iranians in the north, the Iranian allies, which is essentially Iraq, Syria, and Lebanon on one side and Yemen now to the south and west under Iranian dominance and they are scared to death, that's why this is a double attack on us. It's a loss of an ally against Al Qaeda and it's a huge geopolitical gain for Iran extending its influence over Arab states." – Charles Krauthammer on "Special Report with Bret Baier" Watch here.

Chris Stirewalt is digital politics editor for Fox News.  Want FOX News First in your inbox every day? Sign up here.