Obama's 2012 Presence in Iowa Is Stark Contrast to Nonstop 2008 Campaign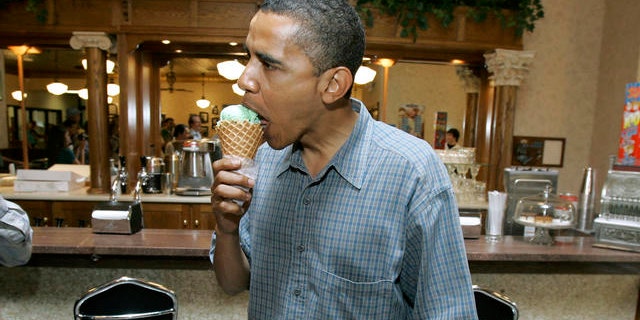 In 2007 and 2008, Iowa got an "Obamathon."
Then-Sen. Barack Obama was in Iowa a lot. He had to be. Obama was up against the most famous brand name in Democratic politics, Clinton -- Hillary Clinton.
And when it got close to the 2008 caucuses (which fell on Jan. 3), the entire Obama family was moved to a West Des Moines hotel. The lights from the Christmas tree could be seen outside.
That's how much time the future president spent in Iowa. It paid off.
Obama won the Democratic caucuses and breezed to an Iowa win in the general election that November.
Those are fond memories for Iowa Democrats -- memories they should try to forget for the sake of the 2012 re-election campaign.
"What Iowans have to remember and they are not good about remembering ... is that (President Obama) has to run in 49 other states," said former Iowa Democratic Party Communications Director Carrie Giddins. "Iowa was spoiled in 2007 leading up to the caucuses they basically had all Obama, all the time."
Obama is now the president. It is a very time-consuming full-time job being the leader of the free world. So, in 2012 there are new rules of engagement in Iowa.
"We are the voice of the president now, until the general election kicks up," said Sue Dvorsky, chairwoman of the state Democratic Party.
Dvorsky talks about the honor and privilege of knowing Obama is their nominee, but some extra work comes with the territory.
All those Republican candidates visiting Iowa? The Iowa Democratic Party is riding shotgun on all of them, watching them and calling out what it feels are inaccuracies and inconsistencies of opposition campaigns.
Of particular interest to Iowa Democrats is Mitt Romney, who has made a small handful of Iowa visits.
"I understand it's his right to make that decision," Dvorsky said. "I just don't know that it matches with the rhetoric that he's putting out that he's the frontrunner."
Dvorsky noted with a smile there are 35,000 more Iowa voters registered Democrat than Republican. While true, that's a sharp departure to the 110,000 registered voter advantage Iowa Democrats had in 2008.
That's not the only thing that's changed in Iowa. Unemployment is at 6 percent. That's lower than the national average of 9.1 percent. But since November of 2008, Iowa's lost more than 22,000 manufacturing jobs.
Just last year, incumbent Democratic Gov. Chet Culver lost his re-election bid to former Republican Gov. Terry Branstad. That was the first time a sitting Iowa governor has lost a re-election bid since 1962.
Iowa Republicans see it all as a signal that Obama is vulnerable in the Hawkeye State.
"It's amazing in the state that launched Barack Obama just three-plus years ago how dramatic the landscape has changed," said Matt Strawn, Iowa GOP chairman.