Obama to Meet Families of 11 Killed in Oil Spill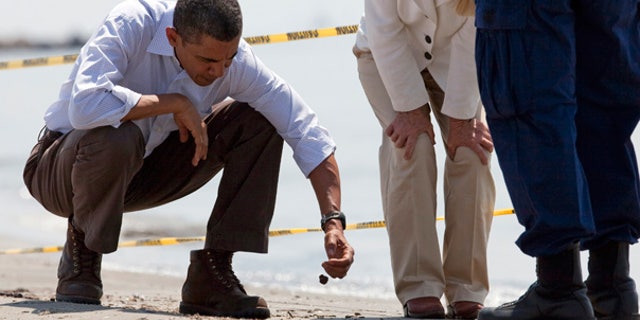 WASHINGTON -- President Barack Obama is offering condolences to relatives of the 11 workers who were killed when an oil rig exploded in the Gulf of Mexico, causing the worst environmental disaster in U.S. history.
Obama wrote the families and invited them to visit the White House on Thursday.
Spokesman Robert Gibbs said Obama also wants to hear the families' thoughts on changes the government can make to ensure that future deepwater oil drilling is safe. Obama put a temporary halt to such drilling after the April 20 explosion off Louisiana's coast.
Asked whether Obama thought the families of the 11 men had been lost in the focus on efforts to stop the millions of gallons (liters) of crude that have been gushing from the broken underwater well for the past seven weeks, Gibbs said, "They are certainly not forgotten."
"They were the very first victims of what is a very long and sad tragedy," he said Wednesday.
Their bodies never were recovered.
The president's private meeting with the families in the State Dining Room is part of his effort to show a public unhappy with the handling of the catastrophe by the government and the well owner, BP PLC, that he is on top of the situation.
Obama met Monday with Cabinet officials involved in the oil spill response and reiterated his earlier warning to the British oil company to not shortchange business owners who are losing income because of the spill.
Obama has visited the Louisiana coast three times since the explosion, including stops there last Friday and on May 28. He plans to return for a two-day stay on Monday and Tuesday that will take him to affected areas in Mississippi, Alabama and Florida.